Krishna Janmashtami also is known as Krishna Janmashtami or Gokulashtami is an auspicious festival in India remarked as the birthday of Lord Krishna which is celebrated every year with great fervor and zeal. As the name suggests Janam (birth) and Ashtami which is the eighth day of the Krishna Paksha it is celebrated on or dark fortnight of Bhadon month that is the monsoon season.
Beliefs
There are numerous stories behind Krishna Janmashtami and the most accepted theory is that Lord Krishna is the eighth incarnate of Lord Vishnu who took birth to seek revenge and kill sinful and demon Kans who happens to be his maternal uncle. It is believed that whenever there will be an imbalance in the universe regarding peace and prosperity, Lord Vishnu comes to save humanity from the hands of demons and goons in different avatars therefore lord Krishna took birth to bring back the triumph of living in Dwapara Yuga (third out of four yugas, or ages)
---
---
History
According to Hindu mythological books, Krishna took birth in jail and his biological parents were Vasudev and Devki who was in prison by Kans. Vasudev took Krishna and crossed the Yamuna River in a stormy night to pass on his child to a friend so save Krishna from the evil hands of Kansa. Therefore, Maiya Yashodha and Nanda of the Gokul region of Mathura happened to be the foster parents of Lord Krishna. Lord Krishna was believed to be a wonder child as his skills were noticed since childhood. Krishna saved villagers from all tumultuous situations. Eventually, villagers of Nandgaon started grandly celebrating the birthday of Krishna as they believed this day to be a fortunate one. It is said that this festival initially originated in Gokul and slowly engulfed the Mathura region and afterward the whole Uttar Pradesh state. And now even after 1000 years, the whole country celebrates the birth of Lord Krishna as the epitome of faith, friendship, love, and peace.
---
---
CELEBRATIONS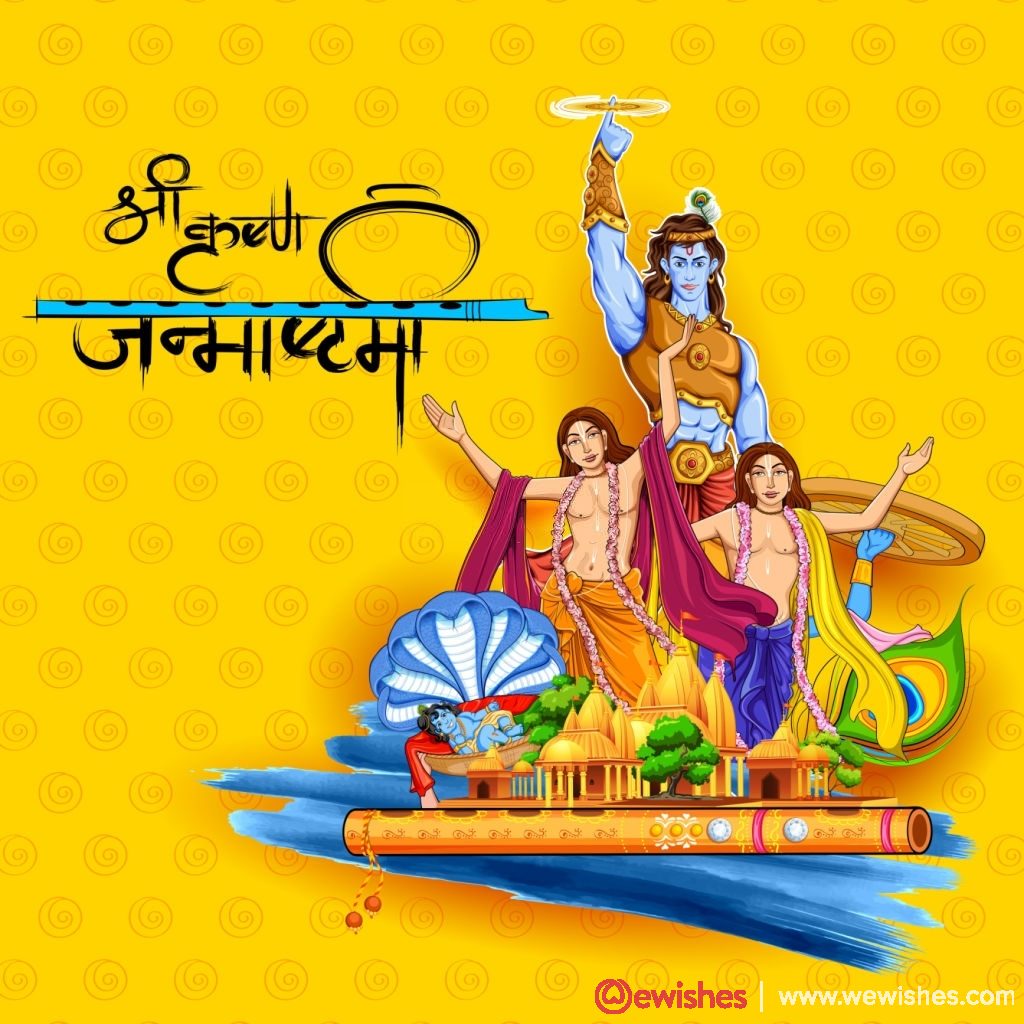 Every year Janmashtami is celebrated with full enthusiasm and avidity in different parts of country. Devotees celebrate this auspicious occasion by praying, fasting, reciting holy rhymes, preparing and sharing prasad with devotees, night vigils, and visiting Krishna and Vishnu temples. Temple organizes recitation of "Bhagavata Purana and Bhagavad Gita". People organize dance-drama events called Rasa Lila or Krishna Lila. The tradition of Rasa Lila is organically organized in the Mathura region, in the north-eastern states of India such as Manipur and Assam, and parts of Rajasthan and Gujarat.
---
---
Acted and recited by numerous groups of amateur artists, cheered on by their local communities. In Maharashtra, Dahi Handi is celebrated the day after Krishna Janmashtami. The term means "earthen pot of yogurt". In which a group of people forms a human pyramid to reach to the top and break the handi. In India holy rituals as well as literature and dance-drama repertoire, symbolizing the joyful innocence of children, that love and life's play is the manifestation of God. WeWishes.com wishes you and your family a very Happy Janamashtami, may lord Krishna fill your life with happiness and health.
---
Krishna Janmashtami Wishes:-
May Lord Krishna Bless you with love, peace and prosperity on this Janmashtami. Wish you a very auspicious Janmasthmi to you and your family!
May this Janmashtami bring happiness, love and enlightenment in your life. Happy Janmashtami!
Today is the day of love and happiness, the day of Lord Krishna's birth. Let's all celebrate the auspicious occasion of Krishna Janmashtami and seek his blessings. Happy Janmashtami!
May Murli Manohar continue to bestow health and prosperity on your family, and may you find peace in Lord Krishna. Happy Janmashtami!
Today is the auspicious occasion when the Lord Krishna is born to fight against inhumanity and save Dharma. Let's celebrate Krishna Janmashtami and follow his great teachings.
May Lord Krishna take all your sorrows and bestow happiness and prosperity on you. Wishing you a great Janmashtami festival!
The day of love and fortune has come. Let's celebrate the great day of Janmashtami festival and worship Lord Krishna of Gokuldham! Shubh Krishna Ashtami!
Happy Shri Krishna Janmashtami Greetings
May this Shri Krishna Janmashtami fill your life with happiness and remove all the hatred from your heart. Shubh Janmashtami!
Wishing you a happy and blessed Krishna Janmashtami festival. Jai Shri Krishna!
Let there be love, happiness and laughter with Murl Manohar's blessings. Wishing you and your family a Shubh Krishnashtami. Happy Sree Krishna Jayanti 2020!
May Krishna Janam on this day fill your life with eternal joy. Celebrate the Janmashtami day with love and devotion. Happy Janmashtami to you and your family!
May you find love on this Krishna Janmashtami and Gopis may shower their blessings on you. Shubh Janmasthami!
May naughty Nandalal give you infinite reasons to be happy and cheerful. Happy Krishna Janmashtami day!
---
Lord Krishna Quotes from Bhagavad Geeta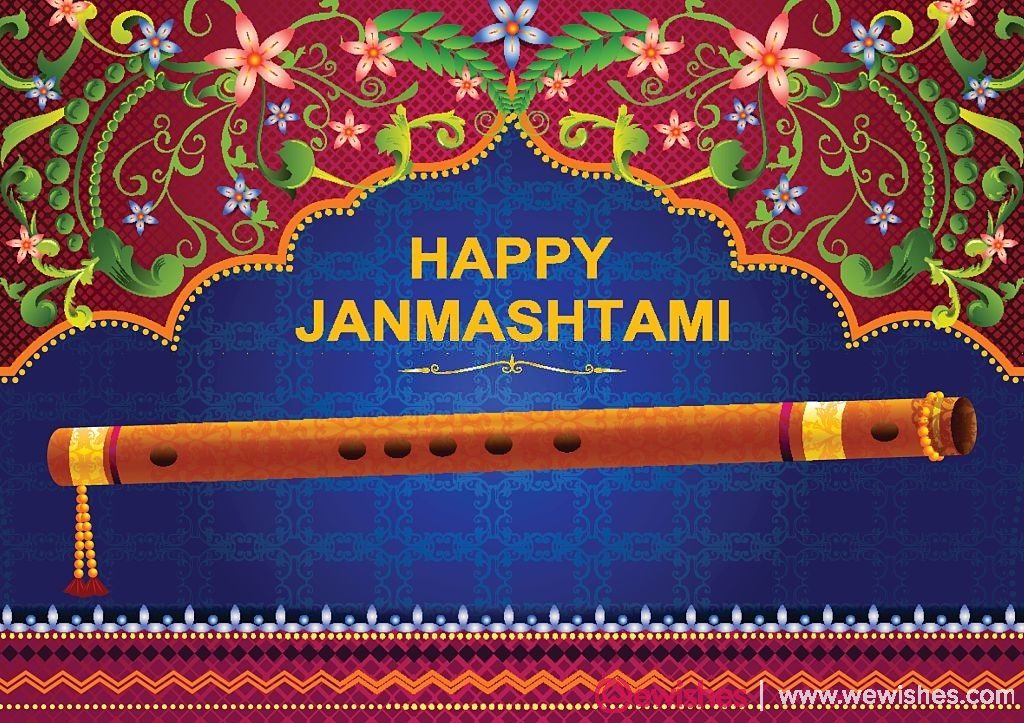 "Do everything you have to do,
But not with greed, not with ego,
Not with lust, not with envy but
with love, compassion, humility and devotion." Happy Janmashtami!
"It is better to live your own destiny imperfectly than to live an imitation of somebody else's life with perfection." Happy Janmashtami!
"Whatever happened, happened for the good. Whatever is happening, is happening for the good. Whatever will happen will also happen for the good. " So, stay positive and do your Karma. A happy Janmkashami Wishes to you and your family!
"Experience cold or heat, pleasure or pain. These experiences are fleeting; they come and go. Bear them patiently." Wish you a very auspicious Krishna Janmashtami!
" You have the right to work, but never to the fruit of the work. You should never engage in action for the sake of reward, nor should you long for inaction." Happy Krishna Janmasthami to devotees!
Happy Krishna Janmashtami Quotes
Here are the best Happy Janmashtami quotes, a great way to wish your friends and family on this beautiful festival day.
"Happy Janmashtami, May Lord Krishna showers all his blessings on you. May you get lots of happiness in life".
"May you find all the delights of life? May your all dreams come true? My best wishes will always be with you".
"I wish you Happy Janmashtami and I pray to God for your prosperous life".
May Krishna shows you the way in your life as He showed the way to Arjuna in the battle of Mahabharata. – Janmashtami quotes
May Krishna ji always bless you with happiness, love and peace. Happy Janmashtami to you and your family!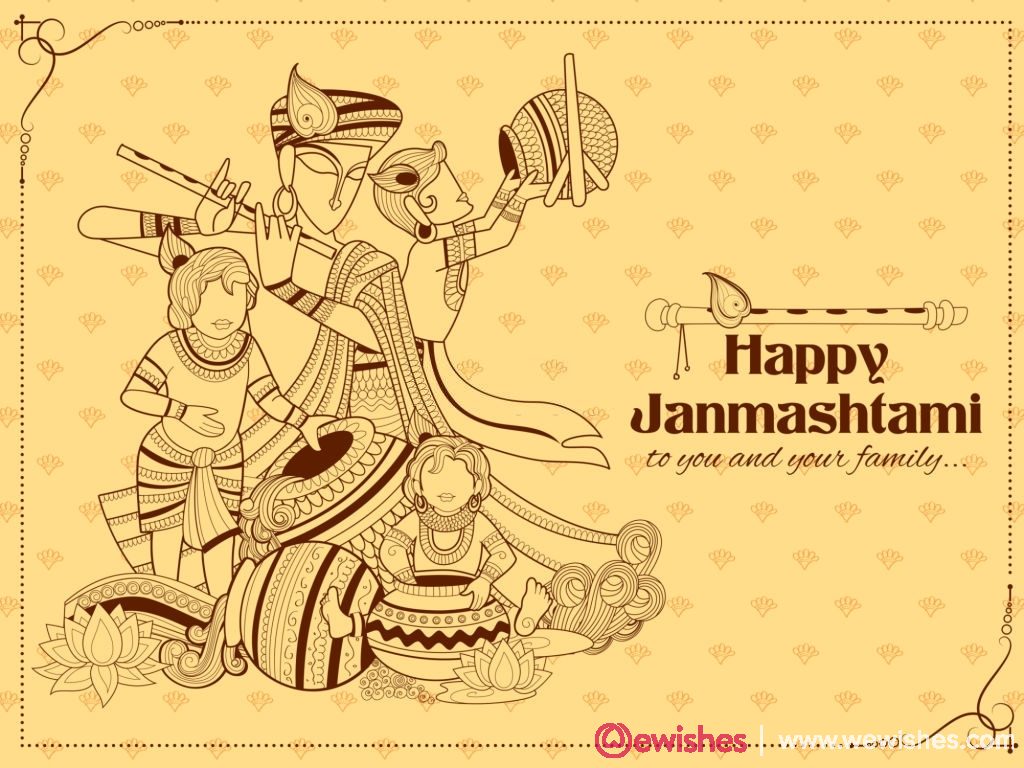 Leave all your worries to Lord Krishna on this day and he will take care of you. Happy Janmashtami!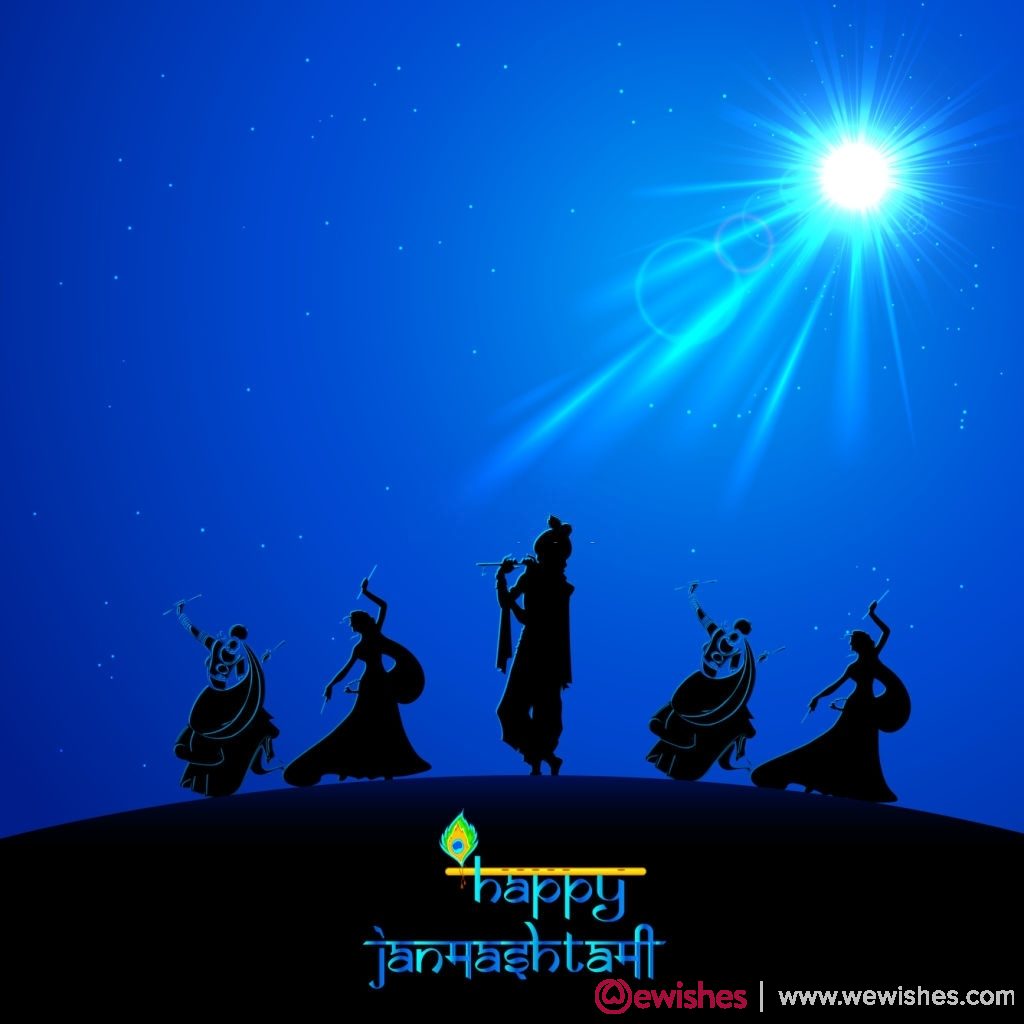 This Janmashtami, let's celebrate the birth of Kanha ji with lots of joy and happiness. Wishing you and your family a very happy Janmashtami on this auspicious day!
May your life be filled with love, happiness, laughter and Krishna's blessings. Happy Janmashtami!
This Janmashtami, I wish Krishna's blissful tunes fill your life with bliss and joy. Happy Janmashtami!
May Krishna fill your home and heart with love, joy, good health and happiness. Happy Janmashtami!
It was on this auspicious day that Lord Krishna was born to fight against inhumanity and save human kind. Let us reinforce our faith in God today. Happy Janamashtami!
Jai Shri Krishna! Have a happy Janmashtami. I pray to Krishna today to take away all your problems and worries. Radhe Radhe!
May Krishna's blessings bring you good fortune, health and happiness! Jai Shri Krishna!
Remember Lord Krishna's lessons which he taught in the Gita and always follow the path of dharma. Happy Janmashtami!
---
Krishna Janmashtami Wishes In Hindi
श्री कृष्ण के कदम आपके घर आये, आप खुशियो के दीप जलाये, परेशानी आपसे आँखे चुराए, कृष्ण जन्मोत्सव की आपको शुभकामनायें.
हैप्पी जन्माष्टमी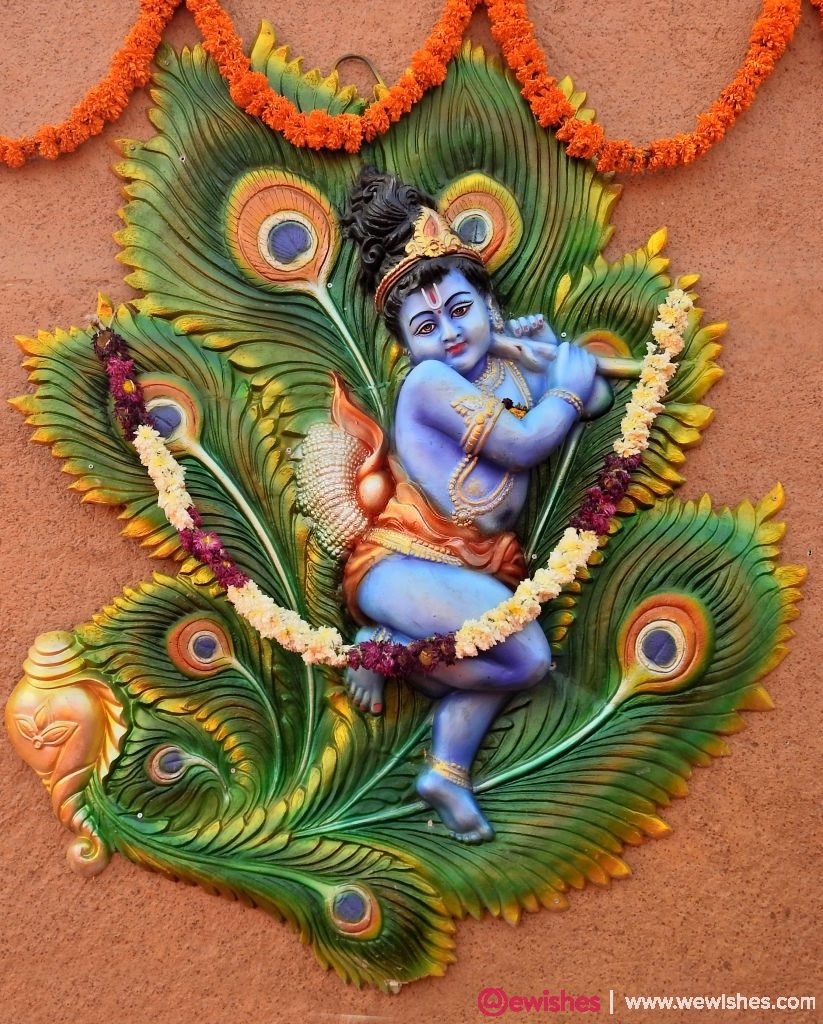 श्री कृष्ण जन्माष्टमी मंगलमय हो, ओम नमो भगवते वासुदेवाय, जय हो श्री राधे जय हो श्री कृष्ण,
हैप्पी जन्माष्टमी
माखन चुराकर जिसने खाया, बंसी बजाकर जिसने नचाया, खुशी मनाओ उसके जन्म दिन की, जिसने दुनिया को प्रेम का रास्ता दिखाया.
हैप्पी जन्माष्टमी
वृंदावन का रास रचाये, आ गया नन्द लाल कृष्ण कन्हैया
लोगों की रक्षा करने, एक अंगुली पर पहाड़ उठाया, उसी कन्‍हैया की याद दिलाने जन्‍माष्‍टमी का पावन दिन आया
होता है प्यार क्या ???
दुनिया को जिसने बताया ….
दिल के रिश्तों को जिसने प्रेम से सजाया …
आज उन श्री कृष्ण का जन्मदिन है 🙂 🙂 हैप्पी बर्थडे कृष्ण जी 🙂 🙂
राधा की भक्ति , मुरली की मिठास , माखन का स्वाद और गोपियों का रास , सब मिलके बनाते हैं जन्माष्टमी का दिन ख़ास
माखन चोर नन्द किशोर, बांधी जिसने प्रीत की डोर,हरे कृष्ण हरे मुरारी,पुजती जिन्हें दुनिया सारी, आओ उनके गुण गाएं सब मिल के जन्माष्टमी मनाये
कन्हिया की महिमा , कन्हिया का प्यार ,'कन्हिया में श्रद्धा , कन्हिया से संसार , मुबारक हो आपको जन्माष्टमी का त्यौहार.
Shri Krishna Janmashtami Status Videos Download
---
---
---
I hope you like these collections of Krishna Janmashtami Wishes. Also, If you've found us useful, please do consider telling your friends about it. All you have to do is send these quotes on WhatsApp and ask them to subscribe to us.
If you like these Krishna Janmashtami Wishes and quotes, feel free to pin them on Pinterest and share them around! Happy reading! Thanking you for visiting our WeWishes, for more updates on thoughts and quotes, please visit regularly more updates.
Please Do Follow us on Facebook and Instagram.
---