Teej is a Hindu festival celebrated every year to make women happy and admire. It is the festival which is totally anticipated to the married women's as they love to celebrate for the union of lord Shiva and Parvati. The Teej Festival is a major married women festival and is much awaited. It celebrates Lord Shiva's and Goddess Parvati 's sacred union. Teej festival falls during the monsoon season after the third day of full moon as well as the third day of new moon. This year the Hartalika Teej is celebrated on Monday, September 18, 2023. Hindu celebrates three Teej festivals across the country.
MORE: Celebrate Your First Bridal Teej by Excitement Unheard Rituals
Why the festival is celebrated?
Haryali Teej festival rituals is more closely followed across the northern and western parts of our country and the states like: Rajasthan, Haryana, Gujarat etc… as the married women's there celebrate this festival by their heart and pray for the good health and life of their spouses and companions. The word 'Haryali' signifies the greenery during the monsoon season in the surroundings.
MORE: Happy Hariyali Teej 2023
The best place to experience this festival is the Jaipur city in Rajasthan from the perspective of the tourists as they come in the groups or with their family members to see the celebration of the festival across the city.
How is it celebrated?
Although the way to celebrate this festival is very special and unique in the different states, Teej is incomplete without the certain things which need to be there to follow the rituals. Devotees perform puja to celebrate Lord Shiva's and Dess Parvati's happy marriage. They also say mantras such as Shanti Mantra and Shama Mantra on the occasion of Hartalika Teej to conclude.
On this special occasion women dresses up in traditional attires and wear green color items from bangles to Saree which signifies the 'Haryali'. Also they keep a long-day fast to pray for Parvati and Shiva happy married life.
They also carry henna designs or 'Mehendi' as it's seen as a 'Shagun' and listen to Shiva and Parvati's old folks. Women eat a hearty vegetarian meal of rice and curries, as well as festive sweets such as Ghevar and Ladoos to break up fasts.
MORE: Akshaya Tritiya Quotes: Wishes, Messages, Images on Akha Teej
We wish you a happy monsoon season and a Haryali Teej festival and pray for your good health and safety!
Here some happy Teej wishes, quotes, messages, greetings through social media like Facebook, Hike, Instagram, Twitter, Whatsapp, and spread the love of the Teej festival. We have compiled a couple of beautiful Happy Teej greetings for you to share on social media.
Happy Hartalika Teej Wishes:
May the divine light
Spread in your life
Peace, prosperity, happiness
And good health
Happy Teej !
May the magic of this Teej bring lots of happiness in your life. Happy Teej!
Wishing you and your family a wonderful day honouring Hartalika Teej. We wish you a very happy festival!
ALSO READ: Happy Guru Purnima Wishes 2020: Quotes, Images, Messages, and Photos
May your love keep growing like Shiva and Parvati.
Happy Hartalika Teej!
Aaya re aaya Hartalika Teej ka tyohar,
Sang mein khushiyan aur dher saara payar!
Celebrating Teej is a symbol of a woman's love and sacrifice. Let's celebrate the festival with happiness and joys. Happy Hartalika Teej!
ALSO READ: Celebrate A Noiseless and Pollution-Free Diwali
Wish you and all your loved ones a very Happy Hartalika Teej!
Chandan ki khushboo,
baadalon ki fuhaar,
aap sabhi ko mubarak ho
Ye hariyali teej ka tyohar.
Happy Teej!!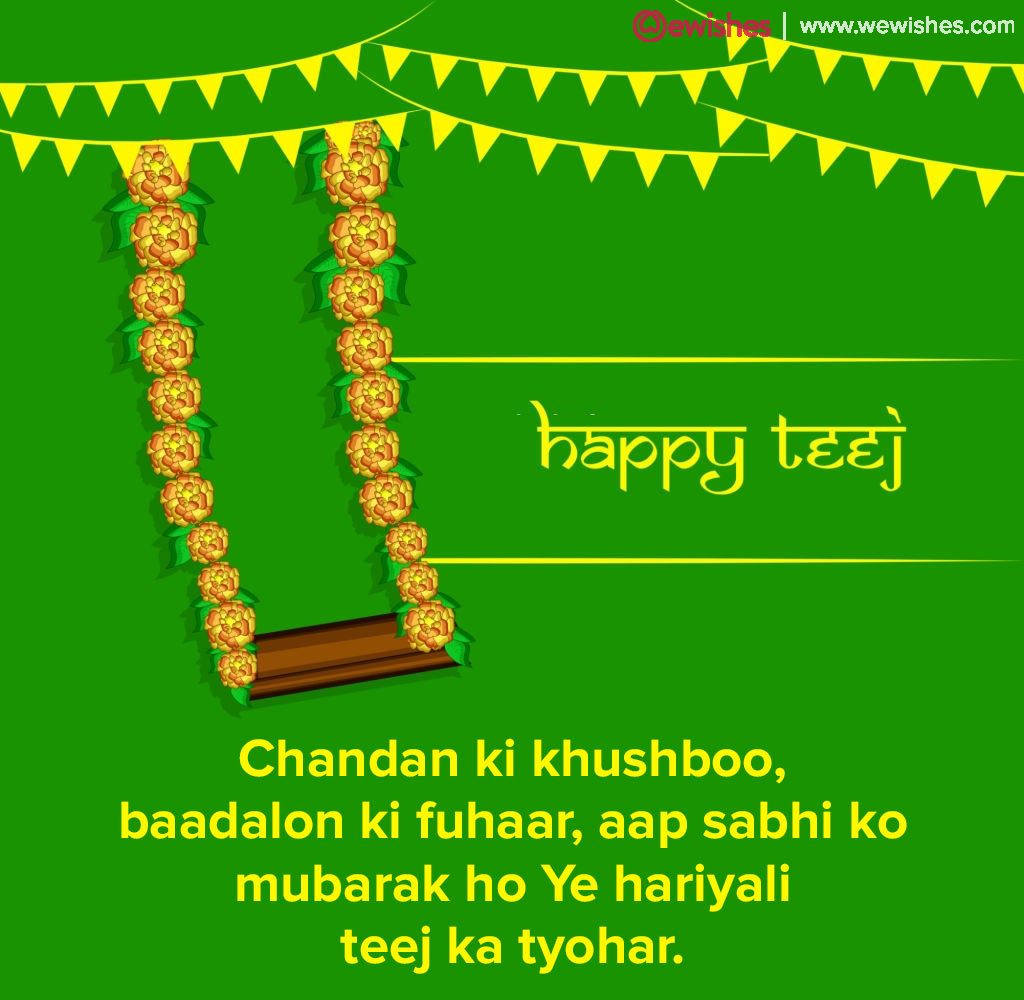 May you be blessed with happiness this Teej!
Wish you and your family a very happy Teej!
Happy Teej!!
Sawan laya hai teej ka tyohaar,
Bula rahi hai aapko khushiyon ki bahaar
Happy Teej!!
May the swing of joy fill your heart with love,
happiness and abundant fortune
Happy Teej
Hariyali teej ka tyohaar hai
Gunjiyon ki bahaar hai
Pedon par pade hai jhule
Dilon mein sabke pyaar hai
Hariyali teej ki hardik badhai
May the festival bring happiness
The blessings of Teej Mata be with you always
Happy Teej!
For more update stay tune with wewishes.com