Nature provides us the food to eat, air to breathe, water to drink. World Environment Day is celebrated every year on 5th June, established as an annual event by the United Nations (UN) in 1972. Every year there is a theme for the day and in 5th June 2020, the theme is biodiversity–a concern that is both urgent and existential. This day is observed in order to increase public consciousness of the value of a sustainable atmosphere and address different environmental problems. It is achieved by taking different measures to preserve nature and the earth, resulting in a safe and sustainable climate for everyone.
Our climate is one of the most significant survivable things on this earth. In fact, the only aspect that will render life meaningful is this. We can't even live a single day, without it. Every person has to do their bit in order to preserve the environment for upcoming generations.
Our ancestors preserved it that is why we are living in a great environment so it's our duty to preserve the present environment in order to secure future generations to enjoy the serenity of environment.
The times in which we are surviving now are exceptional and awakening situations where we the mother earth is giving us a message that if we will still not understand its importance then we are at the verge of getting destroyed. It's time to raise voices against the forces who are damaging nature and awaken the world to preserve the nature.
One should start from their home by planting more and more trees, cultivate a flower in a plant or flowerpot, and take charge of a sapling. Secure and further fertilize the parks and public trees.
Keep the roads and environs safe. Use more and more public transportation. Buy beautiful handicrafts crafted from recycled materials. Have the dry and wet waste isolated from society. Nature will become something that we admire, rejoice, and not raise all that we hate and overlook.
You Can't Change The Past But You Can Change The Future, It's Upon You What You Want!
So check out the most inspirational World Environment Day Slogans & World Environment Day Quotes to become self-aware about nature and the environment. And motivate yourself with the fruitful practices to save our earth.
World Environment Day Slogans & Quotes
"We never know the worth of water till the well is dry."
"Let's nurture the nature so that we can have a better future."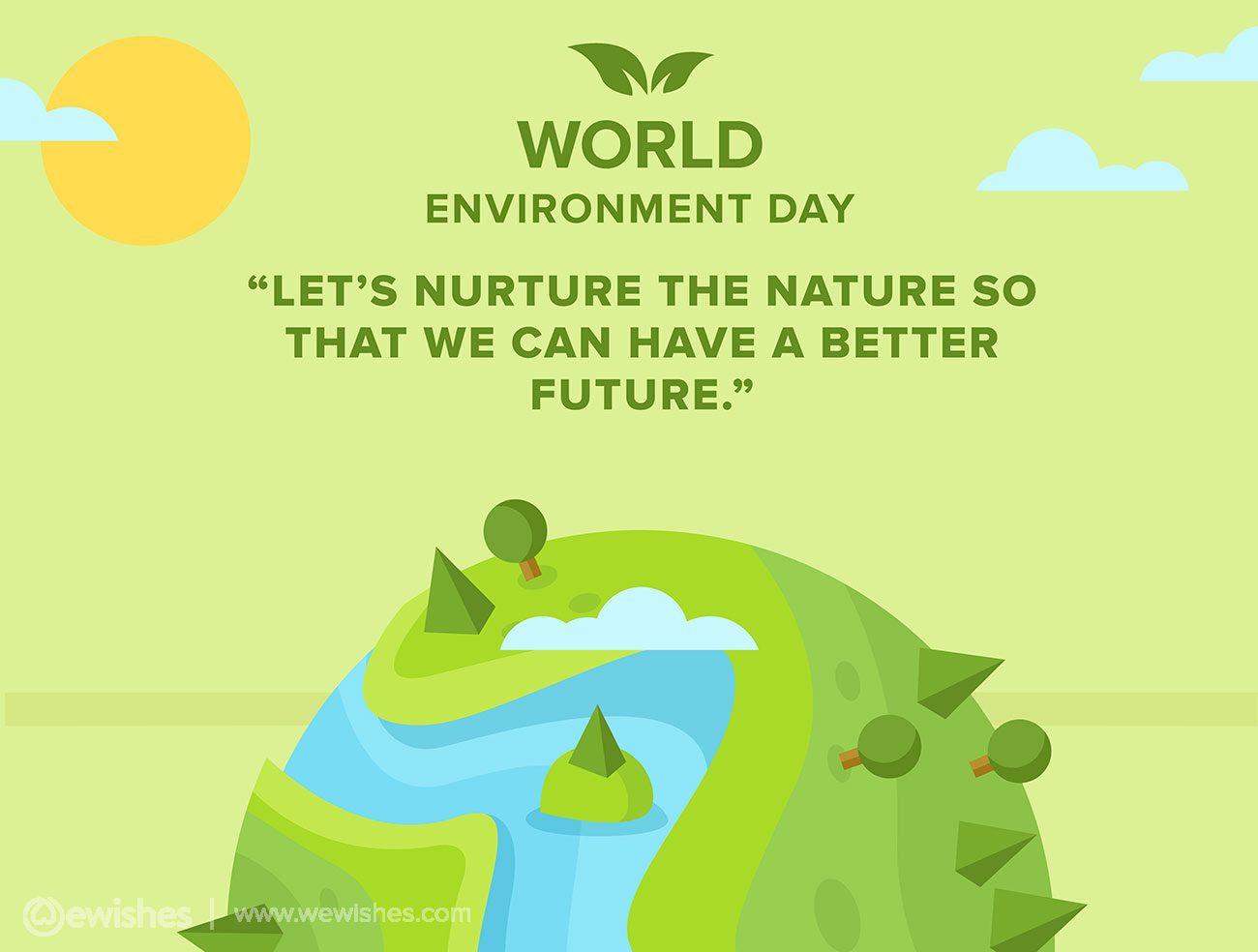 "Till now man has been up against Nature; from now on he will be up against his own nature."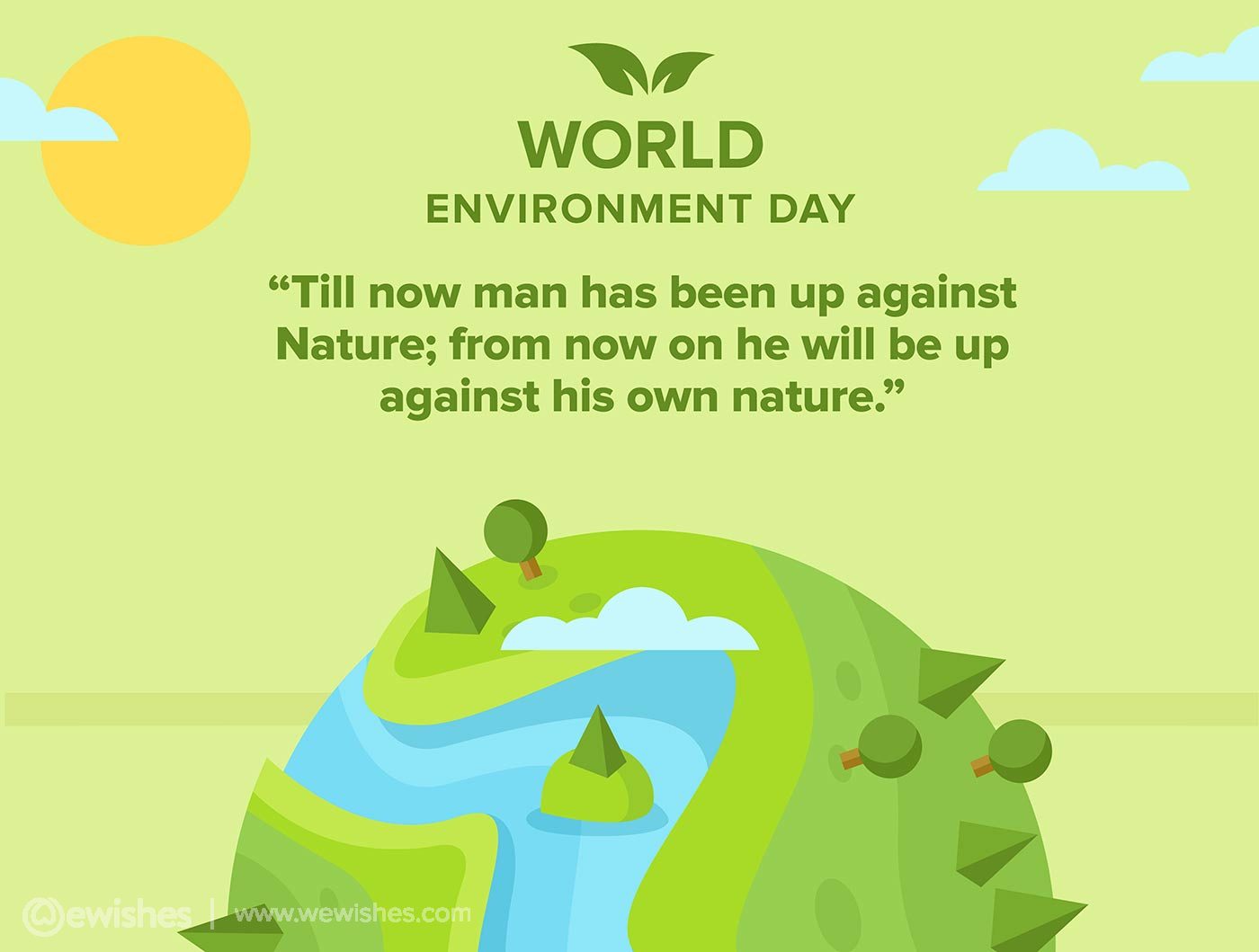 "I can find God in nature, in animals, in birds and the environment".
"Earth is our mother. In spite of our desire to harm our mother, she will always love us forever."
"Newspapers: dead trees with information smeared on them."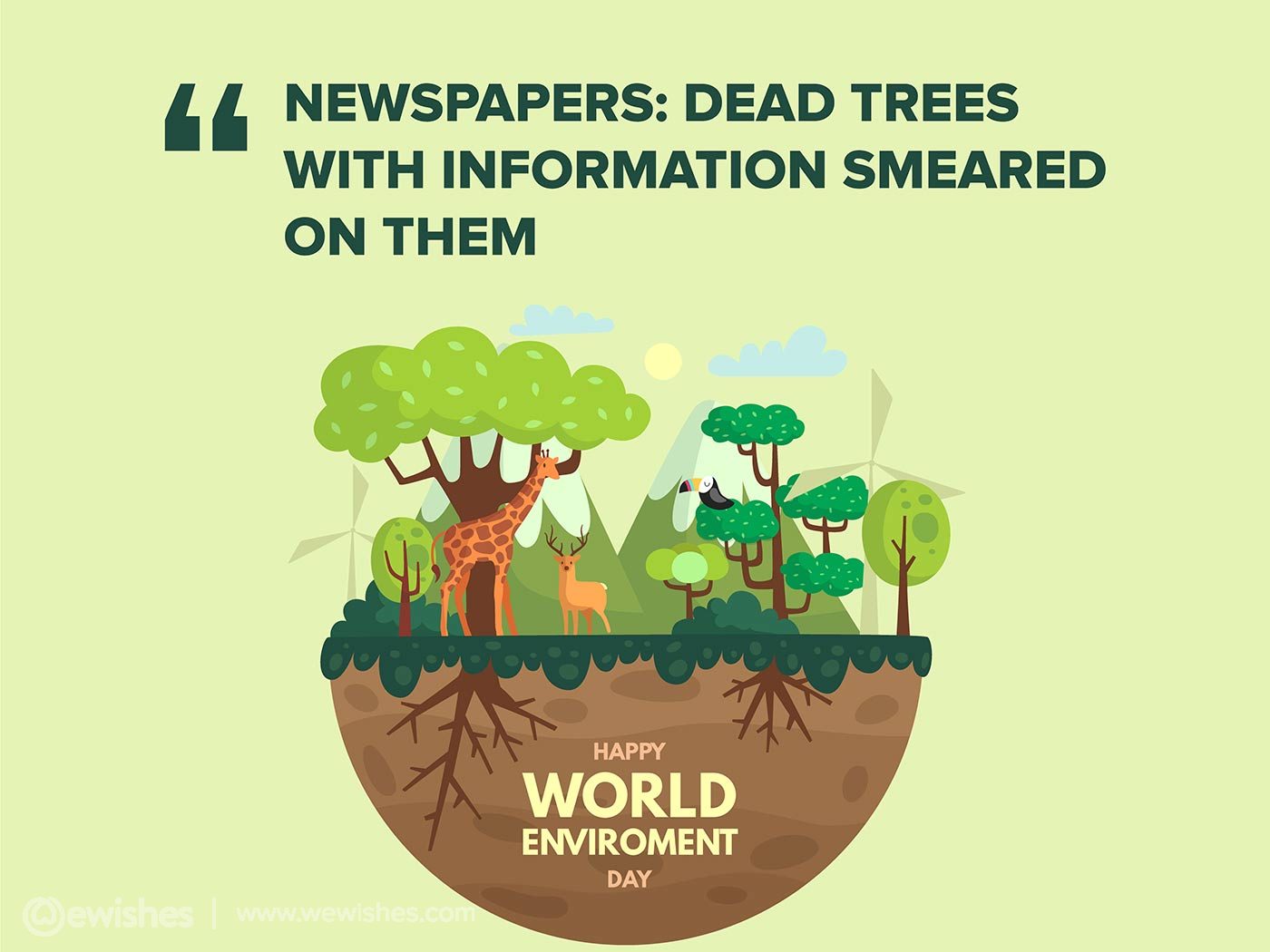 "The environment is everything that isn't me".
"Wasting time is useless cleaning the environment is the best."
"Waste water today, live in desert tomorrow."
"We won't have a society if we destroy the environment".
"By polluting clear water with slime you will never find good drinking water".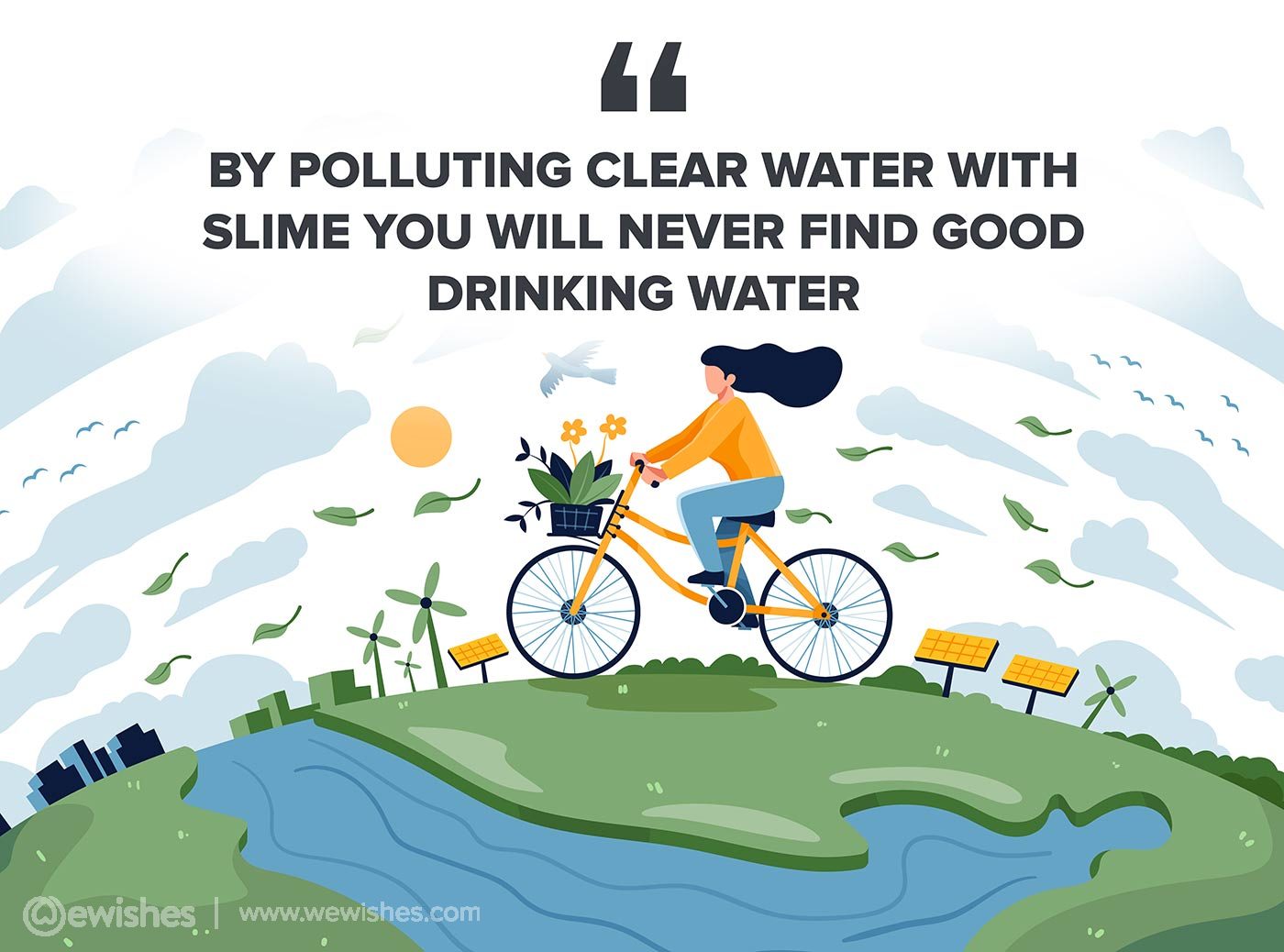 "When we heal the earth, we heal ourselves."
"Conservation is a state of harmony between men and land".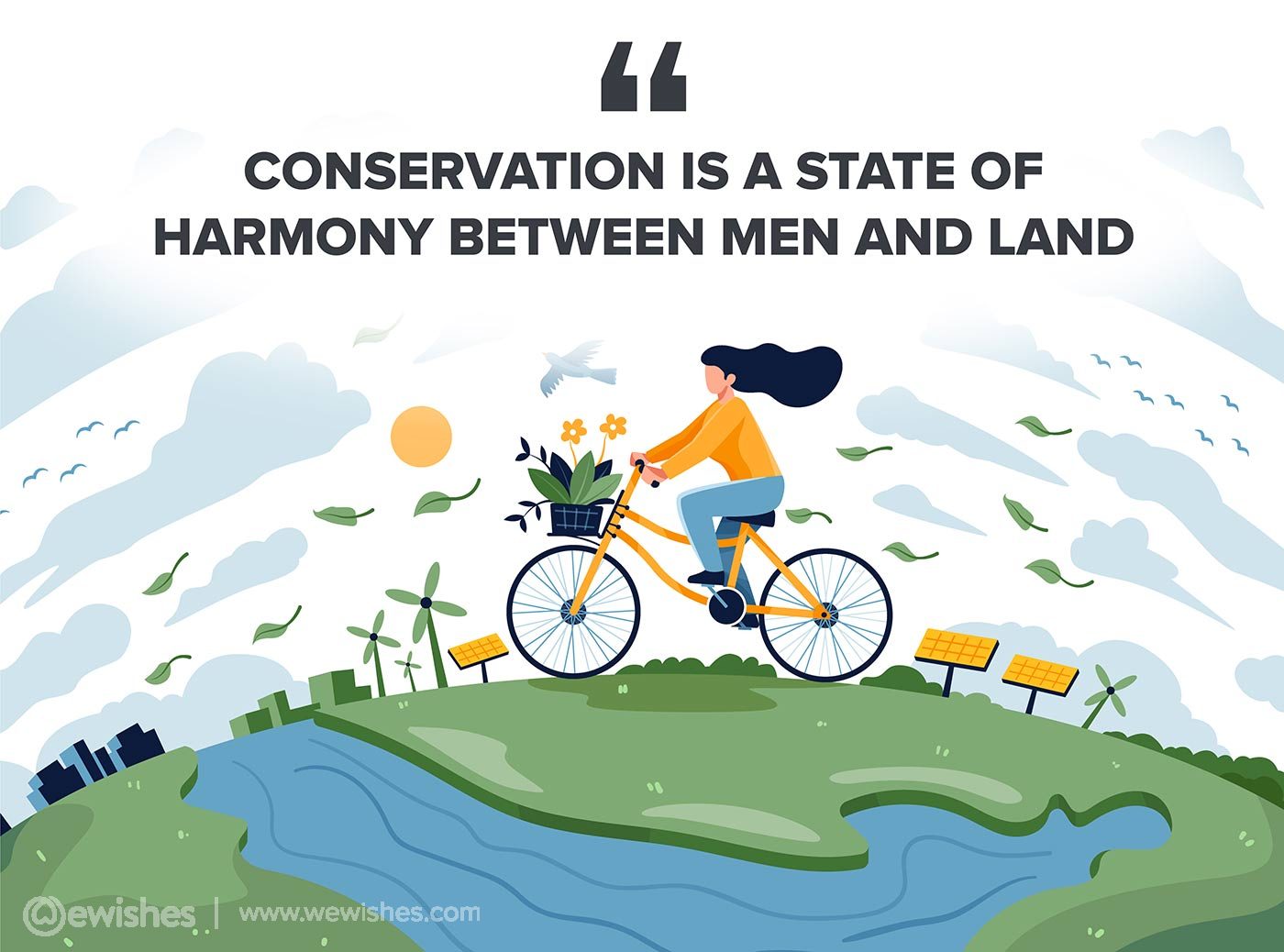 World Environment Day Messages
"What we are doing to the forests of the world is but a mirror reflection of what we are doing to ourselves and one another."

– Mahatma Gandhi
Love green, save your environment. Happy World Environment Day"
"There's so much pollution in the air now that if it weren't for our lungs there'd be no place to put it all."

– Robert Orben
"Save now, earn later. Be aware now, for a better future. Happy Environment Day"
"I can find God in nature, in animals, in birds and the environment".

– Pat Buckley
"Every day is environment day, so save your day by saving your environment. Happy Environment Day"
"The environment is everything that isn't me".

– Albert Einstein
"The most beautiful scenery is Environment, so protect & conserve it to see it grow more and more. Happy Environment Day"
"Birds are indicators of the environment. If they are in trouble, we know we'll soon be in trouble".

– Roger Tory Peterson
Be the change you want to see in the world each one can make a difference. Happy Environment Day
"The environment is where we all meet; where we all have a mutual interest; it is the one thing all of us share."

– Lady Bird Johnson
"If humanity has to live for a long time, you have to think like the Earth, act as the Earth and be the Earth because that is what you are." – Sadhguru
"Water is H2O, hydrogen two parts, oxygen one, but there is also a third thing, that makes it water and nobody knows what that is."

D.H. Lawrence
"Respect nature & it will shower on you full of purity & greenery. Happy World Environment Day Quotes"
"If we do not permit the earth to produce beauty and joy, it will in the end not produce food, either".

– Joseph Wood Krutch
"When a man says to me, "I have the intensest love of nature," at once I know that he has none."

– Ralph Waldo Emerson
"When one tugs at a single thing in nature, he finds it attached to the rest of the world."

John Muir
"Conservation is a state of harmony between men and land."

– Aldo Leopold
"There must be a reason why some people can afford to live well. They must have worked for it. I only feel angry when I see waste. When I see people throwing away things we could use."

– Mother Teresa
"What is the use of a house if you don't have a decent planet to put it on?"

Henry David Thoreau
"Problems cannot be solved at the same level of awareness that created them."

– Albert Einstein
"Waste not the smallest thing created, for grains of sand make mountains, and atomies infinity."

– E. Knight
"In all things of nature there is something of the marvelous."

Aristotle
"What is the good of having a nice house without a decent planet to put it on?"

Henry David Thoreau
"A margin of life is developed by Nature for all living things – including man. All life forms obey Nature's demands – except man, who has found ways of ignoring them."

-Eugene M. Poirot
"Pleasure is Nature's test, her sign of approval. When man is happy, he is in harmony with himself and his environment."

– Oscar Wilde
"The greatest threat to our planet is the belief that someone else will save it."

Robert Swan
Slogans On World Environment Day:
Keep close to Nature's heart… and break clear away, once in a while, and climb a mountain or spend a week in the woods. Wash your spirit clean.
It isn't pollution that's harming the environment. It's the impurities in our air and water that are doing it.
If the bee disappeared off the face of the earth, man would only have four years left to live.
We won't have a society if we destroy the environment.
A good planet is hard to find.
Consume with care, we have only one planet and one environment.
Don't let our future dry up.
Green city is my dream city.
Greenery is natural scenery, retain it forever.
Happy world environment day, do plantation to be free of pollution.
It's our world, take care of it.
Join hands to save environment.
Join the campaign to save environment.
Join the race to make the world a better place.
Keep calm & go green.
Keep calm & plant more trees.
Keep calm & save the environment.
Keep calm & say no to pollution.
Our environment is in need.
Passing pollution on to children is not a gift.
Plan for the Planet!
Plant a tree today.
Plant for the planet.
Plant together… let's make the world greener.
Plant trees to make environment pollution free.
Pollution is primitive; green is preemptive.
Pollution solutions, not warfare resolutions.
Raise your voice not pollution.
Raise your voice not the sea level.
Rebirth our earth.
Reduce, Reuse, Recycle.
Safer environment is a better tomorrow.
Save a planet. Start with the one you're standing on!
Save Earth to Save Life.
There's No Planet B.
Think green, Go green.
Think green, keep it clean.
This Earth has limits: respect them this Earth Day and every day.
Waste water today, live in the desert tomorrow.
We Were Born to help the World, Not to Destroy it.
We're the green team, not the mean team.
Work together to bring happy weather.Forests: Nature at your Service
We the Peoples: United for the Global Environment
Clean the world you're on
One World, One Environment
Go green
It's all about the trees
Lend a hand to save the land
Don't let anyone to trash our planet
Now it's your turn this year to contribute to this movement. So start sharing these World Environment Day Quotes with your friends, family & dear ones only from WE WISHES. Join hand in hand to celebrate this day.