As it was mentioned above the basic idea of Memorial Day is to pay tribute to all American soldiers who gave their lives for the country, its independence, and our better future. In addition to this, it's important to note that Memorial Day is also about freedom. It's a great happiness to be free, and this is thanks to the soldiers' sacrifices. Despite all awful aspects which have resulted in the origination of this occasion, wish everybody happy Memorial Day with the following Memorial Day quotes. How to use them? Send a message, or just say personally.
Best Quotes for Memorial Day-
Heroes never die! Isn't it a popular phrase? Do you really understand what it means? People who performed a heroic act create memories that are even bigger than hollow existence. Memorial Day is a good opportunity to revive heroes in our memories through the following heroic quotes:
It doesn't take a hero to order men into battle. It takes a hero to be one of those men who goes into battle.
Heroes never die. They live on forever in the hearts and minds of those who would follow in their footsteps.
I guess that's one good thing about dying young: you're remembered for your purity, vigor and spontaneity. Dying young you're remembered for your youth.
Most have been forgotten. Most deserve to be forgotten. The heroes will always be remembered. The best. The best and the worst. And a few who were a bit of both.
The legacy of heroes is the memory of a great name and the inheritance of a great example.
A hero is someone who has given his or her life to something bigger than oneself.
A hero is someone who understands the responsibility that comes with his freedom.
Do you know a hero who wants to be known as a hero? No. Because real heroes just do what is right and must be done.
A hero has a rebellious spirit because he stands up against the things that seem to be impossible to conquer and conquers them.
Heroes know that nothing is given to people just like that. They know that it has to be fought for.
Memorial Day Quotes-
Happy Memorial Day! Thank you to all our service men and women past and present. You are not forgotten!
Peace is the real and right memorial for those who have died in war.
Never in the field of human conflict was so much owed by so many to so few.
I'm proud to be an American, where at least I know I'm free.
Who kept the faith and fought the fight; The glory theirs, the duty ours.
I only regret that I have but one life to lose for my country.
In the End, we will remember not the words of our enemies, but the silence of our friends.
Reminder! Patriotism doesn't mean a short and frenzied burst of emotions. It is about the tranquil and steady dedication of a lifetime.
As long as our nation is the home of the brave, it remains the land of the free. Happy Memorial Day!
Memorial Day Quotes to Say "Thank You"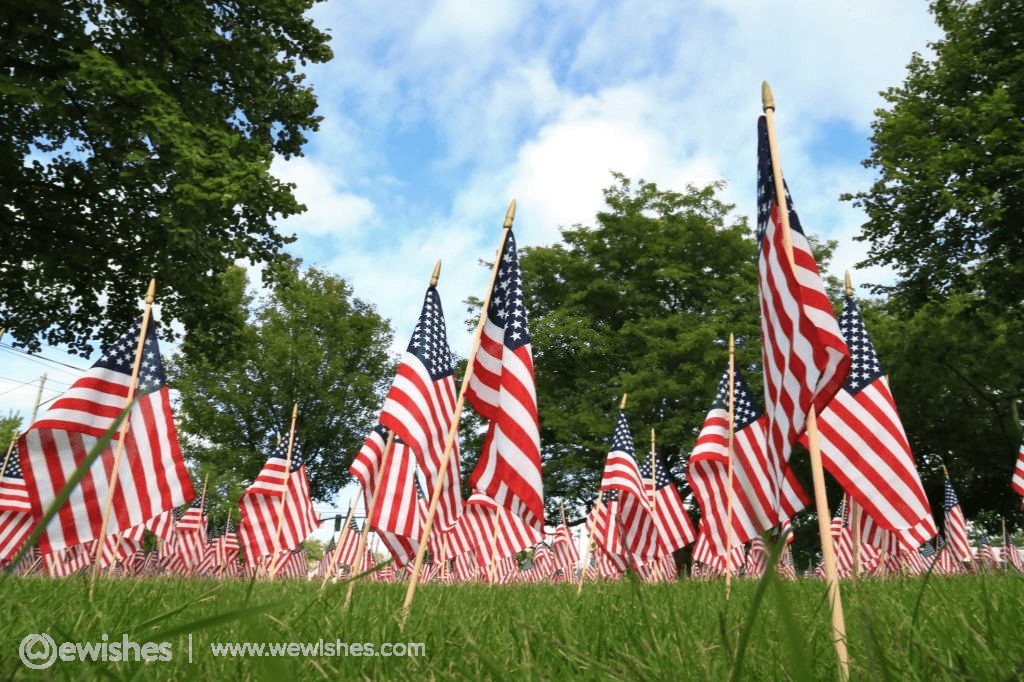 Have you ever thought that everything we have including freedom and independence, not because we deserve it? The truth is that our happiness has been built on the deaths of many military people! We are not going to teach you how to live, but we want you to say "thank you" to all of them! Don't know what to say on Memorial Day to express your gratitude and respect to dead servicemen and women? Why not to apply to patriotic thank you quotes?
As America celebrates Memorial Day, we pay tribute to those who have given their lives in our nation's wars.
Better than honor and glory, and History's iron pen, Was the thought of duty done and the love of his fellow-men.
Ceremonies are important, but our gratitude has to be more than visits to the troops and once a year Memorial Day ceremonies. We honor the dead best by treating the living well.
Thank you so much to all the servicemen and women who have gone above and beyond protecting our country. Happy Memorial Day!
Memories, even bittersweet ones, are better than nothing.
We ask a lot of those who wear our uniform. We ask them to leave their loved ones, to travel great distances, to risk injury, even to be prepared to make the ultimate sacrifice of their lives. They are dedicated. They are honorable. They represent the best of our country, and we are grateful.
As we express our gratitude, we must never forget that the highest appreciation is not to utter words, but to live by them.
How important it is for us to recognize and celebrate our heroes and she-roes!
We'd like to say thank you to all the veterans of the United States of America. Thank you for the cost you paid so we could live in freedom and safety. Thank you that we have the freedom to pursue happiness, we have freedom of speech, we have all the freedoms other people only dream of. And sorry that some of us take these freedoms for granted.
To all of the America's Veterans: thank you for the sacrifice you made so we could be in safety.