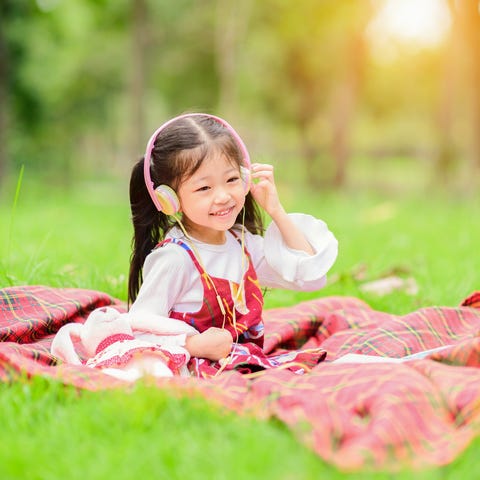 Patchairpon SakulchaiGetty Images
Fact: Easter songs are harder to come by than other holiday tunes. There are no Top 40 radio stations that feature in the All-Easter Playlist, Lent, and no music artists head to the studio in October to record full Easter albums Crossover mega-hit. There is also no Easter novelty tune – you don't see anyone doing "Easter Bunny Mash" at a party.
But this does not mean that there is no good Easter song for children. It is one that, like a fully colored egg, you have to hunt for them. Or, you can let us hunt for you. Here, our favorite songs about Easter, bunnies, eggs, and candy. While throwing them Dyed eggs, Doing craft, Hunt for treatment, Or waiting for the arrival of the Easter Bunny.
---
"Here Comes Peter Cottontail" by The Kiboomers
In fact, the kid band The Kiboomers completely excluded Album of easter songs For preschoolers, including this perennial favorite as well as other popular rhymes such as Eastern Twist "Going on an easter egg hunt"And"Five little bunnies. "
---
"The Bunny Hop" by Ray Anthony
& # 39; 50s dance is very easy to learn, even young children can do it, and they will be walking around the room. And if you don't like Ray Anthony's Big Band version of the song, it has had many recordings over the years, including A mambu version of Duke Ellington.
---
"Are you a rabbit?" With lunch money
Perfect for a children's Easter party, the song tells children to hop around the bunnies – and freezes when it's time to stop. There is no reference to hiding eggs or other things related to Easter, however, the holiday relationship is subtle.
---
"Easter Parade" performance by Fred Astaire and Judy Garland
This song also appears in the flamboyant Easter bonnet from a film called Easter Parade. The film's song score by veteran Irving Berlin also includes a song titled "Happy Easter. "
---
"Always on the Run" by Joanie Leeds and Nightlights
The song makes one wonder how magical creatures like Santa Claus, Easter Bunny, Tooth Fairy and Leprechaune work their magic in such a short period of time. (Answer: They are always on the run.) There is also a song from Leeds "Good egg"It's not about Easter, but a ton of fun Egg lashing.
---
"I want candy" from the movie Bow Wow Wow Hop
After all, candy is what all children want in their Easter baskets. You can go for the original version by Bow Wow Wow, or Get the movie Hop, Which is actually a tune sung by a rabbit, making it even more appropriate.
---
"The Funny Little Bunny with the Powder Puff Tale" by Jean Autori
It's not the country's crooner's most famous seasonal song – which would be "Rudolph, the Red-Nosed Reindeer" or "Frosty the Snowman" – but it's still an entertaining tale of the Easter Bunny's entanglement with the Big, Bad Wolf . (Spoiler Alert: Bunny Wins!)
---
"Mr. Rabbit" by Casper Bubipants
The song is a catchy little tune about a bunny that doesn't really hit you over the head with Easter-ness; If you like it, you can add it to the playlist of the year. The parents who were around in the 90s would recognize the sound of Casper Babypants – he is also known as Chris Balew, aka the band's singer.
---
"Eggs" by Gustaf Yellowgold
This sweet little tune hits on the magic of dropping a plain, white egg and turns into a spring color to find it, as if by magic. It provides a feeling of joy and rebirth.
---
"Little Rabbit Fu-Fu" by Sharon, Lois and Bram
It is an all-time, classic rabbit song by the classic Kids Band. And maybe, just maybe, your children will learn a lesson about good behavior and other opportunities.
---
"Do you hear the bell?" Featuring Gavin Creel by Laurie Berkner
This counting song teaches children to tell time by counting the number of church bells if you were to add a hint of religion to your playlist. Berkner and Creel are neighbors in New York City who felt they could actually hear the same church.
---
"Hey Little Bunny" by Sonia de los Santos
Easter is not about Bunny Per, but this song, about a Bunny who loves to hop around and blossoms in the sun, is perfect for easertime anyway. I mean, who doesn't like hop, hop, hop?
---
"John the Rabbit" by Alina Celeste
Likewise, John the Rabbit does not hide eggs nor give baskets. Instead, he sneaks into the garden and steals all the vegetables. This is great to listen to in the spring when you are thinking about planting again.
---
"Hot Cross Buns" by Little Baby Bomb
A song inspired by your favorite Easter treat. If you want to make it extra-special, you can A batch whip After singing your own song. (We'll take any excuse to do some baking.)
---
"Run Bunny Run" by Hulabalo
The song fasts for a bit of walking as it can get away with different threats (including a younger brother who just wants to chuggle). There is no better soundtrack to let the kids loose on the no-holds-barred egg hunt.
---
Not to be missed for miss-news, expert beauty advice, Genius Home Solutions, delicious recipes and much more good Housekeeping Newspaper.
. (TagsToTranslate) Easter songs for kids