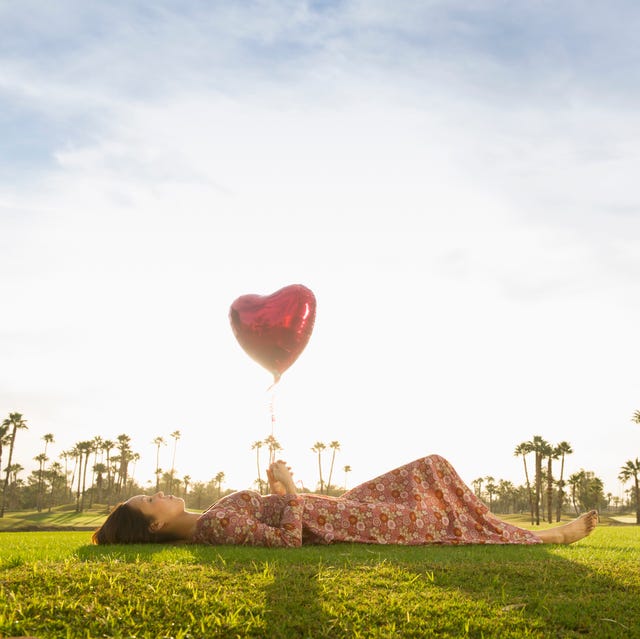 Jacobs Stock Photography LtdGetty Images
Rationally, you know being single on Valentine's Day is no big deal. Yet if you find yourself feeling a tinge of sadness as you spot your coworkers' bouquet deliveries, or irritated as you stroll past aisles of teddy bears and Valentine's Day chocolate and candy, that's totally okay — and normal. "At the end of the day, everyone wants to feel seen, heard, valued, and appreciated," says Jennifer Taitz, PsyD, a licensed clinical psychologist and author of How to Be Single and Happy. "Even people who are completely comfortable being single can have their confidence shaken on a day that their peers are walking around with physical evidence of admiration and adoration."
In other words, you're neither desperate nor bitter. You're just a human with feelings. (Imagine that!) So while you have no plans to sob into a pint of ice cream or internet-stalk your ex like a rom-com expects of you, it's still a good idea to figure out exactly how you want to spend February 14 so that you have a happy day and feel like your normal, amazing self. Here are some activities that are healthy, fun, and as an added bonus are great to do on any of the other 364 days of the year.
Advertisement – Continue Reading Below
1
Host a game night
There's nothing better than a good old-fashioned game night, especially when you're an adult and are free to throw booze and non-PG games into the mix. Check out our list of awesome board games for adults, which includes soon-to-be-classics like Settlers of Catan and modern hits like What Do you Meme?, all played and picked by experts from The Good Housekeeping Institute Media & Tech Lab.
2
Volunteer
"If you value giving love, not just receiving love, then there are other ways to give love besides being in a relationship, like volunteering and helping others," says Taitz. Swing by your local library, hospital, or animal shelter, all of which need volunteers on a regular basis, or check out the virtual volunteer opportunities on VolunteerMatch.org (like, fielding emails for a pet rescue) so you can give back in the comfort of your PJs.
3
Unplug for the day
You can be happy for people who celebrate Valentine's Day, and at the same time hate getting bombarded with images of red roses and over-the-top gifts. "Social media has the power to make even independent, confident people compare themselves to others and make them wonder if everyone else has it better," says Taitz. So take a temporary break from social media, or if you can't go cold turkey, limit your activity to swiping through all the delightful pet accounts Instagram has to offer, which are guaranteed to make you smile.
4
Give bouquets to the people you adore
Why not use this holiday to make all your special people feel loved? Buy a bunch of supermarket blooms and mix and match them to create unique bouquets. If you want to make the arrangements extra thoughtful, check out our guide to flower meanings before you head to the store, and in a note, let your recipients know why you chose certain blossoms specifically for them.
5
Sign up for your go-to workout class
Treating Valentine's Day like a normal, boring day can feel best. Go about your usual, healthy routine instead of thinking you need to indulge, and ignore the voice that may be telling you to skip class because you assume you're the only who is going to show up, says Taitz. A lot of people, including couples, don't do anything out of the ordinary for the holiday.
6
Celebrate friendship
If you didn't have a chance to celebrate Galentine's Day (thank you Leslie Knope!) on February 13th, then round up your friends for a happy hour, relaxed dinner, movie night or all of the above on Valentine's Day. There's little chance of feeling lonely when you're surrounded by the best people you've ever met.
7
Babysit for a deserving family
Maybe it's a cousin with a new baby or a coworker overwhelmed with three kids, but chances are there is someone in your life that could desperately use a night off. Offer your babysitting services gratis and spend an evening doing fun activities with some pint-size cuties. Even if they end up being pint-size terrors come bedtime, the love and appreciation you'll get from their parents will make it all worth it.
8
Practice meditation
If you find yourself reminiscing about past Valentine's Day dates or former relationships (and most importantly, if this habit leaves you feeling awful), sign up for a meditation class or download a great meditation app like Insight Timer (get it for iOS or Android). "Meditation can get your mind in the here and now," says Taitz. This practice is worth learning even if you're not prone to bad trips down memory lane — it's linked to numerous health benefits and can help you find calm in the chaos no matter what day it is.
9
Discover your new favorite podcast
Whether you're looking to learn, laugh, or um, peek into the minds of famous serial killers, there's a podcast for every topic out there. If Feb 14th has you lamenting modern love, Nicole Byer's Why Won't You Date Me?, in which the single comedian recounts her crazy dating adventures, serves as a reminder that you're not alone. For even more of our top picks, check out our list of best 2019 podcasts, plus comedy podcasts and podcasts for history buffs.
10
Have a lazy night in
It's normal to feel pressured to do something exciting or "cool" on Valentine's Day, similar to how people feel about New Year's Eve. "Forcing yourself to stay out to watch the ball drop when you'd rather lay low is not the best way to kick off the new year," says Taitz. Same goes for forcing yourself to go out to a fancy dinner when you're not in the mood. If you'd be happiest chilling at home doing absolutely nothing (sounds glorious, right?), then do exactly that.
11
Cast a spell for self-care
Don't worry, no previous experience needed. Jaya Saxena and Jess Zimmerman, authors of magical lifestyle guide Basic Witches, offer this easy spell: Close your eyes and envision the version of yourself that feels most handsome, beautiful, vibrant — however you like to feel. Picture this self placing your hands together and a glow emanating from between them. Then, in your vision, open your hands and see that the glow surrounds a simple combination of circles and lines. This symbol represents your ideal self. Open your eyes, and draw the symbol you envisioned on a sticker. Affix the sticker to a bottle of moisturizer, sunscreen, or other product, imagining the glow you envisioned permeating its contents. Your product is now charged with the essence of whatever makes you feel strong and attractive. (You think a bubble bath can do that?)
Advertisement – Continue Reading Below