Rahat Indori was born as Rahat Qureshi on January 1, 1950, in Indore to Rafatullah Qureshi (father) and Maqbool Un Nisa Begum (mother). His father was a cloth mill worker and his mother was a housewife.
Rahat Indori completed his schooling from Nutan School. In the year 1973, he did his graduation from Islamia Karimia College, Indore. In the year 1975, he did his post-graduation in Urdu Literature from Barkatullah University, Bhopal.
In the year 1985, he was awarded a PhD in Urdu literature from Bhoj University, Madhya Pradesh for his thesis 'Urdu Main Mushaira'.
Rahat Indori married Seema Rahat on May 27, 1986. The couple had a daughter Shibil and two sons– Faisal Rahat and Satlaj Rahat. He then married Urdu and Hindi language poet Anjum Rehbar in the year 1988 and the couple separated in 1993.
Rahat Indori Career
From the last 40-45 years, Rahat Indori was actively performing in Mushairas and Kavi Sammelans. Rahat Indori was not only a celebrated poet in India but was also a recognised Urdu poet internationally. He has given numerous performances in the USA, UK, UAE, Canada, Singapore, Mauritius, KSA, Kuwait, Qatar, Bahrain, Oman, Pakistan, Bangladesh, Nepal etc.
Rahat Indori Death
Rahat Indori took his last breathe on August 11, 2020, at Aurobindo Hospital, Indore, after suffering two cardiac arrests at the age of 70 years. He tested COVID-19 positive a day before his death.
Rahat Indori Famous Shayri with Image
Bulati hai magar jane ka nai,
Wo duniya hai udhar jane ka nai.
Mai mar jaun to meri alag pehchan likh dena,
Lahu se meri peshani pe hindustan likh dena.
Ankh me pani rakho, hontho pe chingari rakho,
zinda rehna hai to tarkeebein bahut sari rakho.
Kisne dastak di, dil pe, ye kaun hai?
Aap to andar hain, bahar kon hai?
Jaban dil ki haqiqat ko kya bayan karti,
Kisi ka haal kisi se kaha nahi jata.
Ye hadsa to kisi din guzarne wala tha,
Mai bach bhi jata to ek roz marne wala tha.
Sabhi ka khoon shamil hai is mitti me,
Kisi ke baap ka hindustan thori hai.
Maine cheda to kis andaj se kaha,
Kuch sunoge meri jban se aaj.
Suraj, sitaare, chaand mere saath me rahe,
Jab tak tumhare haath mere haath me rahe,
Shaakhon se toot jaaye wo patte nahi hain hum,
Aandhi se koi keh deki aukaat me rahe
Aag ke paas kabhi mom ko laakar dekhoon
Ho izzazat to haath lagaakar dekhoon

Dil ka mandir bada veeran nazar aata hai
Sochta hoon teri tasveer lagakar dekhoon
Jhukne se rishta gehra ho toh jhuk jaao.
Par har baar aapko hi jhukna pare toh ruk jaao.
Bahut Guroor Hai Dariya Ko Apne Hone Par,
Jo Meri Pyaas Se Uljhe Toh Dhajjiyan Ud Jayein.
Kabhi akele mein milkar jhinjod dunga usse,
Jaha jaha se woh toota hain jod dunga usse
Mujhe woh chhor gya yeh kamaal hain uska,
Irrada maine kiya tha ki chhod dunga usse.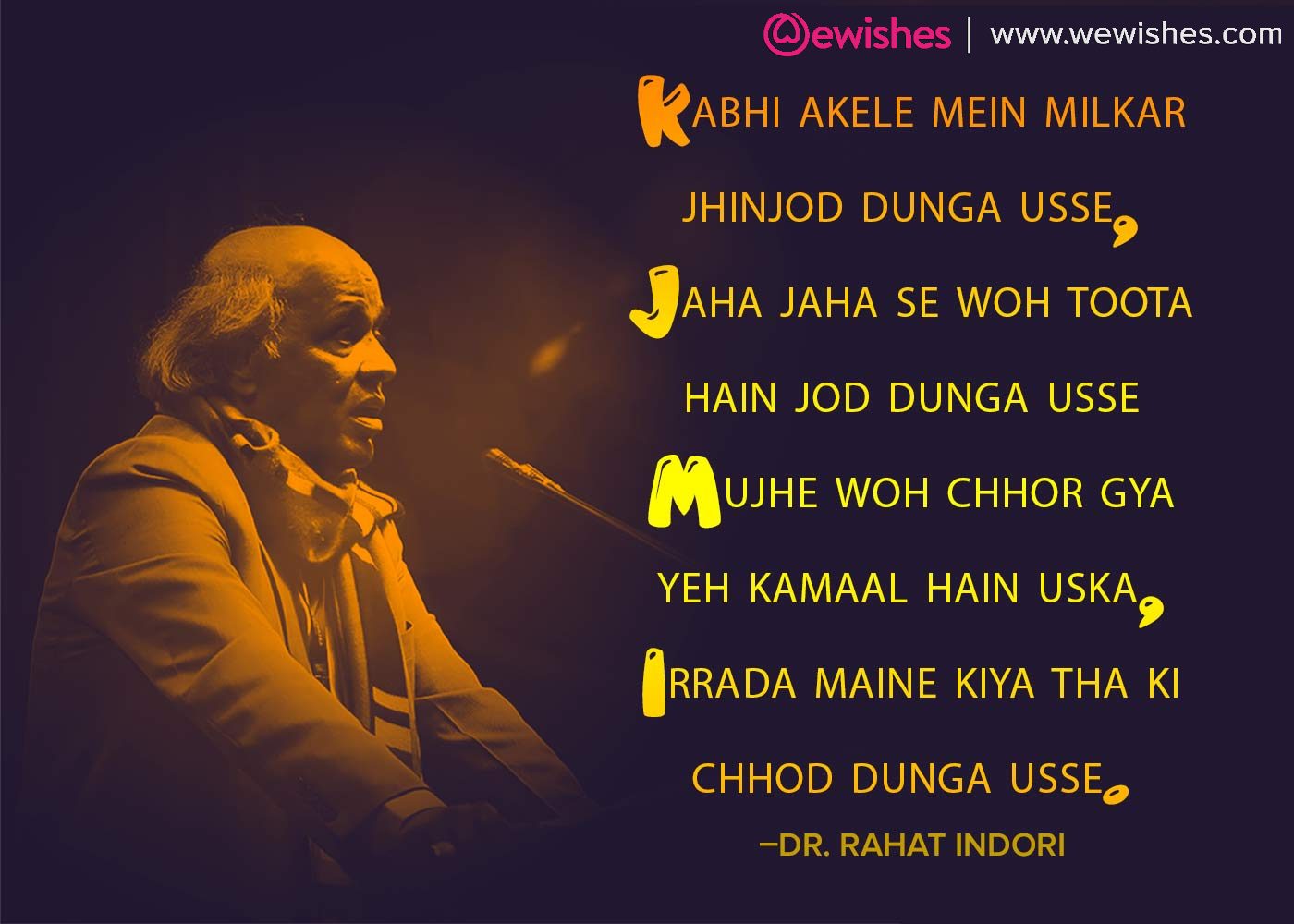 Ab Na Main Hun, Na Baaki Hai Zamane Mere,
Fir Bhi MashHoor Hain Shaharon Mein Fasane Mere,
Zindagi Hai Toh Naye Zakhm Bhi Lag Jayenge,
Ab Bhi Baaki Hain Kayi Dost Puraane Mere.
Zubban to khol, najar to mila, jawaab to de,
Mai kitni baar luta hoon mujhe hisaab to de
Tere badan ki likhawat main hain utaar chadaav
Mai tujhe kaise padhunga mujhe kitaab to de..
Katl karne ki khuli choot hain ab bhi lekin
Pyaar mat karna, yaha pyaar pe pabandi hain
Meri saason mein samaaya bhi bahut lagta hain,
aur Wahi shaks paraya bhi bahut lagta hain

Usse milne ki tamanna bhi bahut hain
Lekin aane jane meinkiraaya bhi bahut lagta hain
Khoob hai shaq ka yeh pehlu
Mai bhi barbaad ho gya Aur tu bhi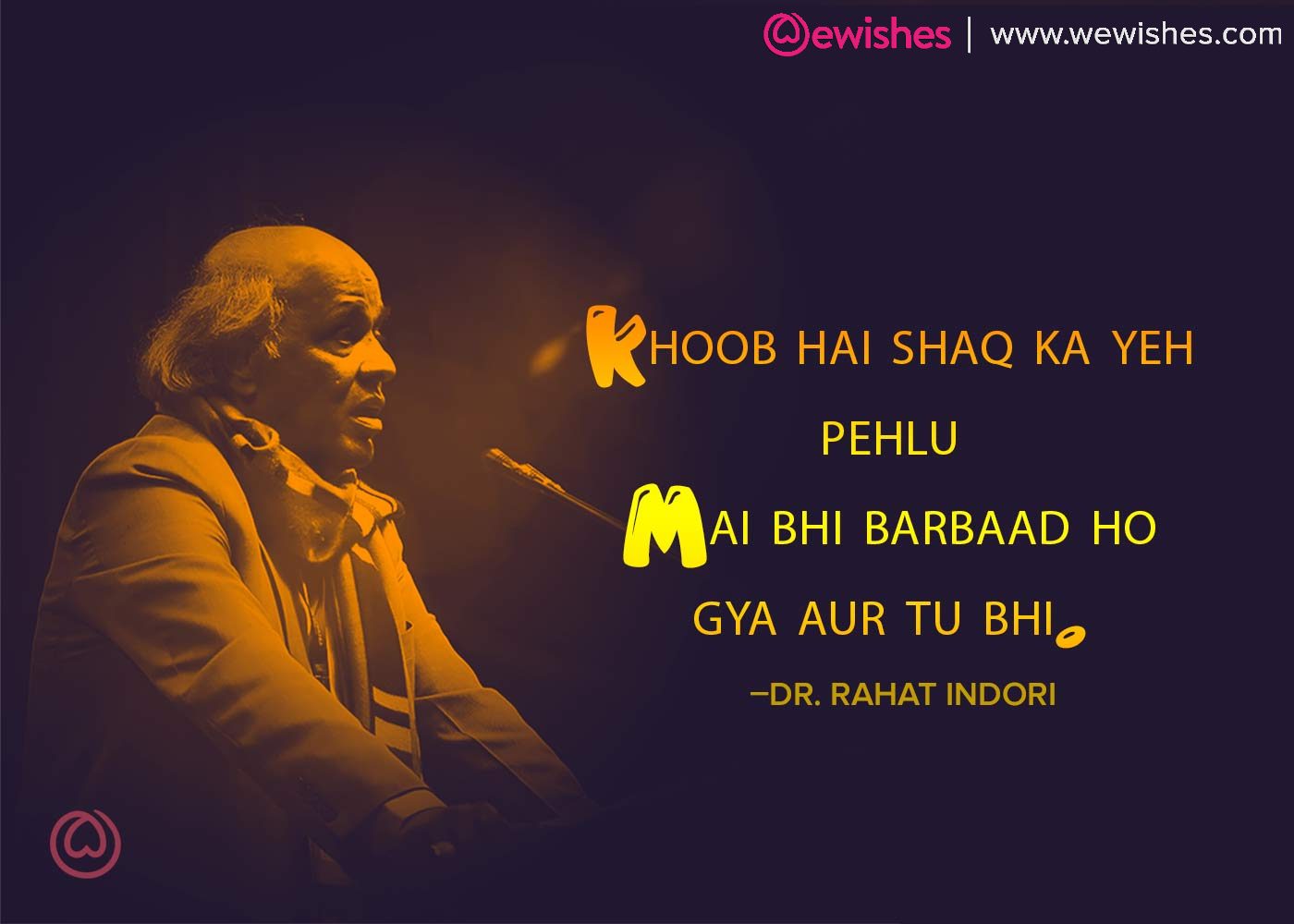 Aate jaate hain koi rang mere chehre par,
Log lete hain maja jikr tumhara kar ke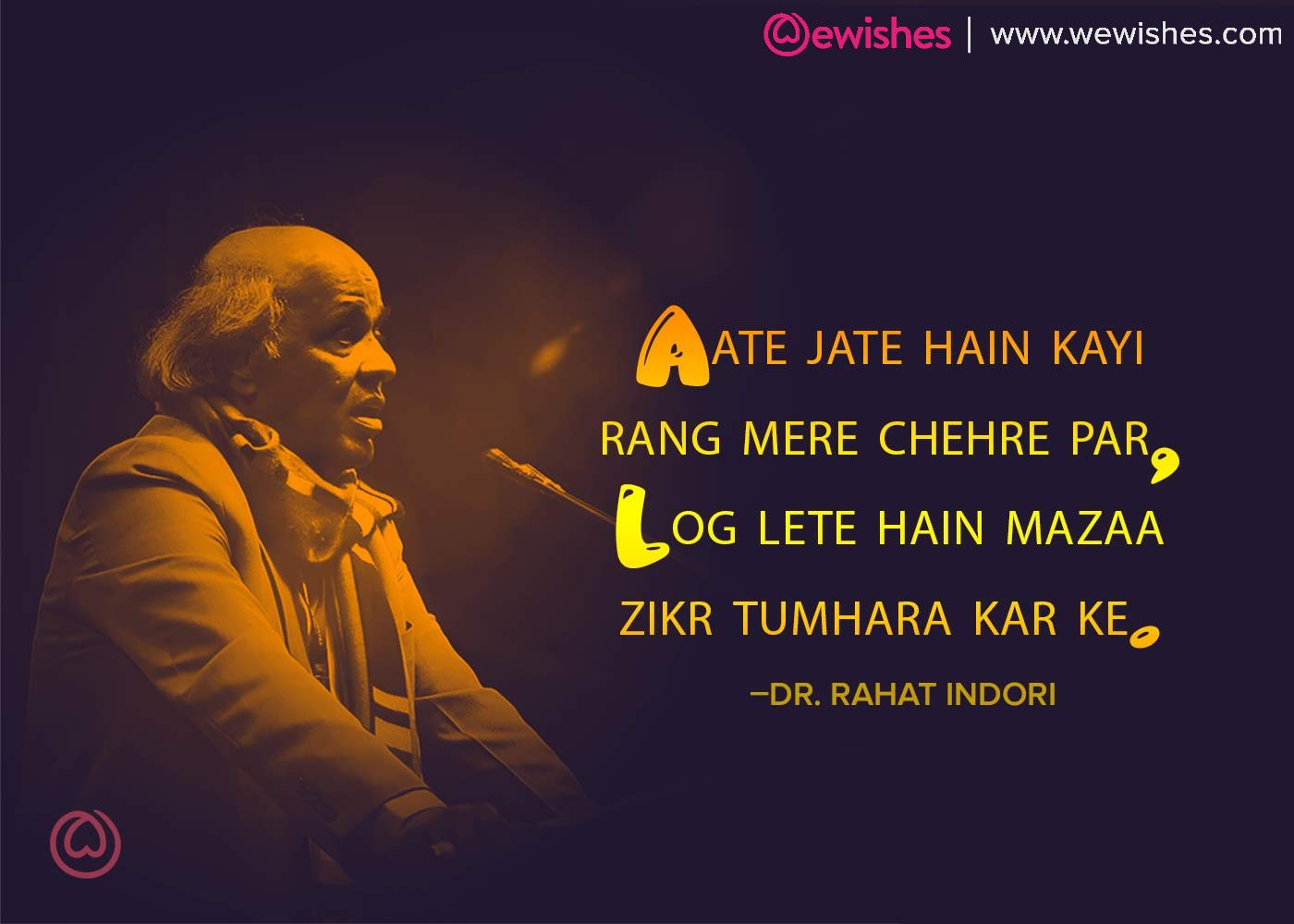 Phulon ki dukaan kholo, khusbu ka byapaar karo
Ishq khata hain toh, ye khata ek baar nhi, sau baar karo
Haath khaali hain tere shahar se jaate jaate
Jaan hoti to meri jaan lutaate jaate

Ab to har haath ka patthar hamein pahchanta hai
Umar gujari hai tere shahar mein aate jaate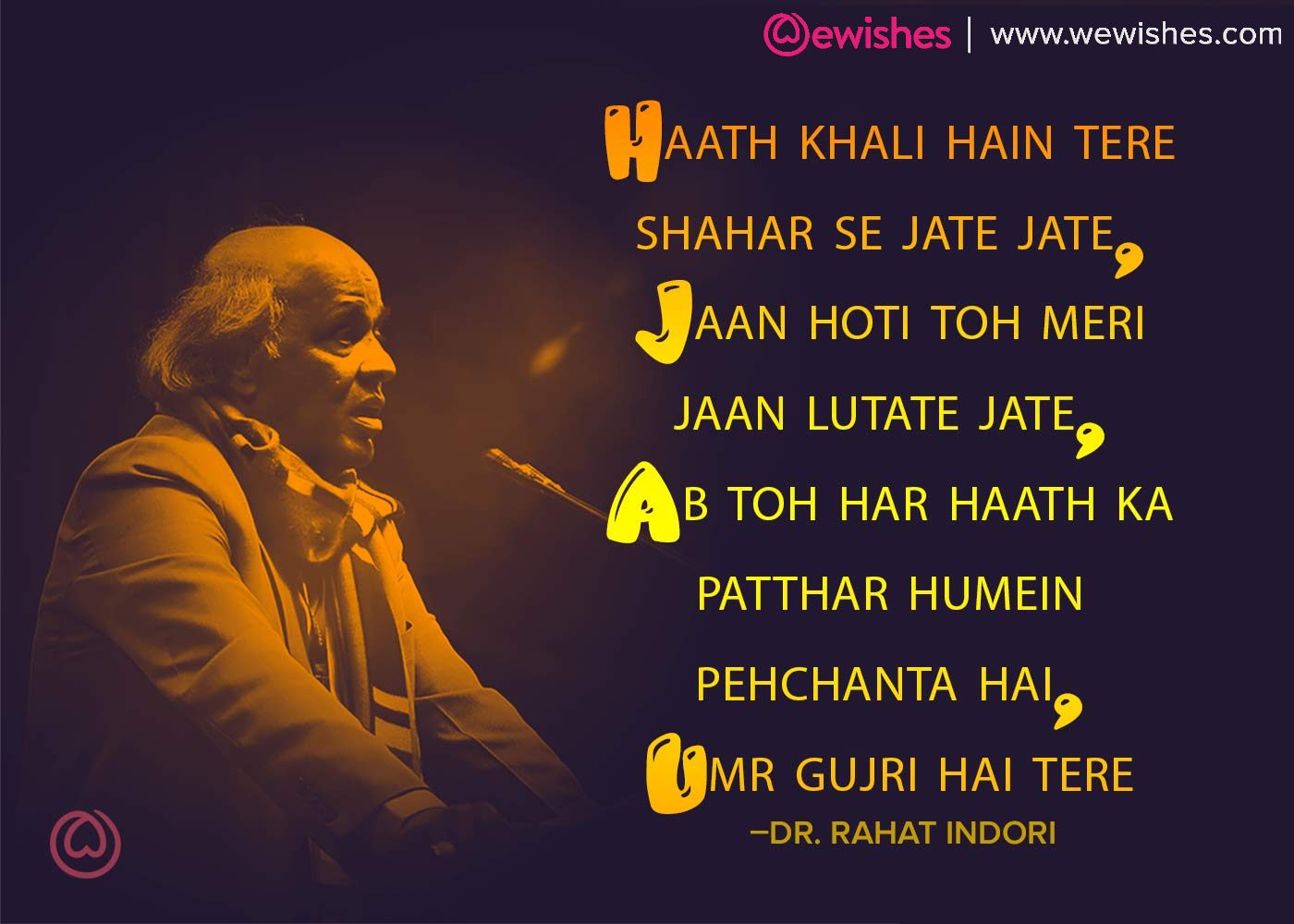 Rahat Indori Quotes
Kabhi dimaag, kabhi dil, kabhi nazar mein raho
Yeh sav tumhare hi ghar hain, kisi bhi ghar mein raho
Roz taaron ko numaish mein khalal padta hai
Chand paagal hai, andhere mein nikal padta hai
Beemar ko maraz ki dawa deni chahiye,
Mein peena chahta hoon, pila deni chahiye. 
Hum apni jaan ke dushman ko jaan kehte hain
Mohabbat ki isi mitti ko Hindustan kehte hain
Ek hukumat hai jo inaam bhi de sakti hai
Ek Kalandar hai jo inkaar bhi kar sakta hai
Rahat Indori: Bollywood Songs
Mere Khayal for the film Main Tera Aashiq.
Tuta hua dil tere hawaale for the film Aashiyan.
Zindagi naam ko hamari hai for the film Aashiyan.
Aaj humne dil ka har kissa for the film Sir.
Dil jigar ke jaan achchha hai for the film Janam.
Tumsa koi pyaara koi masoom for the film Khuddar.
Khat likhna humein khat likhna for the film Khuddar.
Tum mano ya na mano for the film Khuddar.
Raat kya maange ek sitaara for the film Khuddar.
Dil ko hazaar baar roka for the film Murder.
M Bole to for the film Munnabhai MBBS.
Chan Chan for the film Munnabhai MBBS.
Dekhle Aankhon Mein Aankhien Daal for the film Munnabhai MBBS.
Dhuan Dhuan for the film Mission Kashmir.
Yeh Rishta Kya Kehlata Hai for the film Meenaxi.
Chori Chori Jab Nazrein Mili for the film Kareeb.
Dekho Dekho Jaanam Ham for the film Ishq.
Neend Churayee Meri for the film Ishq.
Murshida for the film Begum Jaan.
Koi jaye to le aye for the film Ghatak.
---