Kargil Diwas is celebrated every year on July 26 to pay tribute and remember the sacrifice of the soldiers who lost their lives in the 1999 Kargil War. This celebrations take place in the Kargil–Dras sector and the national capital New Delhi. The PM of India pays homage to the soldiers at Amar Jawan Jyoti at India Gate every year. There are functions of patriotic nature that are also organized to commemorate the contributions of the armed forces and honour those who lost their lives. We give you a collection of Kargil Vijay Diwas 2020 messages, wishes and greetings which are there for free download.
On the occasion of Kargil Vijay Diwas, the countrymen remember and pay tribute to the brave soldiers who sacrificed their lives while protecting the motherland.
The Kargil War was fought in the Kargil sector of Jammu and Kashmir along the Line of Control, in May 1999. It was fought during July. In this war, 3 thousand soldiers of Pakistan were killed by the Indian Army. This war was fought at a height of 18 thousand feet.
The Kargil war lasted for 60 days and Pakistan finally suffered on 26 July 1999. The victory flag in the war in India was hoisted and this symbol of the country's pride was named 'Operation Vijay'.
On this special occasion of Kargil Vijay Day, remember the martyrs, share these Kargil Vijay Diwas Wishes, messages, and quotes with loved ones, and pay tribute to the martyrs.
---
Salute to all the brave soldiers of Indian Armed Forces who laid down their lives fighting for our nation.
Happy Kargil Vijay Diwas 2020 to all of us. Let's remember the sacrifice of those brave soldiers who died in the line of duty to protect our great nation. Jai Bharat!
Real Heroes don't have a name on the back of their Jersey. They wear their country's Flag. Thank you India's Real Heroes!
For your tomorrow, We gave our today…..Jai Hind…Kargil Vijay Diwas!
Remembering the brave soldiers that won the Kargil War on this day in 1999.
Saluting our true heroes.
Let us salute to all our soldiers who are brave and protect us all throughout the day and night. Let us remember their fights and toil on this day.
Kargil Vijay Diwas, a day to remember the gallant efforts and sacrifices of the Indian Armed Forces.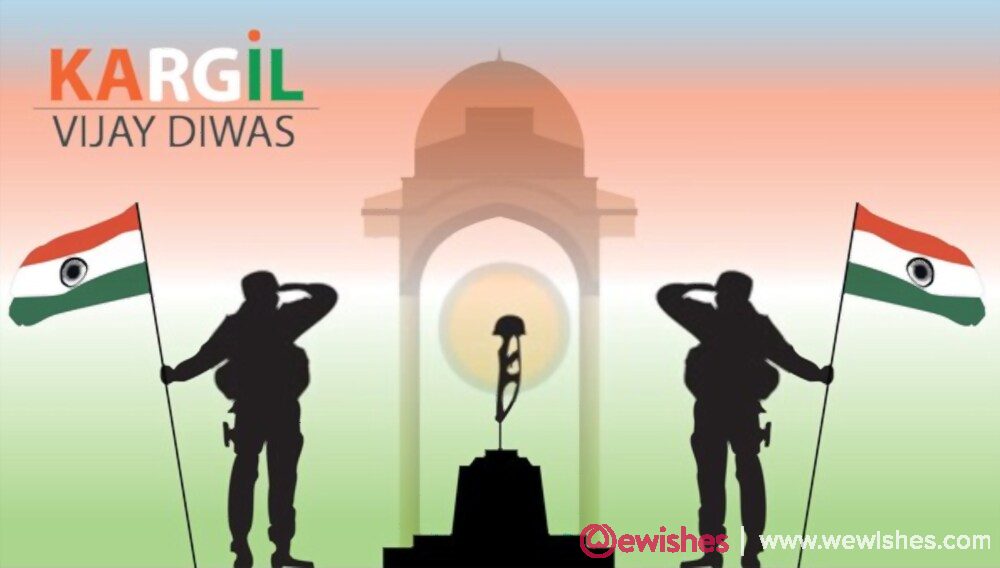 A mother, sister, father, brother, and friend have lost someone close to their hearts. We can't get them back, but we can certainly stand for them, who sacrificed their lives for us. By lighting a candle in their name, we can show our presence.
Freedom in mind. Faith in words. Pride in our hearts. Memories of our souls
A story of recapturing every inch of the mountain. A story of unflinching commitment. A story of valiant sacrifice for the nation. We salute our heroes, for their noble sacrifice has brought 'Vijay Diwas' upon us! Kargil Vijay Diwas!
Kargil Vijay Diwas Wishes in Hindi
---
मेरे शरीर से आती है वतन की मिट्टी की खुशबू, दुश्मन को चटाता हूं धूल, आसमान को भी भर लूं मुठ्ठी में, मैं रेगिस्तान में भी खिला दूं फूल।। कारगिल विजय दिवस की ढेर सारी बधाई ।।
लहू वतन के शहीदों का रंग लाया है,
उछल रहा है जमाने में नाम-ए-आजादी।
कारगिल विजय दिवस की ढेर सारी शुभकामनाएं ।।
मैं हूं भारतीय सेना का वीर जवान, कभी नहीं झुकने दूंगा भारत का मान, तिरंगा है मेरी आन, बान शान, कभी नहीं होने दूंगा भारत का अपमान।
कारगिल विजय दिवस की बधाई ।।
देशभक्तो के बलिदान से
स्वतंत्र हुए है हम
कोई पूछे कौन हो
तो गर्व से कहेंगे भारतीय है हम
विजय दिवस की शुभकामनाएं ।।
ना तेरा, ना मेरा,
ना इसका, ना उसका
ये वतन है सबका
कारगिल विजय दिवस पर शहीदों को नमन ।।
दिलों में हौसलों का तूफ़ान लिए फिरता हूं, मैं हिंदुस्तान हूं, पानी से भी दिए जलाने का हुनर लिए फिरता हूं, मैं भारतीय सेना हूं।
कारगिल विजय दिवस की शुभकामनाएं ।।
Kargil Vijay Diwas Quotes
---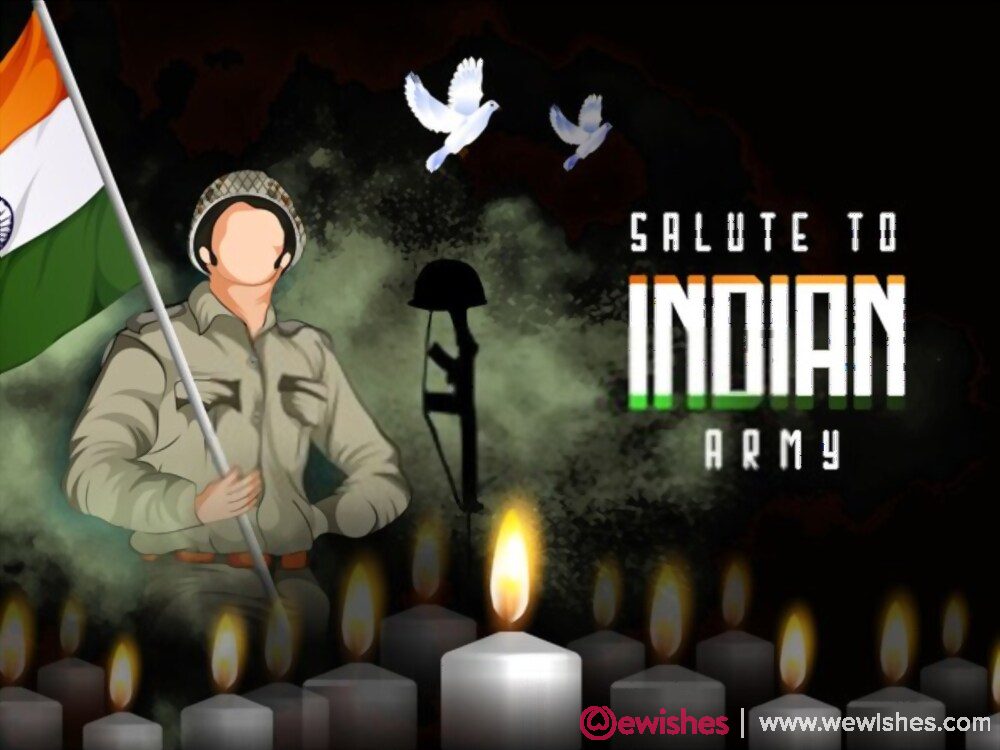 "If death strikes before I prove my blood, I swear I'll kill Death." – Lt. Manoj Kumar Pandey
"Soldier is not just a person, One is our Pride, Army is our glory, Honour we earned" – Kaushik Dhakate
"We live by chance, we love by choice, we kill by profession." – Officers Training Academy, Chennai
"Either I will come back after hoisting the Tricolour, or I will come back wrapped in it but I will be back for sure." – Captain Vikram Batra
"I am a soldier. I fight where I am told, and I win where I fight."
"Freedom in mind. Faith in words. Pride in our hearts. Memories of our souls. Jai Bharat! Kargil Vijay Diwas"
"They fought until the end. Not budged an inch. They were self-less. They were undaunted. They were soldiers of the Indian Army."
Kargil Vijay Diwas Messages
---
Hail the courageous Indian soldiers who laid their lives for the country, its land and its people.
To the soldiers who gave up their everything for the country, I salute your brave soul on Kargil Vijay Diwas.
Kargil Vijay Diwas, a day to remember the gallant efforts and sacrifices of the Indian Armed Forces.
Our flag does not fly because the wind moves, it flies with the last breath of each soldier who died protecting it. Kargil Vijay Diwas!
On this Kargil Vijay Diwas, Memorise the true Heroes of our Nation who sacrificed their lives for our Better tomorrow.
I hope you like these collections of Kargil Vijay Diwas Wishes. Also, If you've found us useful, please do consider telling your friends about it. All you have to do is send these quotes on WhatsApp and ask them to subscribe to us.
If you like these Kargil Vijay Diwas Wishes, feel free to pin them on Pinterest and share them around! Happy reading! Thanking you for visiting our WeWishes, for more updates on thoughts and quotes, please visit regularly more updates.
Please Do Follow us on Facebook and Instagram.
---