A wedding is a beautiful ceremony where two lovely souls are united forever in the bond of marriage.
The most special moment of your life is the day when you say "I Do". And this day is your own Wedding Day. On this day where ever you see, all around you is happiness and butterflies flying everywhere.
Wedding traditions vary from one culture to another. There are different customs, rituals, and traditions which vary from one group to another. These marriage ceremonies involve an exchange of marriage vows by the beautiful couple. A wedding is not just an exchange of rings, flowers, etc it is more than that. Marriage is the beautiful connection between two souls made for each other.
A wedding day is a very special day indeed in the lives of the couple as well as the family. There are numerous parts in a wedding that all come together on this special day to make it complete. Marriage quotes can play an important part in text for wedding stationery, wedding readings, and more. Even if you find yourself searching for wedding vow examples, you can be sure to find inspirational wedding quotes embedded in these vows to make them complete.
Also read: Inventive Ways For Presenting It A Perfect Birthday Celebration
From newlyweds to couples who have been together for years, quotes about marriage do well to remind couples of the love and commitment that they share. So, asides from a wedding, they can also be used at a vow renewal ceremony or even wedding anniversary celebration.
Now when we talk about Weddings. There come different customs associated with various religions and cultures.
Christian Wedding: Christian weddings are normally held at Church. A church wedding is a ceremony presided over by a Christian priest or pastor. The lovely couple exchanged vows on the church altar.
Hindu Wedding: Hindu weddings are conducted totally or at least partially in Sanskrit, the language of the Hindu scriptures. The wedding celebrations last for several days. The different ceremonies included in the Hindu wedding are Mehndi, Sangeet, Ring Engagement, Wedding, and finally Reception. Several other rituals may precede or follow these afore-mentioned rites.
Jewish Wedding: Jewish wedding is followed by Jewish laws and traditions. These include Ketubah, a marriage contract which is signed by two witnesses. A wedding canopy, a ring owned by the groom is given to the bride under the canopy and the breaking of a glass.
Muslim Wedding: Muslim wedding is guided by the Islamic laws and practices specified in the Quran. The purpose of marriage in Islamic culture is to preserve the religion through the creation of a family.
Punjabi Wedding: Punjabi wedding is an excellent reflection of Punjabi culture with ritual, song, dance, food, and dress that have evolved over centuries. Weddings are held at Gurudwara in front of Guru Granth Sahib.
So we can clearly see that a wedding is indeed a beautiful ceremony. Now let's explore out the most exciting Wedding Quotes that will make you overwhelmed and joyful.
Wedding Quotes:
"Wedding is the beautiful ceremony that will make two souls united forever."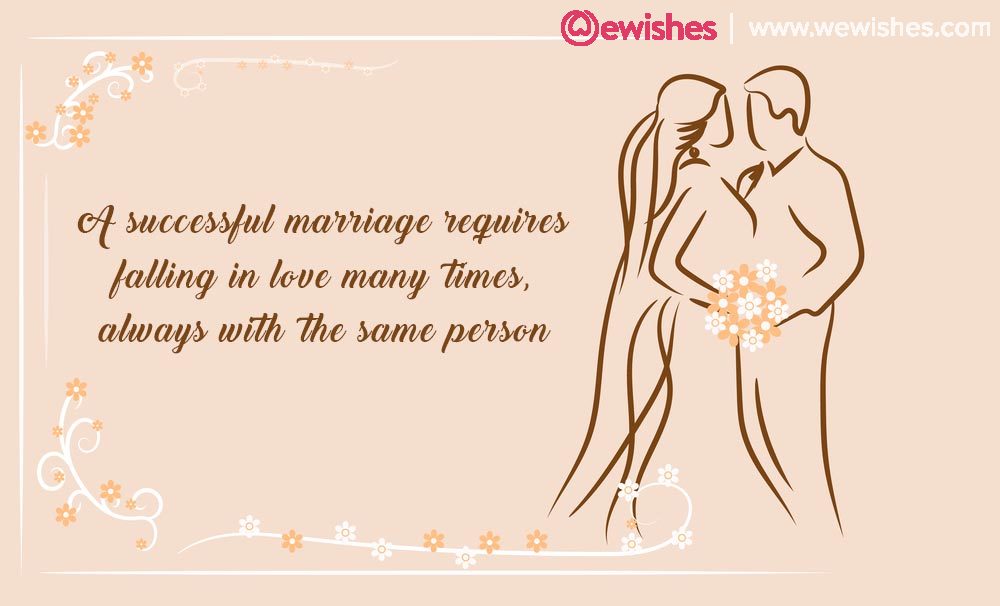 "A successful marriage requires falling in love many times, always with the same person." — Mignon McLaughlin
"There is no more lovely, friendly, and charming relationship, communion or company than a good marriage." — Martin Luther
"Our wedding is a life-time affair by falling in love with you again and again."
"Perfect wedding is the one when the most imperfect couple learns to enjoy their difference."
"The most lovely, friendly and charming relationship is the best wedding."
"Our wedding will be just like the one you dreamed in your dreams like a beautiful fairy tale."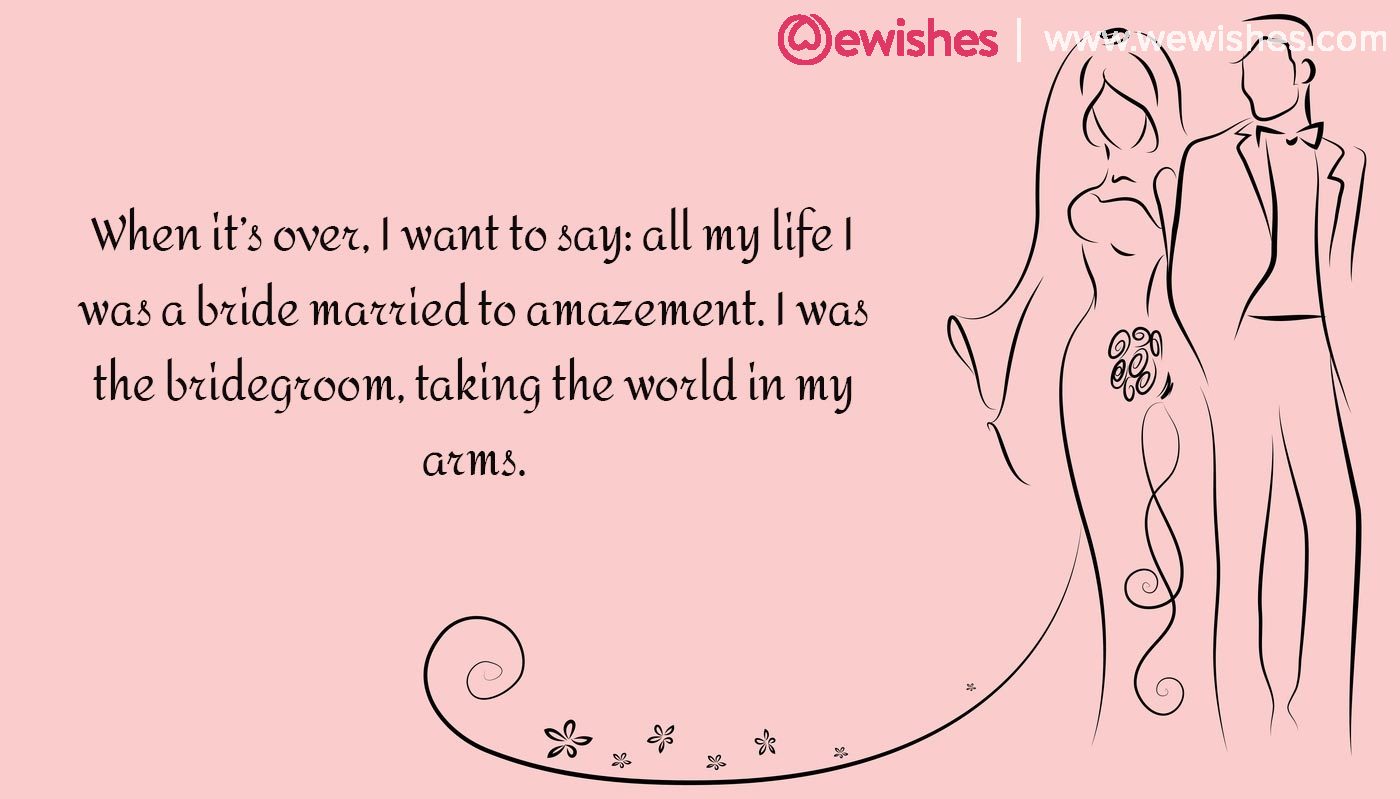 "When it's over, I want to say: all my life I was a bride married to amazement. I was the bridegroom, taking the world in my arms." — Mary Oliver
"Your wedding day will come and go, but may your love forever grow."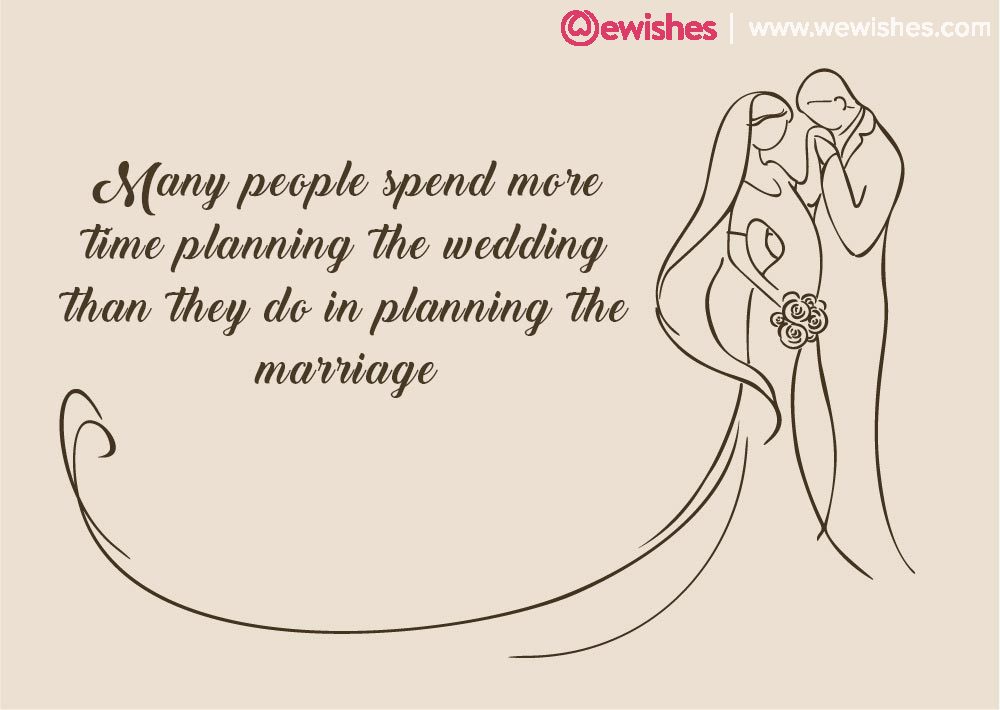 "Many people spend more time planning the wedding than they do in planning the marriage." — Zig Ziglar
"Wishing you joy, love, and happiness on your wedding day and as you begin your new life together."
"Weddings to me are wondrous because they are so filled with tomorrows." — Mary Forsell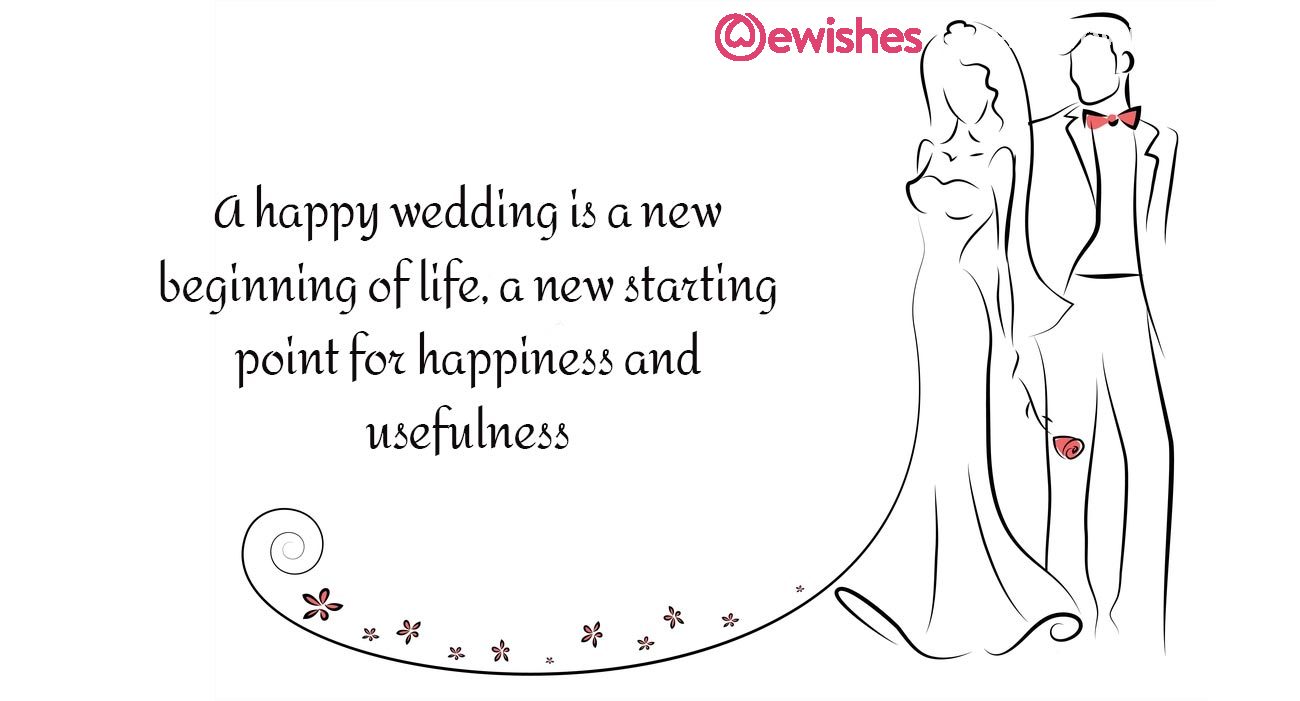 "A happy wedding is a new beginning of life, a new starting point for happiness and usefulness."
"You don't marry the person you can live with-you marry the person you can't live without."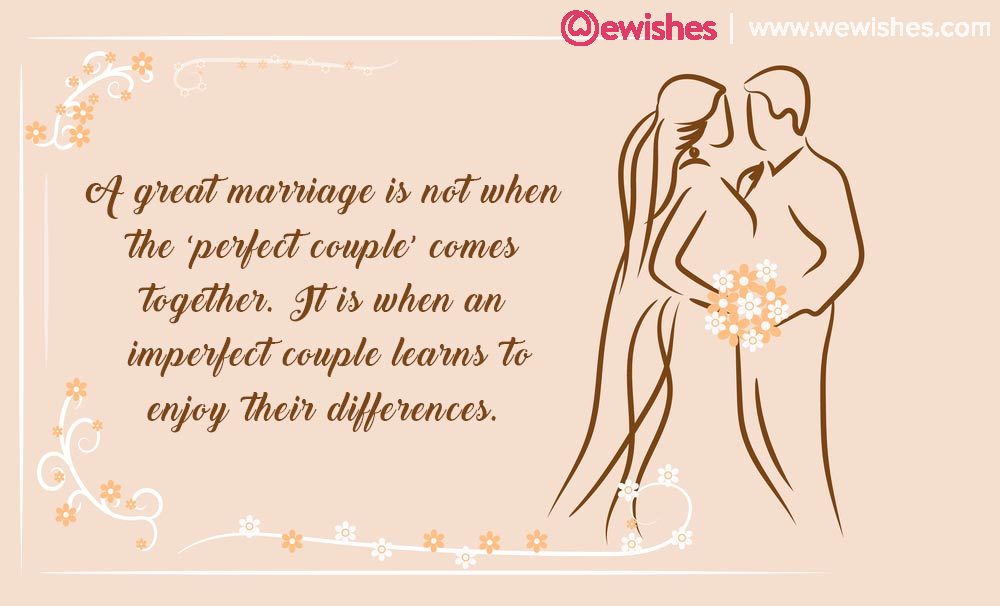 "The greatest marriages are built on teamwork. Mutual respect, a healthy dose of admiration, and a never-ending portion of love and grace." — Fawn Weaver
"Marriage–a book of which the first chapter is written in poetry and the remaining chapters written in prose." — Beverly Nichols
"One should believe in the wedding as in the immortality of the soul."
"Every heart sings a song, incomplete until another heart whispers back. Those who wish to sing always find a song. At the touch of a lover, everyone becomes a poet." — Plato
"A great marriage is not when the 'perfect couple' comes together. It is when an imperfect couple learns to enjoy their differences." — Dave Meurer
"The beauty of marriage is not always seen from the very beginning—but rather as love grows and develops over time." — Fawn Weaver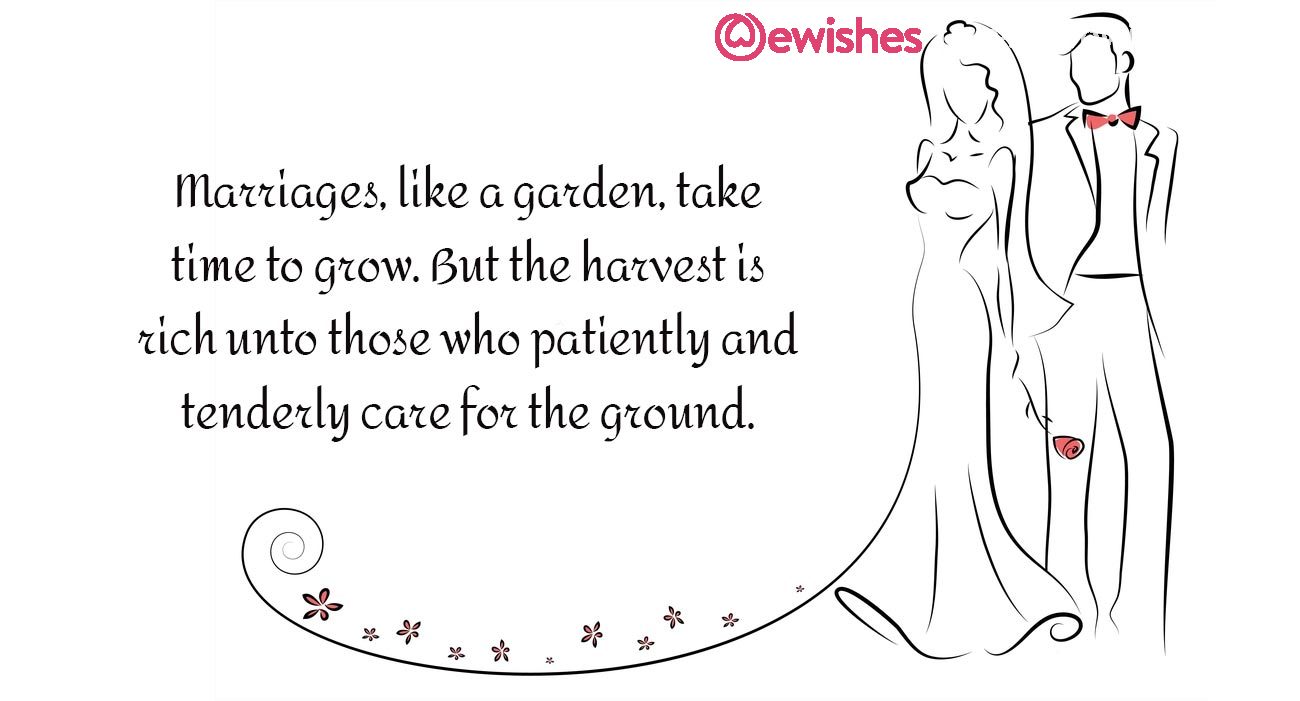 "Marriages, like a garden, take time to grow. But the harvest is rich unto those who patiently and tenderly care for the ground." — Darlene Schach
"It's amazing how one day someone walks into your life, and suddenly, you can't remember how you lived without them." — Anurag Prakash Ray
"Being deeply loved by someone gives you strength, while loving someone deeply gives you courage." — Lao Tzu
"I swear I couldn't love you more than I do right now, and yet I know I will tomorrow." — Leo Christopher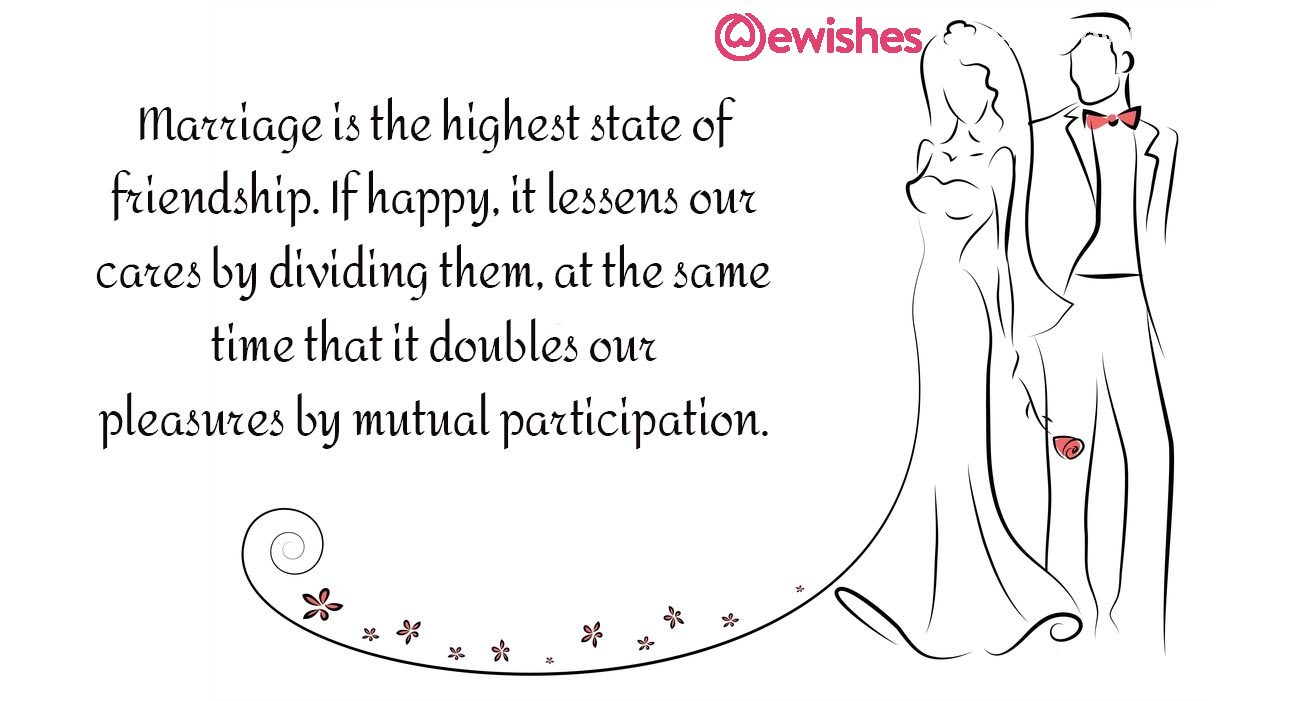 "Marriage is the highest state of friendship. If happy, it lessens our cares by dividing them, at the same time that it doubles our pleasures by mutual participation." — Samuel Richardson
"A wedding anniversary is the celebration of love, trust, partnership, tolerance and tenacity. The order varies for any given year." — Paul Sweeney
"A marriage is not a noun; it's a verb. It isn't something you get. It's the way you love your partner every day."
— Barbara De Angelis
"Being deeply loved by someone gives you strength, while loving someone deeply gives you courage."
—Lao Tzu
"You know you're in love when you can't fall asleep because reality is finally better than your dreams."
—Dr. Seuss
"Grief can take care of itself, but to get the full value of joy, you must have somebody to divide it with."
—Mark Twain
"You will find, as you look back upon your life, that the moments when you have truly lived are the moments when you have done things in the spirit of love."
—Henry Drummond
"Love doesn't make the world go round. Love is what makes the ride worthwhile."
—Franklin P. Jones
"In dreams and in love there are no impossibilities."
—János Arany
"A successful marriage requires falling in love many times, always with the same person."
—Mignon McLaughlin
"When you look for the right person, you always end up with the wrong one. But when you just sit by the corner and wait, he comes along and shares the corner with you."
—Unknown
"You know when you have found your prince because you not only have a smile on your face, but in your heart as well."
—Unknown
"Love is life. And if you miss love, you miss life."
—Leo Buscaglia
"A good marriage is one which allows for change and growth in the individuals and in the way they express their love."
—Pearl S. Buck
"The greatest marriages are built on teamwork. A mutual respect, a healthy dose of admiration, and a never-ending portion of love and grace."
—Fawn Weaver
"In a marriage, each partner is to be an encourager rather than a critic, a forgiver rather than a collector of hurts, and enabler rather than a reformer."
—H. Norman Wright
"The real act of marriage takes place in the heart, not in the ballroom or church or synagogue. It's a choice you make on your wedding day, and over and over again and that choice is reflected in the way you treat your husband."
—Barbara De Angelis
"There is no such thing as a perfect man or a perfect marriage. But the one I have is perfect for me."
—Fawn Weaver
"Remember, we all stumble; every one of us. That is why it's a comfort to go hand in hand."
—Emily Kimbrough
"The beauty of marriage is not always seen from the very beginning—but rather as love grows and develops over time."
—Fawn Weaver
"A marriage is not a noun; it's a verb. It isn't something you get. It's the way you love your partner everyday."
—Barbara De Angelis
"To love or have loved, that is enough. Ask nothing more."
—Victor Hugo
"Marriage is the highest state of friendship. If happy, it lessens our cares by dividing them, at the same time that it doubles our pleasures by mutual participation."
—Samuel Richardson
"You don't marry the person you can live with—you marry the person you can't live without."
—Unknown
"You should be kissed and often, and by someone who knows how."
—Margaret Mitchell
"Marriages, like a garden, take time to grow. But the harvest is rich unto those who patiently and tenderly care for the ground."
—Darlene Schacht
"Tis better to have loved and lost, Than never to have loved at all."
—Alfred Lord Tennyson
"A happy marriage is a long conversation which always seems too short."
—Andre Maurois
"You don't marry the person you can live with—you marry the person you can't live without."
"When you realize you want to spend the rest of your life with somebody, you want the rest of your life to start as soon as possible." — From 'When Harry Met Sally
"I would rather share one lifetime with you than face all the ages of this world alone."
— J. R. R. Tolkien
"A good marriage is one which allows for change and growth in the individuals and in the way they express their love."
—Pearl S. Buck
"I love being married. It's so great to find one special person you want to annoy for the rest of your life."
— Rita Rudner
"It is such a happiness when good people get together—and they always do."
— Jane Austen
"Faith makes all things possible. Love makes all things easy."
— Dwight Moody
"Chains do not hold a marriage together. It is threaded, hundreds of tiny threads which sew people together through the years."
— Simone Signoret
"Wedding is the perfection of what love aimed at, ignorant of what it sought."
"Marriage is an authentic weaving together of families, of two souls with their individual fates and destinies, of time and eternity–everyday life married to the timeless mysteries of the soul."
— Sir Thomas Moore
" May your joining together bring you more joy than you can imagine."
"A Successful Marriage Requires falling In Love Many Times, Always With The Same Person."