"The doctor's existence is the start of the treatment" A dedicated day is celebrated on July 1 as Doctor's Day each year. National Doctor's Day 2020 is observed on July 1 to thank doctors for their devoted services towards their patients. Doctors have played the role of God in our most vulnerable and stressful time. National Doctor's Day allows people to show their appreciation to physicians. This Day is devoted to all the medical professionals who work and serve to save the lives of their patients around the clock. Doctor's Day 2020 has been celebrated for honoring the doctors' contributions and their tremendous dedication to advancing healthcare in India. Also, in this current scenario of pandemic COVID-19, doctors have worked as a backbone by performing their duty day and night without thinking about themselves or their family for a second.
Doctor's Day is, in reality, observed on various dates in countries all over the world. It is commemorated in India on July 1, because it is the anniversary of the birth and death of Dr. Bidhan Chandra Roy (Dr. B C Roy), one of India's most famous doctors. He is also acclaimed as Dhanvantri of Modern Era. It was initiated in 1991 by the Government of India to mark an appreciation for the great doctor. In 1962 the Medical Council of India established the National Award Fund for Dr. B.C. Roy to honor his memory. The Dr. B.C.Roy National Award was established in 1976 to honor the best minds in supporting specialty development in various medical branches. On February 4, 1961, Dr. Roy was awarded the great Indian civilian award "Bharat Ratna."
To respect the doctors and their role in the growth of the nation is celebrated. National Doctors 'Day in India is a significant awareness campaign providing big opportunities for all to be informed of the doctors' positions, significance, and responsibilities, as well as encouraging medical professionals to get together and fulfill their profession's obligations very intensively. Doctor's Day symbol is a red carnation, as this flower stands for affection, charity, kindness, and dedication features that a doctor must-have.
Government and non-governmental health agencies celebrate National Doctor's Day for decades. To get acquainted with achievements from the doctors. Workshops for consultation, free health care check-up camps, test centers for general screening are organized around the nation. School- and college-level events are also held to motivate young students to enroll in the medical community. Patients welcome their physicians by handing out greeting cards, presents, bouquets, and so on.
In case you are looking for Doctor's Days Quotes then we have a collection of Best Happy Doctor's Day Quotes & Wishes.
Doctor's Day Quotes:
Not all superheroes wear capes, Some walk around with Stethoscope too.
The life so short, the craft so long to learn.

– Hippocrates
"A good laugh & a long sleep are the best cures in the doctor's book "

– Irish Proverb
Each patient carries his own doctor inside him.

Norman Cousins
Doctors put a wall up between themselves and their patients; nurses broke it down.

Jodi Picoult
Doctors always think anybody doing something they aren't is a quack; also they think all patients are idiots.

Flannery O'Connor
human frame, in diet and in the cause and prevention of disease." – Thomas Edison
People pay the doctor for his trouble; for his kindness they still remain in his debt.

– Seneca
Thank You would be an understatement for you because you gave my life back to me. Here's praying all the good things in life for you. Happy Doctor's Day!

– Anonymous
Medicines cure diseases, but only doctors can cure patients.

– Carl Jung
"No man is a good doctor who has never been sick himself. "

– Chinese Proverb
Most doctors are prisoners of their education and shackled by their profession.

Richard Diaz
You need a good bedside manner with doctors or you will get nowhere.

William S. Burroughs
Surgeons must be very careful when they take the knife! Underneath their fine incisions. Stirs the Culprit Life!

– Emily Dickinson
---
Our profession is the only one which works unceasingly to annihilate itself.

– Martin H. Fischer
"Thank You for your commitment and a big salute for your service to mankind. Happy Doctor's Day!"

– Anonymous
There is no such thing as an infallible doctor.

Edward E. Rosenbaum
"You are more than just a doctor. You are a friend and guide too. So here's a special wish coming your way. Happy Doctors Day to you!"

– Anonymous
You cannot be a good doctor without pity.

Axel Munthe
It is not the healthy who need a doctor, but the sick. I have not come to call the righteous, but sinners to repentance.

Jesus Christ
"You are doing a great job by curing illness of people & bringing them health and happiness. Wish you more success On Doctor's Day!"

– Anonymous
"You are a great doctor – Healing people with your touch! You are a wonderful person as well as you bring joy and warmth to our hearts. Best wishes to you on Doctor's Day!"

– Anonymous
Tenderness and kindness are not signs of weakness and despair, but manifestations of strength and resolution.

Gibran Khalil Gibran
The doctor sees all the weakness of mankind; the lawyer all the wickedness, the theologian all the stupidity.

Arthur Schopenhauer
"You are the savior of many, You are being called as God's hands, Thank you choosing this profession and saving the life of many. Happy Doctor's Day!"

– Anonymous
When you treat a disease, first treat the mind.

Chen Jen
"Not everyone can become a doctor because not every has the knowledge, skill and patience to offer his services selflessly to the patients. Wishing a very Happy Doctor's Day to our highly inspiring doctors!"

– Anonymous
Drugs are not always necessary. Belief in recovery always is.

Norman Cousins
Diagnosis is not the end, but the beginning of practice.

Martin H. Fischer
"Dear Doctor, Thank You For Giving Me A New Life. Happy Doctor's Day!"

– Anonymous
The doctor is often more to be feared than the disease.

French Proverb
Medicines heals doubts as well as diseases.

Karl Marx
No man is a good doctor who has never been sick himself.

Chinese Proverb
When a lot of remedies are suggested for a disease that means it cannot be cured.

Anton Chekhov
The worst thing about medicine is that one kind makes another necessary.

Elbert Hubbard
To array a man's will against his sickness is the supreme art of medicine.

Henry Ward Beecher
Additional Read:
Happy Doctor's Day Wishes
You don't become a good doctor overnight, you have to work hard each and every day. Happy Doctor's Day to you.
Doctor is like a god for the patients as he is the only hope they have. Wishing a very Happy Doctor's Day to a wonderful doctor.
Being a doctor is a great responsibility and you are doing really amazing. Sending you warm wishes on Doctor's Day.
There is so much of dedication, so much of sacrifice and so much of patience that goes into becoming a doctor. On Doctor's Day, we thank you for being such a great doctor.
Doctor's prescription for you. A little smile for breakfast. Laughs for lunch. Happiness for dinner. Doctors fee? An SMS when you are free. Happy Doctors Day!
I want to say a big thanks for making me healthy and fit. You are the best doctor I have ever known & you've helped me in every way. Happy Doctors Day!
It is your deed that makes us feel proud. It's great to have a doctor in the family. Wish you a very happy Doctor's Day.
May all your days be as wonderful as you Have made all of mine. Happy Doctor's Day!
May your days be wonderful and healthy like you make it for others. I want to thank you this Doctors Day – You are an incarnation of God to others!
Additional Read:
Doctor's Day Quotes In Hindi
"जीवन केवल एक होता है दूसरों के लिए यह जीवन उपयुक्त है।"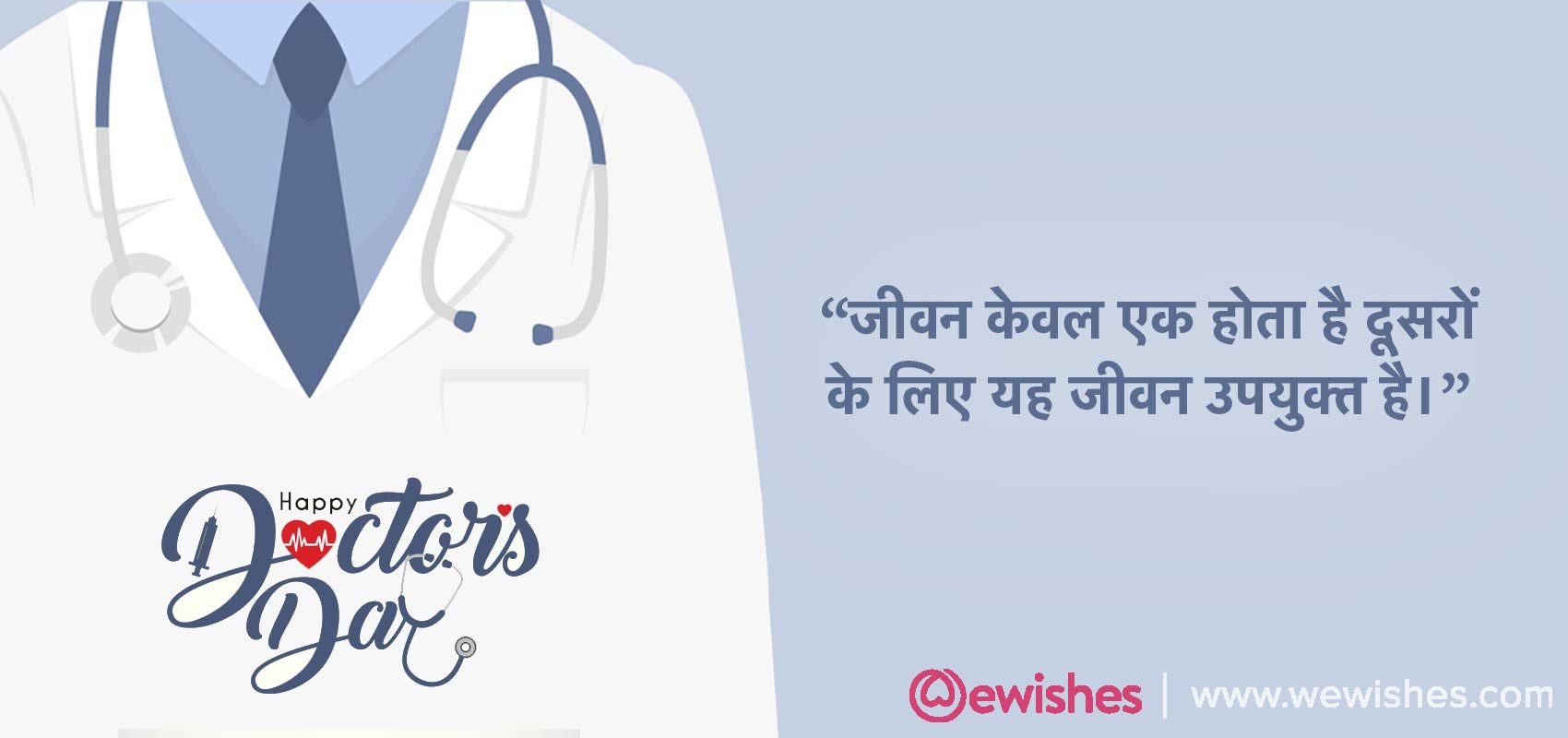 Doctor's Day Jokes 2020:
A man goes to chemist: I want to buy poison. CHEMIST: I can´t sell you that. A man shows the wife´s photo. CHEMIST: Oh, sorry. I didn't know you had a prescription!
The man told his doctor that he was not able to do all the things around the house that he used to do. When the exam was over he asked: Now doc, can I have it? Tell me in plain English what is wrong with me. Doc replied: Well, in plain English, you are just lazy. The man said: OK. Now give me the medical term so that I can tell my wife!
What is a double-blind study? Two orthopaedicians reading an ECG!
A large crowd was surrounding a car accident. On hearing about this, a doc arrived and tried to reach the spot but was each time he was pushed back. Finally, he shouted: Let me go, the victim is my father. The crowd paved the way for him and then he saw a dead donkey lying in front of the car!
PATIENT: I keep thinking that I'm a pair of curtains. DOCTOR: For heaven's sake, pull yourself together!
A woman went to the doctor.DOCTOR: You've got Tuberculosis. The shocked woman said: I don't believe you! I want a second opinion.
DOCTOR: O.K., You're ugly as well!
How do you tell the difference between male and female chromosomes? Pull down their genes!
How do you differentiate the doctors?
GENERAL PRACTITIONERS: Know-nothing and do little.
SURGEONS: Know little and do everything.
INTERNISTS: Know everything and do nothing.
PATHOLOGISTS: Know everything and can do everything but its usually too late!
Interesting facts About Doctor's Day:
Different countries celebrate Doctors Day on different days.
In Brazil Doctor's Day is celebrated on October 18
In USA Doctor's Day is celebrated on March 30.
The first-ever Doctor's Day was observed in the year 1933 on March 30 in the US state of Georgia.
The first Doctor's Day was celebrated by placing flowers on the graves of dead doctors.