Raksha Bandhan the festival of joy, happiness, and true eternal bond is celebrated to bring out the color of love, care, and understanding between brother and sister. It is a day that rejoices the presence of true relationships on earth. (Raksha Bandhan Wishes Quotes To Make The Festival More Memorable)
Rakhi is a special occasion that reminds me of my brother and the lovely time we have spent. This day is celebrated each year on the last day of the Hindu lunar calendar month of Shraavana, which typically falls in August. And this year it falls on 22nd August 2021.
Raksha means Defence, protection, care, and Bandhan means unity, togetherness. So, it is a festival that celebrates the unity of the bond between a brother and sister, where a sister ties a band thread on the wrist of his brother known as Rakhi.
The bond of protection, care, or obligation is what this day celebrates. It is known by different names in different places. Some address this day as Saluno, Silono, and Rakhi. The brothers mark as a symbol of potential stewards of the security of their sister. The festival also celebrated beyond blood relatives between a transformed tradition of voluntary kin relations, achieved through the tying of rakhi amulets, which have cut across caste and class lines, and Hindu and Muslim divisions.
On this day girls dress in the best dress out and organize a prayer thali and tie a rakhi onto the brother's wrist by blessing him and in return, the brother shares a gift with her sister. The married women visit her maternal house and celebrate the day with her brother. The day is followed by lots and lots of enjoyment and togetherness.
These days even in movies and plays the festival is portrayed in the best possible way and a great message is created all across. The festival is not only limited to our Indian continent but all observed on a large scale worldwide. Many Indians living outside India also celebrate this day and keep the charm of the festival on high spirits.
Now when it comes to sharing the message and spread the word of love on this day, at times we fall short of words. So let's explore some of the most touching Raksha Bandhan Wishes Quotes to be shared across with your loved ones on this day.
Must Read: Raksha Bandhan 2020: Quotes and Wishes – Make yourself ready to enjoy with your siblings
Raksha Bandhan Wishes Quotes
"A brother is a friend given by Nature."

-Jean Baptiste Legouve
"My sisters have taught me how to live."

-George Wasserstein
"A brother shares childhood memories and grown-up dreams."

-Author Unknown
"How do people make it through life without a sister?"

-Sara Corpening
"Sisters are for sharing laughter and wiping tears."

– Author Unknown
"There is no time like the old time, when you and I were young!"

-Oliver Wendell Holmes
Must Read: Top 7 rakhi design for Raksha Bandhan
"A sister is a gift to the heart, a friend to the spirit, a golden thread to the meaning of life."

-Isadora James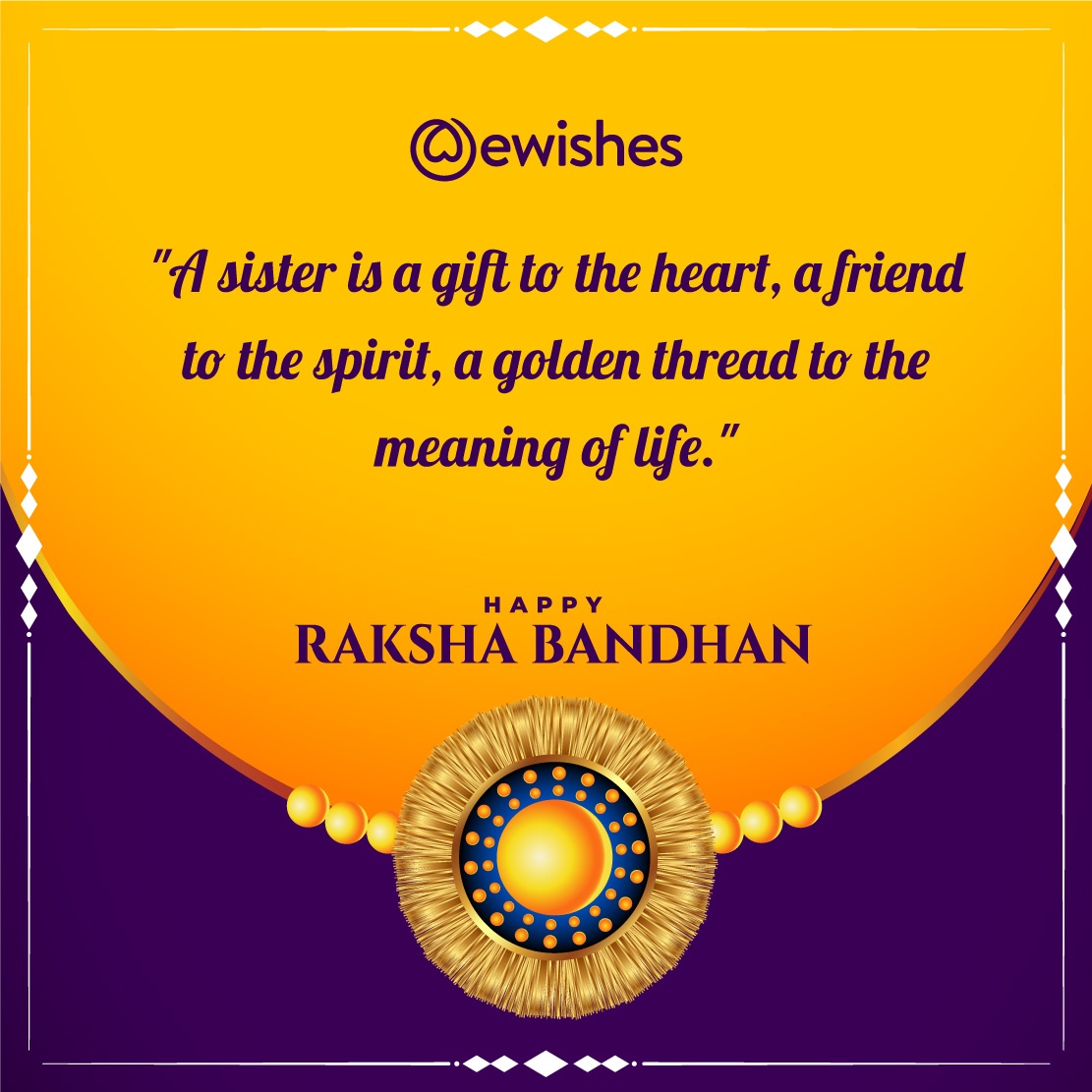 "It was nice growing up with someone like you – someone to lean on, someone to count on…"

-Author Unknown
"Sweet is the voice of a sister in the season of sorrow."

-Benjamin Disraeli
"If I could pick the best brother, I would pick you!"

-Catherine Pulsifer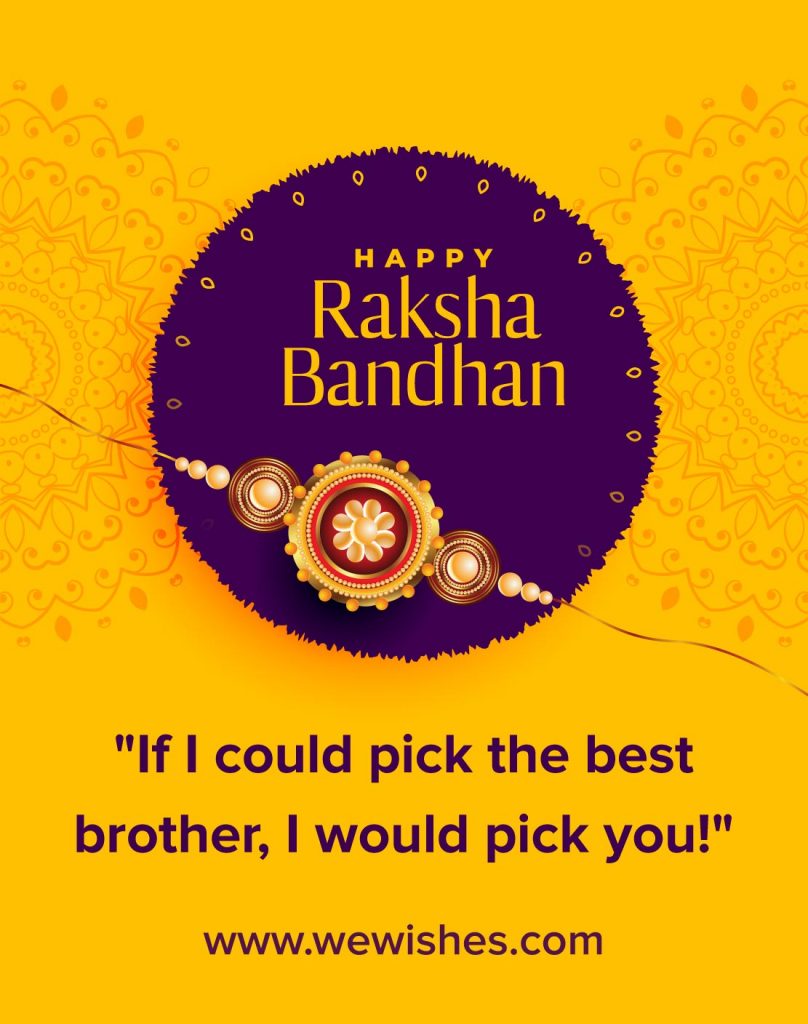 "You can kid the world. But not your sister."

-Charlotte Gray
"Chance made us sisters, hearts made us friends."

-Author Unknown
"In thee my soul shall own combined the sister and the friend."

-Catherine Killigrew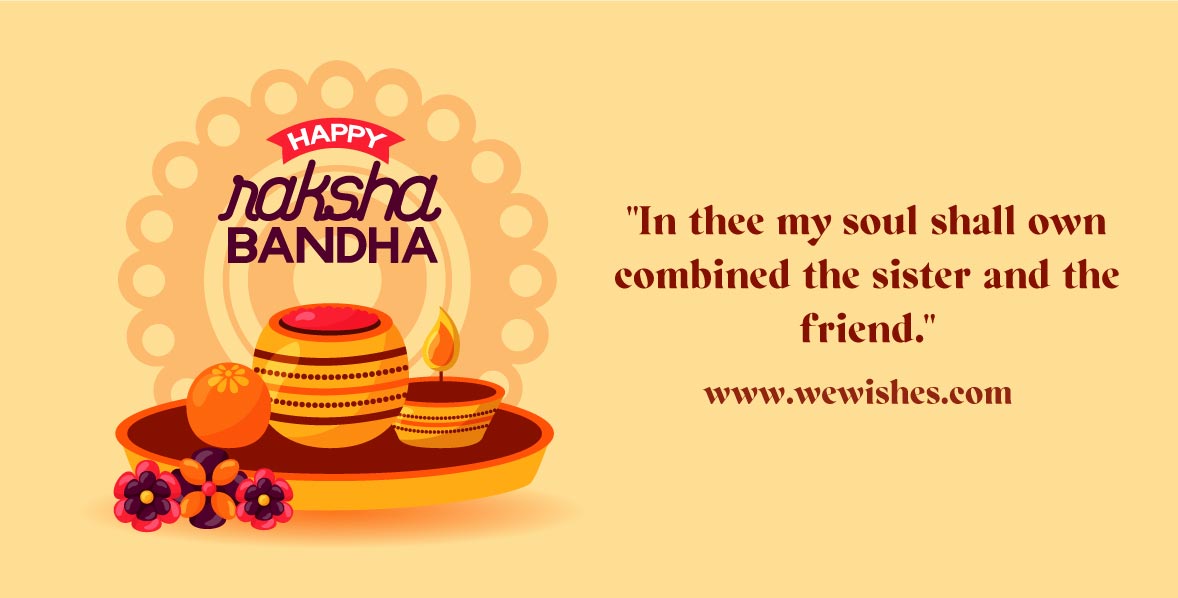 "What's the good of news if you haven't a sister to share it"?

-Jenny DeVri
"Sisters are probably the most competitive relationship within the family, but once sisters are grown, it becomes the strongest relationship."

-Margaret Meed
---
---
My brother, someone who I know I can always depend on!

-Catherine Pulsifer
Is solace anywhere more comforting than in the arms of a sister?

-Alice Walke
"A sister is a little bit of childhood that can never be lost."

-Marion C. Garretty
"Happy Rakhi to the sweetest brother in the world with lots of love."
My little brother, will you ever grow up….I hope not!

-Catherine Pulsife
Raksha Bandhan Messages
You know that you are the
most precious stone in the
collection of my secret treasure..
Wishing you very Happy Rakhi
and best of luck for everything."
God gave me an angel in disguised An angel that cares for me: An angel that loves me: An angel the scold me when I did wrong: And angel that praise me for my achievements And that angel is called Sister. Happy Raksha Bandhan, my dearest sister!
We may be miles apart, but I will always be there for you, by heart and by soul. In this year's Rakhi, I will cherish the happy moments, and not so happy moments, we shared together. Happy Rakhi to you, sis!
"I long for the day through the year
that you so ceremoniously tie rakhi
on my wrist and pray for my well being.
Dear Sis, I wish that our bond grows stronger every day.
The loving occasion of Raksha Bandhan is the best time brother, to reminisce fondly the wonderful moment we have spent together, sharing each other's joys and sorrows. Thanks for spreading smiles everywhere and making life so beautiful, meaningful and happy My Dear Brother.
You never say no, you never say anything's impossible and you never say you can't. That's my bro, a superman who make things possible and who make paths smoother. I love you bro.
Phoolon ka taron ka, sabka kehna hai, duniya me sabse achha mere Bhaiya hai! Love you always! Happy Raksha Bandhan.
Dear Brother, this Rakhi, I pray to God for your peace, happiness and prosperity. A warm and loving person like you deserves the best of life. Happy Rakhi.
Dear Brother, on this Raksha Bandhan I wish to say that you are the best brother ever. Happy Raksha Bandhan.
You are the person who holds me in my bad times, you are the person who dances with me in my happiness. I can't recall even a single day when you were absent from my life. I really love you.
Throughout these years, you have done so many things for me. It helps me know deep down inside how much you care. I may not say it everyday but I admire you a lot. I feel richly blessed to have a brother like you. Happy Raksha Bandhan.
Sometimes being a brother is even better than being a superhero and the day is today. Happy Raksha Bandhan sis.
Rakhi is just an excuse for me to express myself. You mean the world to me. Happy Raksha Bandhan to my sweet sister.
Raksha Bandhan Wishes In Hindi
दो किलो प्याज, एक किलो टमाटर, एक लीटर पेट्रोल और शगुन का एक डॉलर… हैप्पी रक्षा बंधन
खुश किसमत होती है वो बहन जिसके सर पर भाई का हाथ होता है हर परेशानी में उसके साथ होता है लड़ना झगड़ना फिर प्यार से मनाना तभी तो इस रिश्ते में इतना प्यार होता है|
जिसके सर पर भाई का हाथ होता है, हर परेशानी में उसके साथ होता है, लड़ना झगड़ना फिर प्यार से मनाना, तभी तो इस रिश्ते में इतना प्यार होता है|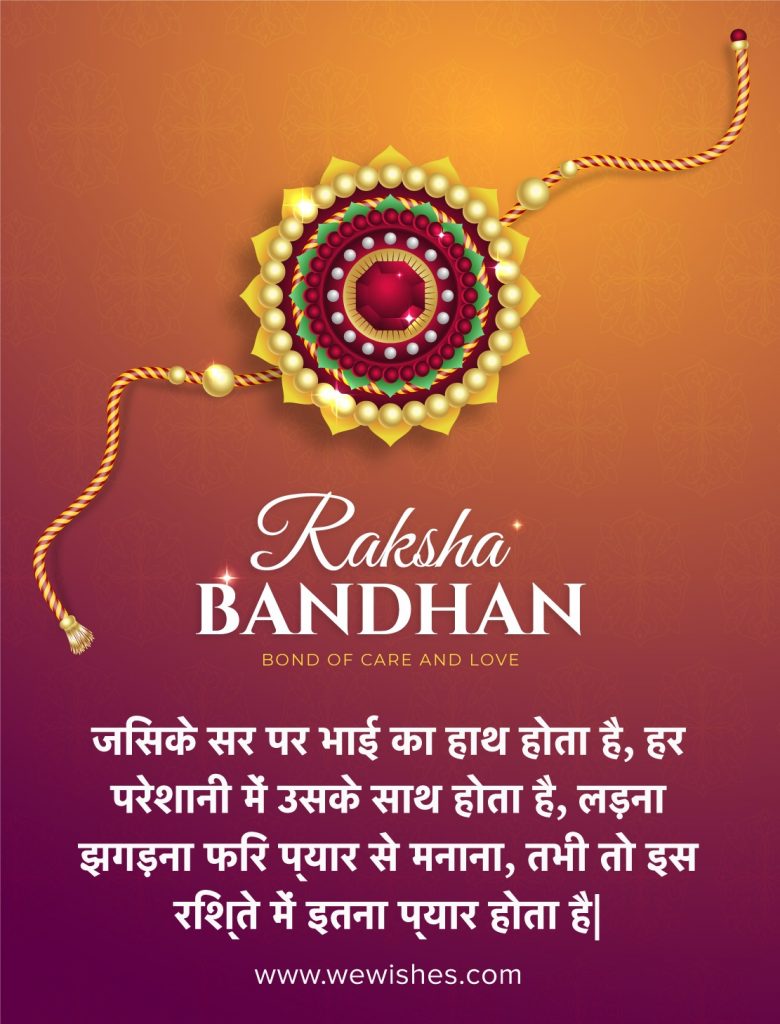 सूरज की तरह चमकते रहो, फूलों की तरह महकते रहो, यही दुआ है इस बहन की आज कि आप सदा खुश रहो|
गलियाँ फूलों से सज़ा रखी हैं, हर मोड़ पर लड़कियाँ बिठा रखी हैं पता नहीं तुम कहाँ से आ जाओ इसलिए सबके हाथ में राखी थमा रखी है|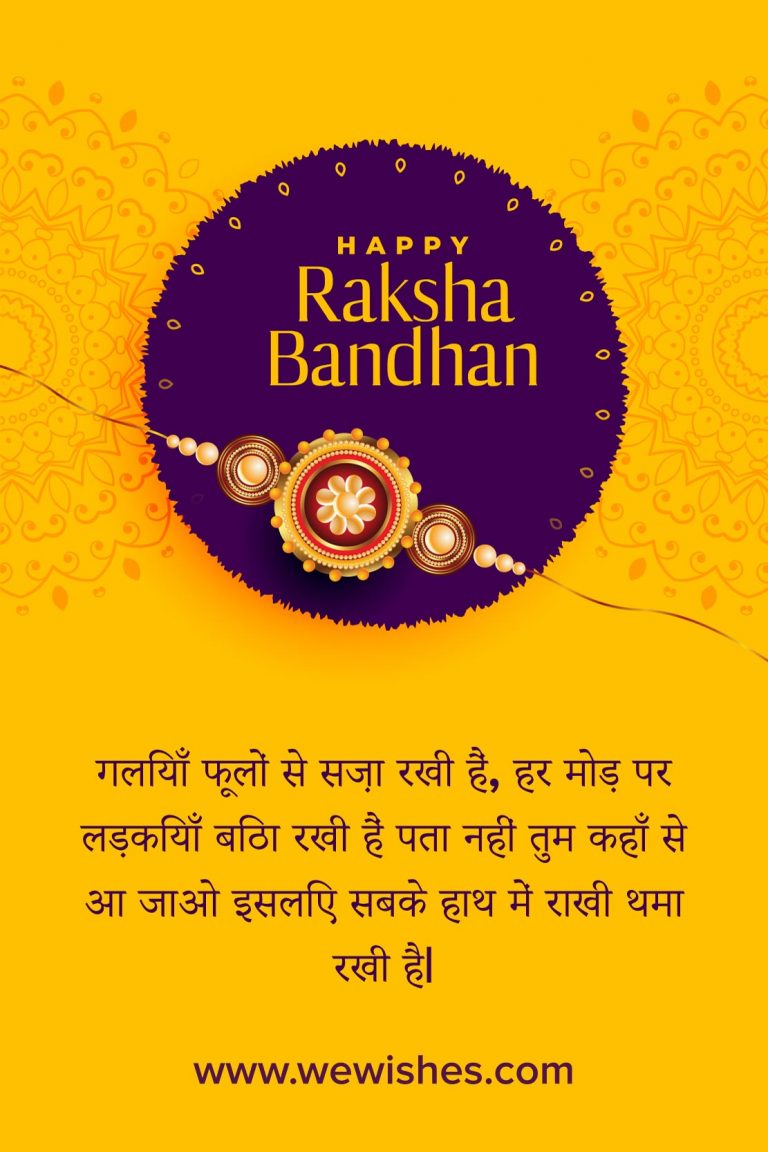 Raksha Bandhan Wishes In Tamil
சில நேரங்களில் ஒரு சூப்பர் ஹீரோவாக இருப்பதை விட ஒரு சகோதரனாக இருப்பது சிறந்தது.
உடன் பிறந்தவர்களுக்கு நன்றாக தெரியும் ஒருவருக்கொருவர் இதயத்தில் என்ன இருக்கிறது என்று. வாழ்க்கையின் சிறந்த சில தருணங்களை அவர்கள் ஒருவருக்கொருவர் பகிர்ந்து கொள்கிறார்கள். அவற்றின் பிணைப்பு விலைமதிப்பற்றது.
ஒரு சகோதரன் மீதான காதல் போன்ற வேறு காதல் எதுவுமில்லை. ஒரு சகோதரனிடமிருந்து வரும் காதல் போன்று மற்றவை இருப்பதில்லை.
ஒரு சகோதரனை நல்ல நண்பராகவும், ஒரு சகோதரியை நல்ல பெண்ணாகவும் வாழ்க்கையில் பெற்றிருப்பவர்கள் பாக்கியம் பெற்றவர்களே!
நான் சிறந்த சகோதரரைத் தேர்வு செய்ய முடிந்தால் எப்போதும் உன்னைத் தான் தேர்ந்தெடுப்பேன்.
Raksha Bandhan Wishes In Marathi
रक्षाबंधनाचा सण हा आला
ताई दादाच्या आठवणी जाग्या झाल्या,
एका राखीत सर्व काही सामावले
बहीण भावाचे प्रेम जगावेगळे…
रेशमी धाग्यत रंग आहे प्रेमाचा
वात्सल्य, आपुलकी, जिव्हाळ्याचा..
दादा तू नेहमी आनंदात रहा
यशाचे शिखर गाठत रहा हीच इच्छा…
राखी पौर्णिमेच्या शुभेच्छा!
ताई तू सासरी गेली
पण मी तुला विसरलो नाही
तुझ्या आठवणीत रडतो
रक्षाबंधनाची वाट पाहतो…
राखी पौर्णिमेच्या अनंत शुभेच्छा ताई!
श्रावणाच्या सरी अखंड बरसू दे
भाऊ माझा यशाने न्हाऊ दे..
राखी शिवाय काही नाही माझ्याकडे
म्हणून रक्षणाचे वचन मागते तुझ्याकडे..
हीच आहे माझी इच्छा
भाऊ तुला राखी पौर्णिमेच्या हार्दिक शुभेच्छा!
Conclusion:-
Raksha Bandhan is one of the most significant occasions celebrated in India. The festival brings with it the warmness and affection which a brother and sister share as a bond.
The festival is celebrated in the Hindu month of Shravana on a full moon day. This usually falls in the month of August, as per the Gregorian calendar. The festival is celebrated with immense dedication and affection. A sister plays the role of blessing his brother with longevity and success and in return, brother promises to protect sister from all evils of the universe.
So on this Raksha Bandhan let's share out the most amazing Raksha Bandhan Quotes Wishes Images with our loved ones.
I hope you like these collections of Raksha Bandhan Quotes Wishes. Also, If you've found us useful, please do consider telling your friends about it. All you have to do is send these quotes on WhatsApp and ask them to subscribe to us.
If you like these Raksha Bandhan Wishes and quotes, feel free to pin them on Pinterest and share them around! Happy reading! Thanking you for visiting our WeWishes, for more updates on thoughts and quotes, please visit regularly more updates.
Please Do Follow us on Facebook and Instagram.