Wish You All Religious Hindu festival of Kalashtami: Bhairav Asthami or Kalashtami every year is celebrated at Krishna Paksha. This is the festival of famous Hindu God Kaal Bhairav. According to Hindu culture and rituals Kaal Bhairav is the messenger of Lord Shiva and every hurdle of life mitigates with worship of god. This year this festival is coming on 23 April 2023. All the wishes fulfills with the grace of Kaal Bhairav. So here are Wishes, Quotes, Greetings, Messages of Kaal Bhairav Jayanti that you can share with your family and loved one's.
How to Worship Kaal Bhirav and Pooja Vidhi
First at all you should awake early in the morning before sunrise to worship and take a bath.
Then you can give some pious waterdrops to offer Kaal Bhairav Snaan (Bathing).
Black lentils or black peanuts are symbol of Lord Bhairav, so you can use these at worship time.
Some Seasum or Til oil also offer during the worship. After then you can light some scent candles and offer prayer of Lord Kaal Bhairav.
Kalasthami Wishes, Religious Messages, Mantras
Incarnation of Shivaji mitigate all sorrows of life and reveal pleasure everyone life on this religious day Kalashtami.
All you find' will achieve with the God of Gods Kall Bhairav.
Fame, Wealth, Health, Pleasure May come in your family with the grace of Mahadev, Happy Kalashtami 2023.
May God you bless with best wishes to advance in life forever. Happy Kaalbhairav Asthami to all.
Black God Kaal Bhairav protect you and your family with the all black magic, evil things.
Quotes, Greetings of Kalashtami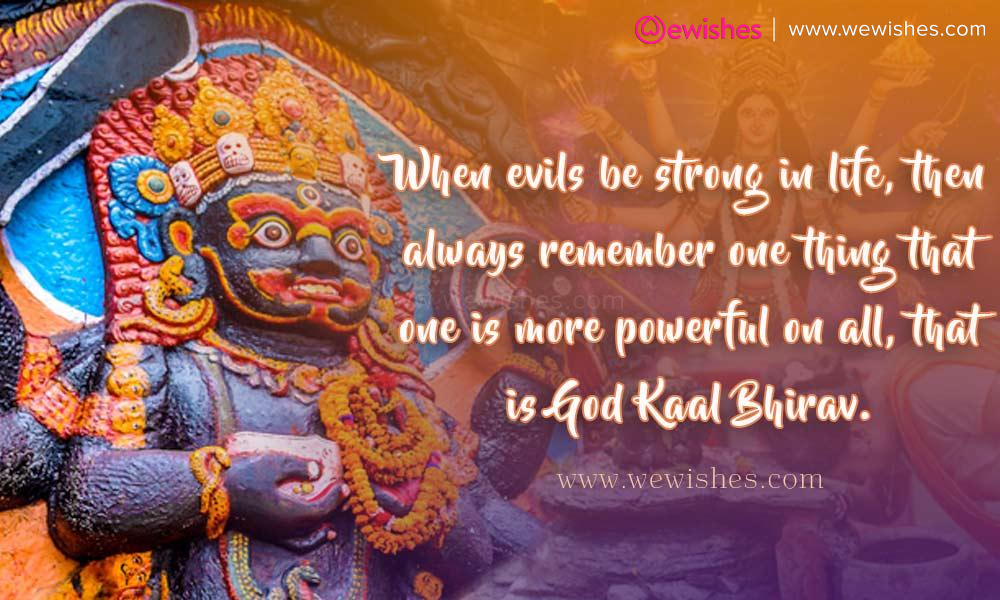 When evils be strong in life, then always remember one thing that one is more powerful on all, that is God Kaal Bhirav.
May your life shine like star's light with grace of Kaal Bhirav, Happy Kalashtami 2023.
May God give you peace and prosperity, you achieve in life everything you want. Happy Kalashtami.
Never underestimate the power of prayer of Kaal Bhairav. May God give you caring, loving person in your life.
God love you, Happy Kalashtami, on this festival you achieve cheers life, Happy moments, and prosperity.
For more update stay tune with wewishes.com