Every year, on 31 May, the World Health Organization (WHO) and global partners celebrate World No Tobacco Day (WNTD). The annual campaign is an opportunity to raise awareness on the harmful and deadly effects of tobacco use and second-hand smoke exposure, and to discourage the use of tobacco in any form.
The focus of World No Tobacco Day 2021 is on "tobacco and lung health." The campaign will increase awareness on:
the negative impact that tobacco has on people's lung health, from cancer to chronic respiratory disease,
the fundamental role lungs play for the health and well-being of all people.
The campaign also serves as a call to action, advocating for effective policies to reduce tobacco consumption and engaging stakeholders across multiple sectors in the fight for tobacco control.
Anti-Tobacco Day Quotes 2021-
Invest your time and money on things which keep you happy, healthy and alive. Tobacco is made to kill you, stay away from it.
Habits can have a significant impact over one's life, choose wisely.
Say no to tobacco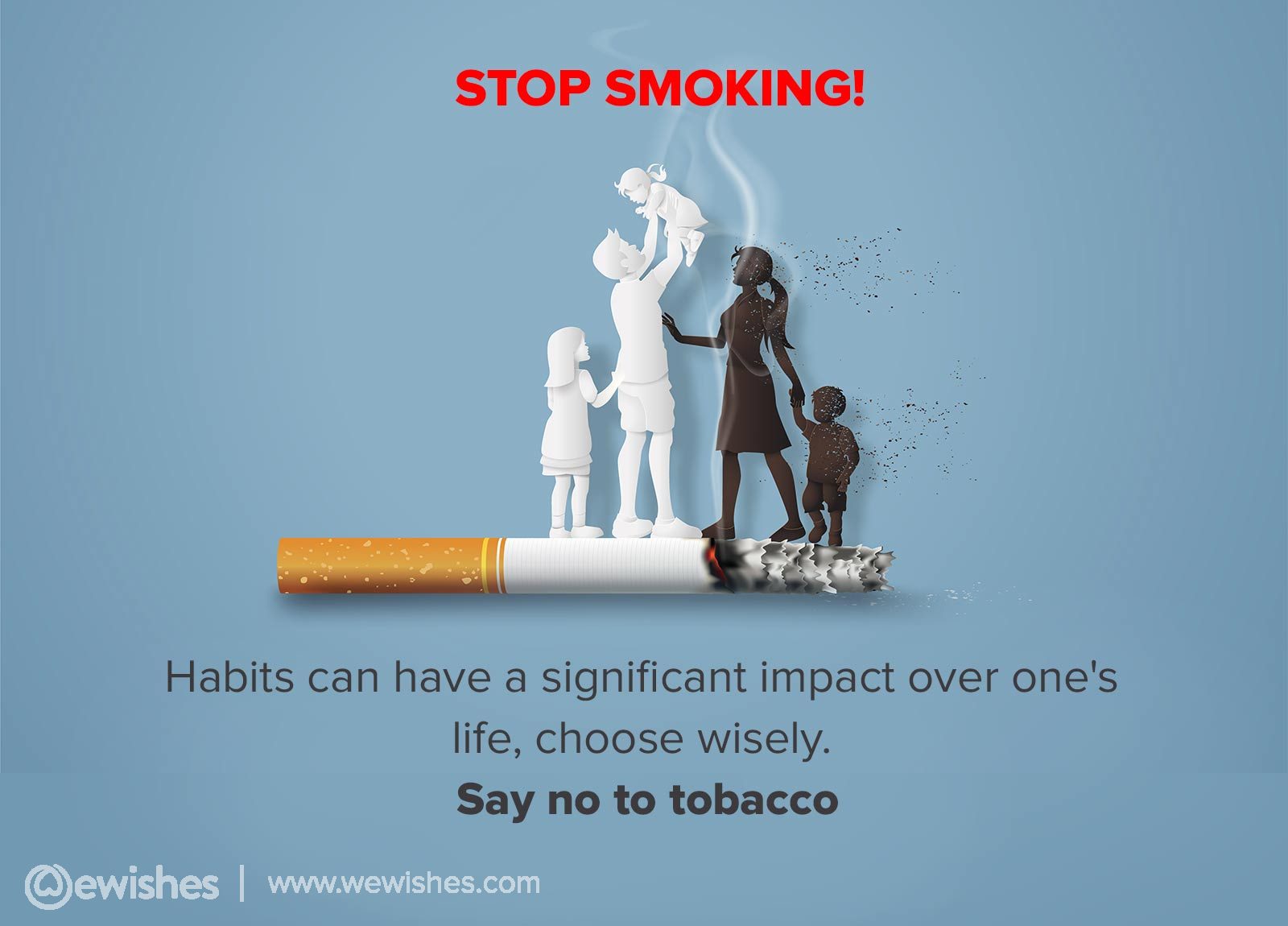 If you are snuffing, you are not living your life, you are ruining it.
Stay anti with tobacco, stay happy with life.
Tobacco is a terrorist that makes you hollow day by day and then end your life.
We wish you a healthy anti-tobacco day!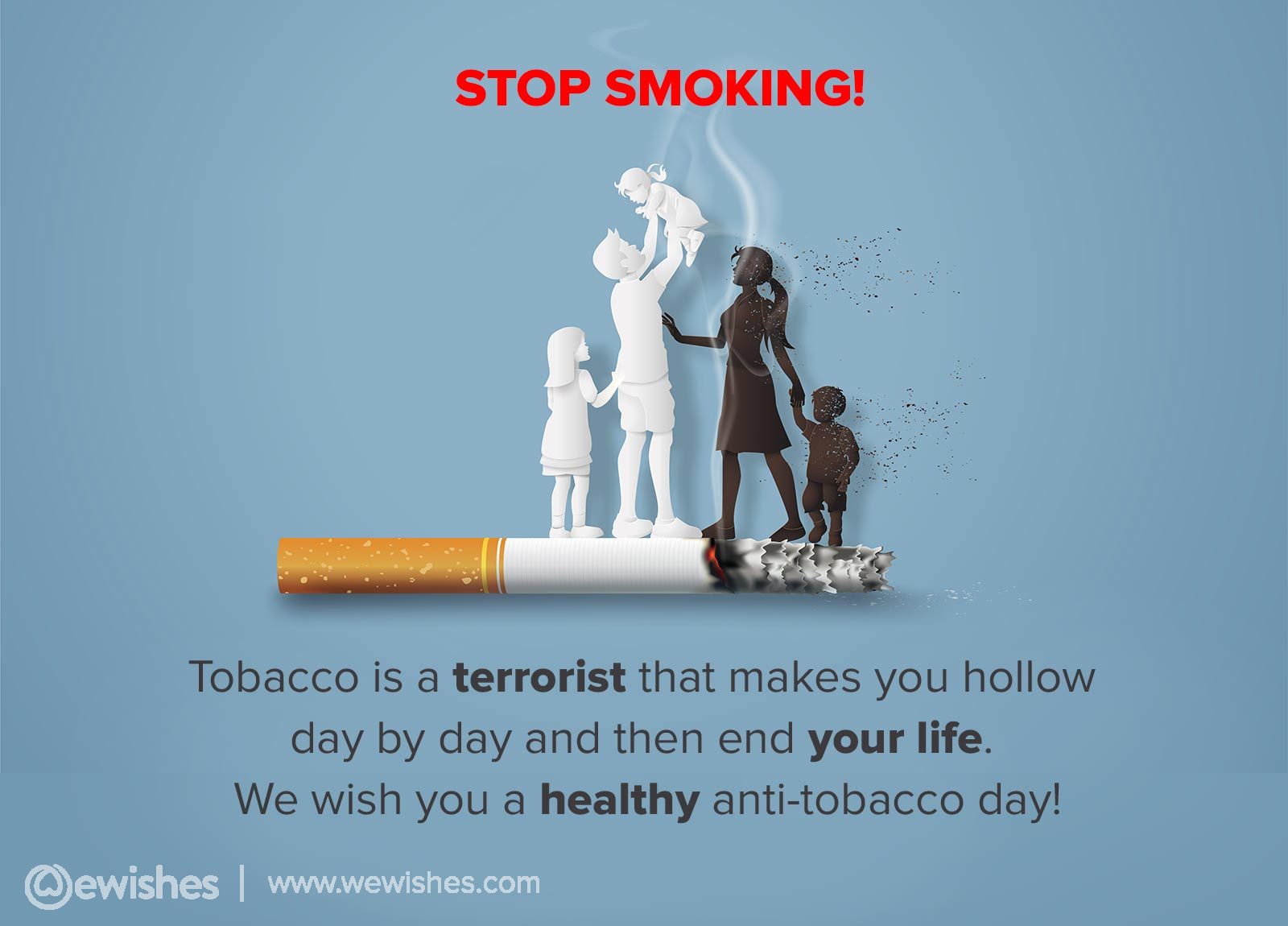 "Tobacco, coffee, alcohol, hashish, prussic acid, strychnine, are weak dilutions. The surest poison is time."
"I had not been at all fair to myself, or to anyone or anything near me, by keeping my cigarettes right there next to me or in my shirt pocket throughout the years."
Motivating Anti-Tobacco Slogans–
Below, we have come up with a compilation "quit smoking" quotes to celebrate this auspicious day. So let's begin.
We need to burn calories daily, not tobacco!
Replace your cigarettes with a glass of juice daily.
If you can't stop smoking, cancer will.
Smoking thrills, but it also kills.
Smoking is like paying someone to kill you. They're rich; you're dead.
Eliminate tobacco from your life before it kills you!
Tar the roads; not your lungs.
Smoking leaves an unseen scar. It fills your insides with toxins and tar.
Smoking reduces your weight.
Smoking will be a crime in time.
Smoking.. a grave mistake.
Sometimes quitters do win.
Stop… you are burning your life flower.
Take a better route; put that smoke out.
Eliminate smoking to bring smile to many faces in your life.
Eliminate smoking and be the real hero of your family.
Quit smoking today to get happiness tomorrow!
No Tobacco-
Giving up tobacco is the easiest thing in the world. I know because I've done it thousands of times.
– Mark Twain
Tobacco kills. If you're killed, you've lost a very important part of your life.
– Brooke Shield
The true face of smoking is disease, death, and horror – not the glamour and sophistication the pushers in the tobacco industry try to portray.
– David Byrne
Much smoking kills live men and cures dead swine.
– George D. Prentice
The best way to stop smoking is to just stop – no ifs, ands or butts.
– Edith Zittler
Smoking kills. If you are killed, you've lost a very important part of your life.

World No Tobacco Day Status
Anti-Smoking Slogans
Cancer Is No Joke, So Put Down That Smoke.
Cigarettes Are Killers That Travel In Packs.
Cigarettes Burn Holes In Your Pocket.
Cigarettes: You Take My Breath Away.
Did You Know Your Mouth Is On Fire?
Don't Be A Wacko Stop Tobacco!
Don't Smoke, It's Not A Joke.
Everyone Has A Right To Clean Air.
For More Information On Lung Cancer, Keep Smoking.
How Long Can You Live.
It Kills You From The Inside Out, Finds Out What Smoking Is All About.
It Looks Just As Stupid When You Do It.
Kissing A Smoker Is Like Licking An Ashtray.
Life Thrills, Smoking Kills.
Nothing Good From A Cigarette, It Just Gives Health Problems And Debt.
Smoke And Choke.
Smoke Away Your Worries, Not Your Lungs.
Smoke Is Like Suicide, It Is Death In Anticipation.
I Don't Dig Your Cig.
If God Had Wanted Us To Smoke, He Would Have Given Us A Separate Hole For It.
If One Thing Is True, Smoking Isn'T Good For You.
If You Can't Stop Smoking, Cancer Will.
If You Think Smoking Is Cool, You'Re A Fool.
A Cigarette Says: Today You Turn Me Into Ashes, But Tomorrow Is My Turn.
Be Brighter, Put Down The Lighter
Be Smart, Don't Start.
Breathe Healthily, Live Happily.
Cancer Cures Smoking.
World No Tobacco Day Slogans
"Smoking takes life…. Cut it out from your life!!!"
"If you love your family then say no to smoking and tobacco."
" Make this No Tobacco Day more meaningful by keeping it away from your life."
" Let us have an environment free from the smoke so that our coming generations can breathe free."
"A healthy heart and a happy smile come to your life when you leave smoking."
"Either smoke can stay in your life or good health…. Choose what you want."
"You can only dream for a healthier environment if there is no smoke to pollute it."