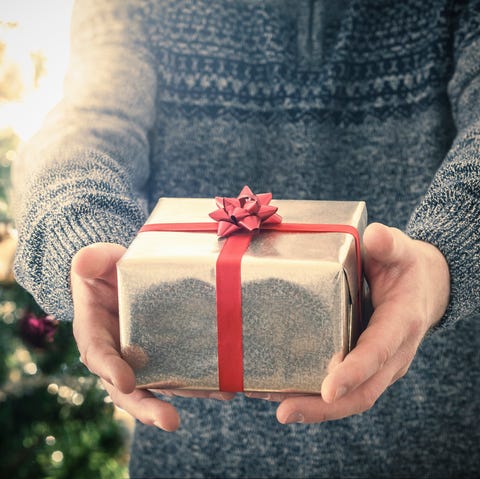 Dan BrownswordGetty Images
It all started a couple of years ago at Thanksgiving. Like many families, we'd finished dinner and moved on to the second most American tradition of the day: flipping through Black Friday ads to determine our game plan for the morning after. I don't remember who asked the dreaded question first, but I do remember the answers.
"I don't really need anything," said my brother-in-law Ryan.
"I don't know, whatever you think I would like," my sister-in-law Holly replied, with a shrug.
"Whatever we can fit in the car home," said my ever-practical husband Nick.
"Does anyone actually want anything for Christmas?" my mother-in-law asked.
It didn't take long to realize the adults in the family weren't making their wish lists and checking them twice. As a family privileged with the resources to buy ourselves the things we required throughout the year, we realized we were spending time and money on gifts nobody actually wanted or needed. That was the year we decided to put both resources elsewhere and "adopt" a family instead.
How Adopting a Family Works
Lots of charity-focused organizations can connect families to others in need, especially at the holidays. You've probably seen toy drives at your local grocery store, library, church, or even post office, and a quick internet search can yield additional options. Our family works with St. Luke's Mission of Mercy in Western New York, who runs a "family to family" program, every year. The organization collects wish lists, sizing details, and other information from families in need, then distributes them anonymously to families who want to buy them gifts. The donating family buys and wraps the requested presents, then drops them back off at St. Luke's for distribution.
For us, the charity shopping carries two benefits: We get to enjoy each other's company while shopping and wrapping the gifts, and it helps us teach my two little nieces the importance of giving. And of course, it helps a family that wouldn't otherwise have anything under the tree get to have a merry Christmas.
The Process Brings Us Together
Christmas just wouldn't be Christmas without a frenetic family tradition. In recent years, ours usually takes place at Target. We gather at the door and each member gets a portion of our adopted family's wish list as our marching orders. Then we attack the store in pairs like a military operation but with carts instead of artillery.
"Nick and Lizz, you'll get the kids' clothes. Ryan and Holly, why don't you hit the toy aisle. Dad and I have got the parents' clothes covered. We'll meet back at the Starbucks," my mother-in-law will tell us. Because she's one of the most organized women on the planet, she prints out a copy of the list for each group, and takes charge of checking it off as we go along, our carts piling high as we trawl the store for Christmas cheer.
After we settle on our haul, tally it all up, and load it through the checkout of the hapless clerk who's tasked with cashing out our purchase, everyone heads to a nearby restaurant to refuel and recap the maneuvers. And then we regroup back at home to wrap everything and double-check the list, Santa-style. One of the kids usually ends up wearing between two and six gift bows on her head. Sometimes eyelids get taped shut for the 'gram. And the next day, one of us piles the gifts into the car and drops them off at St. Luke's, so they can deliver them to the family we've been assigned.
We Can Focus on Each Other
By the time we all gather on Christmas Eve, our presents have made their way to their recipients. We do still get gifts for my two nieces, primarily because getting kids toys is fun for the adults, too. And the grown-ups still exchange one gift each, Secret Santa-style, in a token exchange that's just as often zany as it is heartfelt. One year, I got a Chewbacca onesie that's surprisingly warm, and last year, my father-in-law was the grateful recipient of a shark dissection kit. Knowing that one gift can be a silly trifle takes the pressure off, and only finding one is far less time and energy-taxing than buying for the whole crowd.
We spend the rest of the holiday putting together the aforementioned kids' toys, eating cookies the girls decorated with far too much sugar, playing board games, and watching the same five holiday movies most of us have viewed once a year since our own childhoods. Taking gifts largely out of the equation helps us focus on each other in a more genuine way: racking up memories instead of credit card bills.
Giving Feels Good
When we first started buying for strangers instead of each other, some of our members wondered if we'd feel something was missing on the holiday itself. But giving to charity helps us look outside our insular little lives and realize how fortunate we are to be in a position to do so.
And science tells us we do reap benefits from charity. A 2008 study by Harvard Business School professor Michael Norton and colleagues found that giving money to someone else lifted participants' happiness more than spending it on themselves. A study by the University of Oregon also gave participants MRIs after donating money to a food bank. The donors received a great wave of satisfaction – similar to the way you feel after eating an amazing meal or experiencing a beautiful piece of art.
What started out as a way to celebrate without accumulating lots of stuff has blossomed into a tradition that defines our holiday season. Now, we can't imagine our Christmas without it.
---
For can't-miss news, expert beauty advice, genius home solutions, delicious recipes, and lots more, sign up for the Good Housekeeping newsletter.
Source link
2019-12-13 00:21:00