Kisan Diwas or National Farmers' Day is observed across India on December 23. The day honours Chaudhary Charan Singh, the 5th Prime Minister of India whose was born on this day. It was in the year 2001, the Government of India decided to observe December 23 every year as Kisan Diwas.
During his tenure as the Prime Minister of India from July 1979 to January 1980, Chaudhary Charan Singh introduced a slew of policies to improve the lives and conditions of farmers in the country. He also played a leading role in the agricultural sector of the country by introducing bills for farmers' reforms.
Recently Indian Govt has passed three farmers bill-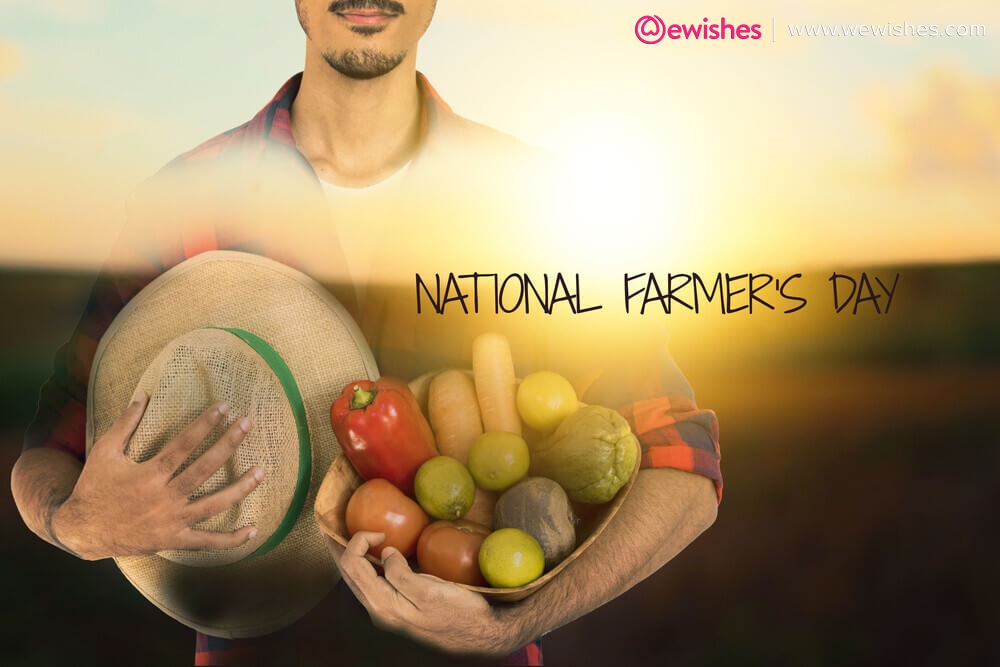 The farmers Produce Trade and commerce (Promotion and Facilitation) bill 2020.
The farmers(Empowerment and Protection) Agreement Price Assurance and farms services) bill 2020.
The Essential Commodities amendment Bill 2020.
First bill allows barrier free Intra and Inter- state trade of farm produce. Previously farm produce was sold at notified wholesale markets or Mandis run by the 7000 Agricultural Produce Marketing Committees. Each APMC had licensed middlemen who would buy from farmers at prices set by auction before selling to institutional buyers like retailers and big traders.
According New system farmers can eliminate middlemen and sell directly to institutional buyers but it is also subject of concern because this exposes them to corporates who have more bargaining power and resources than small marginal farmers. There was no restrictions on farmers to sell elsewhere earlier too. Removal of geographic restrictions is also subject of concern for farmers. State Govt. also worried about it because APMC taxes will be abolished by this act.
Second Bill will allow farmers to enter into agreements with agri-farm but farmers are worried this means the MSP will be removed and no govt. control over prices.
Third the Essential Commodities Bill allow food hording but farmers are worried about it because unlimited stocking can lead to artificial price fluctuations and low prices for farmers after harvest.
The acts are more favourable towards the companies and not legally empowering the farmers. This is also concern that 6% of the farmers sell their crop on MSP price, rest farmers sellout at lower price of MSP.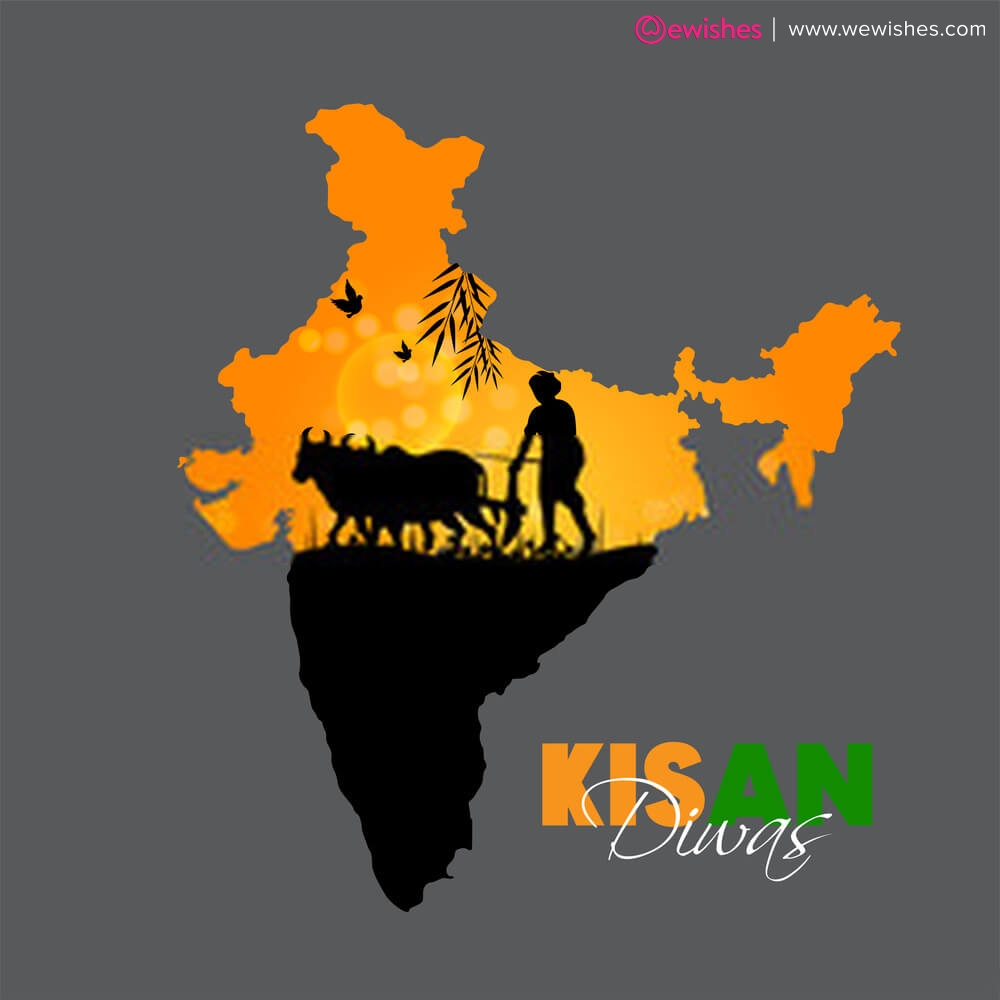 "They are the ones who put their heart and soul into the soil to give it life and give us food…. Let us thank them for their efforts and salute their hard work…. Happy Farmer's Day."
"Kisan Diwas is a reminder to everyone that we must respect, thank and appreciate the hard work of our farmers who work hard to give us food."
Farmers Day Messages
"Farmers are the real heroes because with their dedication and effort, the turn a barren land into a land that produces food…. Let us salute them on Farmer's Day."
"Farmer's Day reminds us to acknowledge and thank each and every farmer of the nation for his unconditional dedication….. Best wishes on Farmer's Day to you."
"Khush naseeb hain hum log jinhone aise desh mein janam liya jahan kisan ka darja sabse upar hai."
"Jai Jawan, Jai Kisan!!! Desh ki mitti ko apne khoon pasene se jo seenche woh hai kisan!!!"
"Wo kisan ki mehnat hi hai jo ki ek banjar bhumi ko ek upjau bhumi mein tabdeel kar deti hai…. Salaam hai kisan ke jazbe ko…. Kisan Diwas ki hardik shubh kamnayein."
"Kisan Diwas humein ek mauka deta hai humare desh ke kisano ko humara aabhar vyakt karne ka aur unhein dhanyavaad dene ka….. Kisan Diwas ki badhaiyan."
Farmers Day / Kisan Diwas Slogans
"The best way to respect a farmer is to respect his produce by not wasting it…. Happy Farmer's Day."
"Hard work of a farmer is consistent in every weather and season and that's why we have food on our plates every day…. Best wishes on Farmer's Day."
"Let us take inspiration from Indian farmers who put their sweat and soul in their land and crop…. Best wishes on Farmer's Day."
"Farmer's Day reminds us to take inspiration from hard working Indian farmers who never give up on their crop and work hard to grow it."
Proud to be a Farmer Quotes
"You are really blessed if you are a farmer because you are doing the most wonderful job in the world… to grow food for others."
"I am really proud to be born in a nation where agriculture is the soul…. Best wishes on Farmer's Day to you."
Farmers Day Poster Messages
"Let us salute all the farmers for all the hard work they put in to make sure that we never sleep hungry. Happy Farmers Day."
"The first and the foremost person we should thank for food on our plates are the farmers. Warm wishes on Farmers Day."
Our food is the result of hard work of farmers.
The life of an Indian farmer is dedicated to his fields.
He is the first one to get up to take care of our food.
Never lazy and always dedicated, he is an Indian farmer.
Never waste food for a farmer's sweat and blood goes into it.
They never rest so that we can enjoy good food and good taste.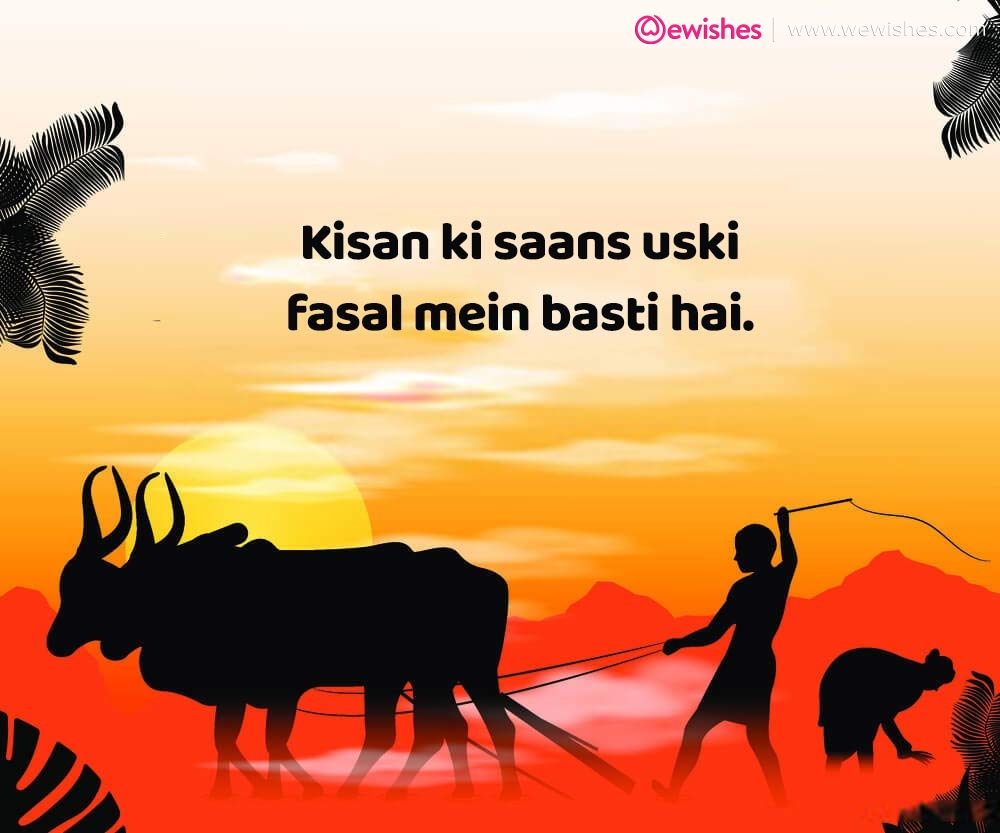 Kisan ki saans uski fasal mein basti hai.
Suraj ke ugne se pehle jo jaagta hai wo humara kisaan hai.
Ek kisan ki bharpur mehnat ka natija hai humara bhojan.
Agar kisan na ho toh hum kya khayenge.
---