Good Morning Wishes: Sharing a morning quote can sparkle positive thinking and improve our life conditions. The messages that come across are simple, but they work as a reminder for something deeper we have read in literature or something that we have experienced in our own lives or seen happening in other people's life paths. Just imagine how good the day will be if your loved ones will get a sweet good morning message from you. It will not only boost their energy but also make them realize that you think of them every day in the morning, you get reminded of them right before starting your day. After reading this, if you are thinking to send good morning messages to your loved ones but are dropping the thought because you don't know or what to write then don't worry at all.
We are there to help you out. Here, we have an awesome collection of wishes, quotes, and messages which will carry your love and warm wishes for your loved ones. These messages, wishes, and quotes are free of cost so you can share them directly on Whatsapp, Facebook, and Twitter and express your love. So, now start sending good morning wishes and express your affection, and care.
Good Morning Wishes –
A great end may not be decided but a good creative beginning can be planned and achieved. Good morning, have a productive day!
To my motivator and my inspiration to wake up in morning, its just you. Morning sunshine, I love you!
Sunrises are the best; enjoy a cup of coffee or tea with yourself because this day is yours, good morning! Have a wonderful day ahead.
Well, who needs a sunrise when I have you by my side. You are the sunrise I would always want to wake up by seeing you. Good morning!
A bad day will always have a good morning, hope all your worries are gone and everything you wish could find a place. Good morning!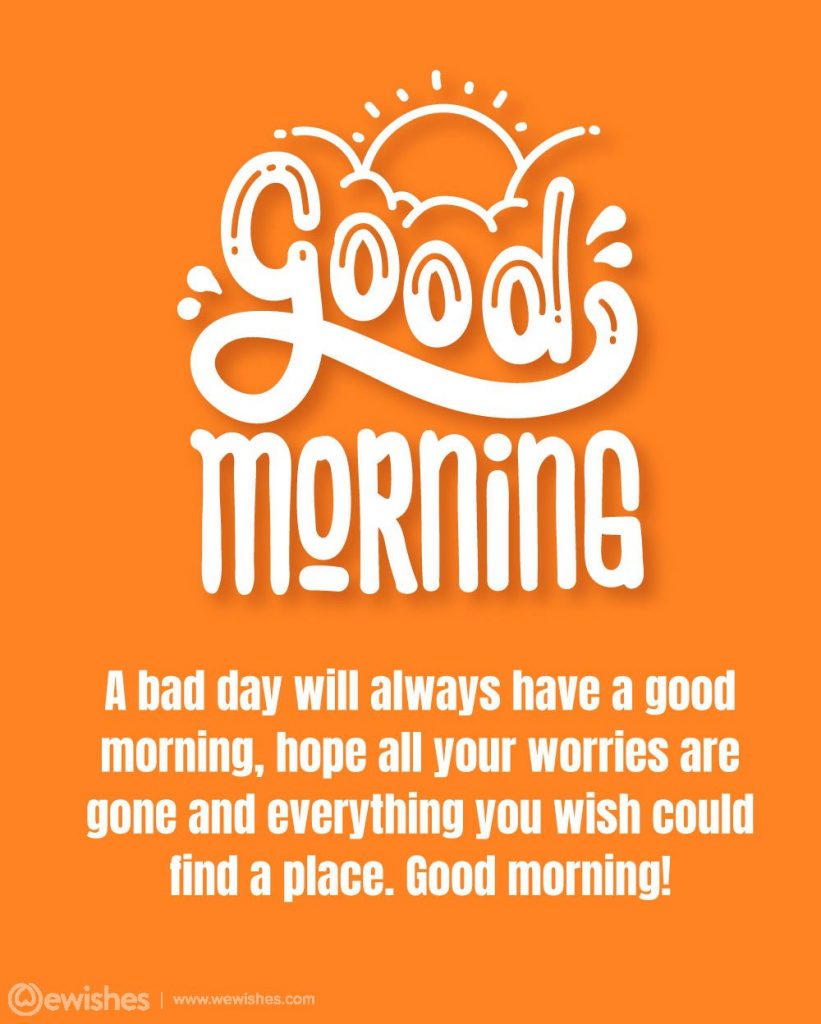 I like the sunrises more than sunsets, they make me dream about us all day. Good Morning baby!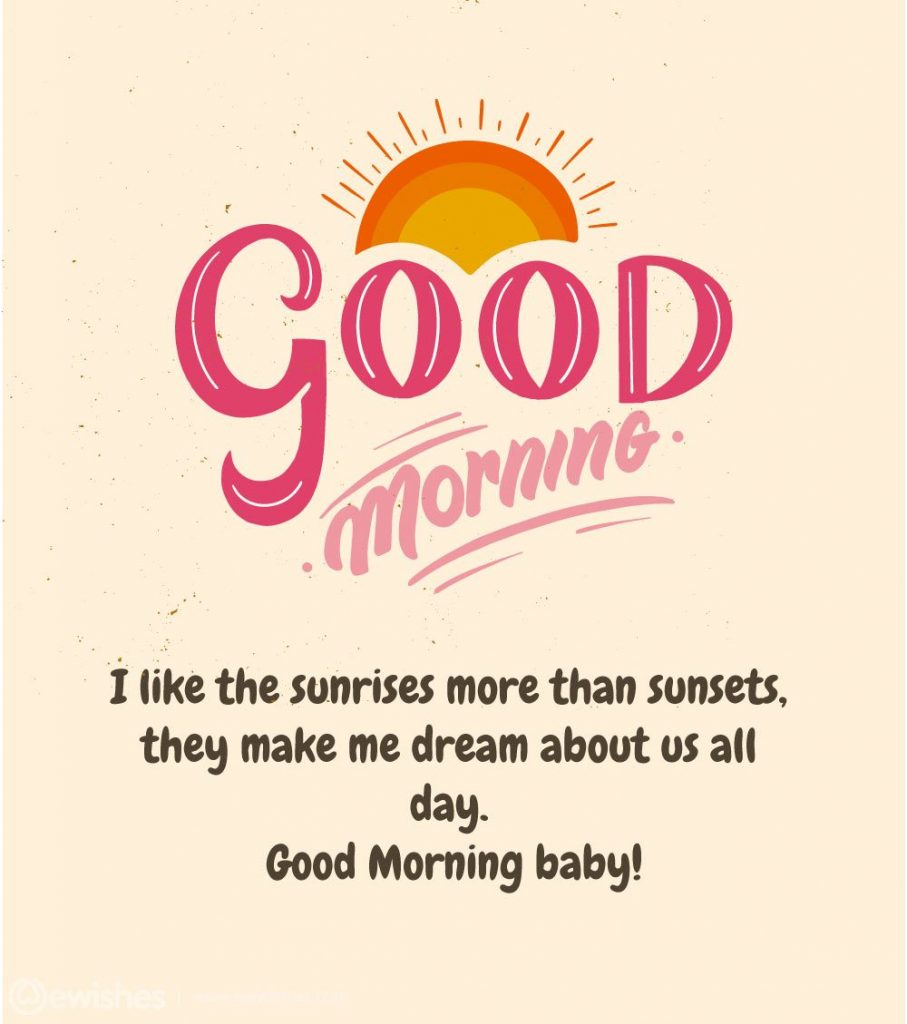 Having a sweet morning, a cup of coffee, a day with your loved ones is what sets your "Good Morning" have a nice day!
Waking up beside you in our beautiful dream house and having a cup of coffee is like shot of the movie, I love you. Good morning honey!
Good morning sweetheart, hope you have an amazing day ahead and enjoy every bit of the work you do, I love you!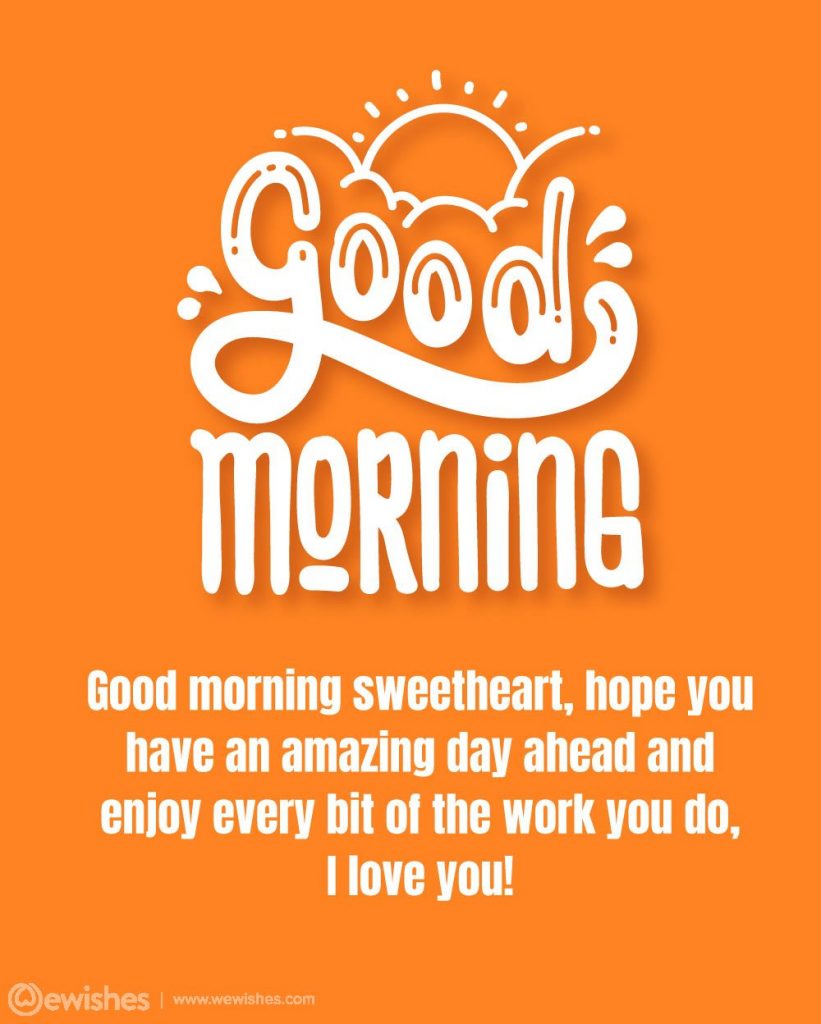 I like the face when you sleep that sweet innocent smile and the way you wish good morning is the most beautiful time of the day. Good morning!
Expect more from yourself than from others.
Because expectations from others hurt a lot, while expectations from yourself inspire a lot.
That's life.
Good Morning!
Your mind will always believe everything you tell it.
Feed it faith.
Feed it truth.
Feed it with love.
Good Morning!
I just wanted you to know how much I care for you. You're always in my thoughts. Have an Amazing Day.
A thought of you, and I don't need that first of coffee… at least not right away… maybe later, but for now, I am Good.
I love you in the Morning, in the Middle of the day, in the hours we are together, and the hours we are apart. Good Morning.
Morning is not only sunrise but A Beautiful Miracle of God that defeats the darkness and spread light. Good Morning.
All my nights and days are filled with the wonders of your love. A lovely morning to you and thanks for being that special and wonderful woman in my life.
Life never gives you a second chance. So, enjoy every bit of it. Why not start with this beautiful morning. Good Morning!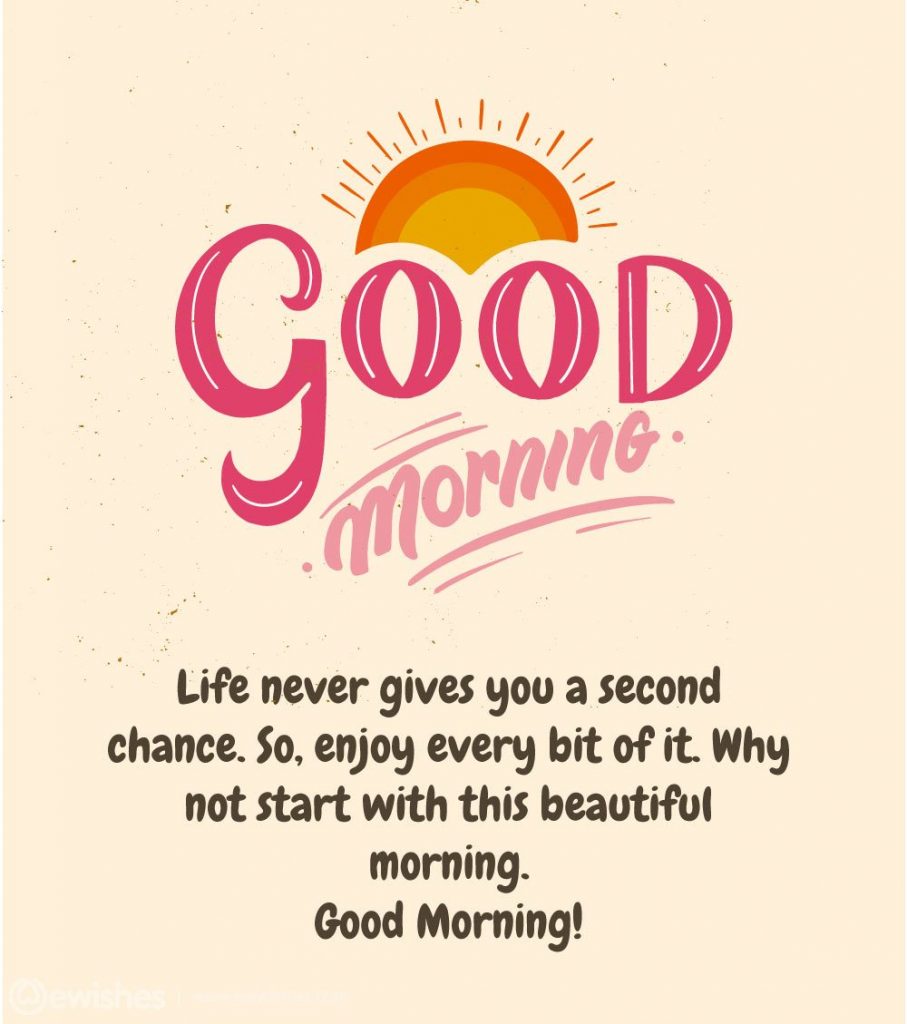 If you want to gain health and beauty, you should wake up early. Good Morning!
My heart is full of love for you. You are the sunshine of my life. Because of you, my life I so colorful. Good Morning.
Nothing is in your hand except your Karma. Do good without any hope and desire. Good Morning
Accept the bouquet of flower. I know it won't solve your problem, but it will give you a great start. Good Morning.
Good Morning. Follow Three Principles To Live A Peaceful Life
1. Accept what is coming
2. Adjust to what you have
3. Avoid negative people
Born to be Happy
Not to be Perfect.
Good morning.
Just as the sun rises and falls on your face, my day starts with the most beautiful phase. Good morning!!
Anything can go wrong in the day but the morning has to be beautiful, so I am making sure your morning starts beautiful. Good morning!
Good Morning Quotes –
Good morning quotes to your loved ones to keep them inspired for the whole day. We generally don't know about their every day well being but what we can do to make things better is to send a them a good morning quote giving them a sense of togetherness.
Waking up to a new day is like getting an extra present at Christmas, worthwhile and full of possibilities! Here's to you and your morning!
Loving life and living love is the best way to spend your days. I wish you this and more today.
"The sun has not caught me in bed in fifty years."
God told me you needed an extra hug today. Since we are miles apart, this will have to do. Know that I love you and am here for you always.
Your smile is the only makeup you need. Along with your radiant energy, you're guaranteed to have a beautiful day!
Good morning! I hope your day is full of friends, family, laughter, and love!
"Smile in the mirror. Do that every morning and you'll start to see a big difference in your life."
Roses are red. Violets are blue. A day full of sunshine is my wish to you!
"I get up every morning and it's going to be a great day. You never know when it's going to be over so I refuse to have a bad day."
"Early morning cheerfulness can be extremely obnoxious."
Let's all be happy! Morning means a second chance to do it right this time!
This message is just for you. I love you and I wish you the best of days today and always. Have a fabulous morning on me!
The thing might look dark now, and the direction might be lost. But there is always a sunrise after a dark night. Maybe, this sunrise is the one for you. So, go grab it. Good morning.
Do you know what I could do every day for the rest of my life? Run my fingers through your silky hair and speak from my heart. I love you!
The morning sun illuminates the delicate flower you are, and all I want to do is hold you in my protective arms and never let go.