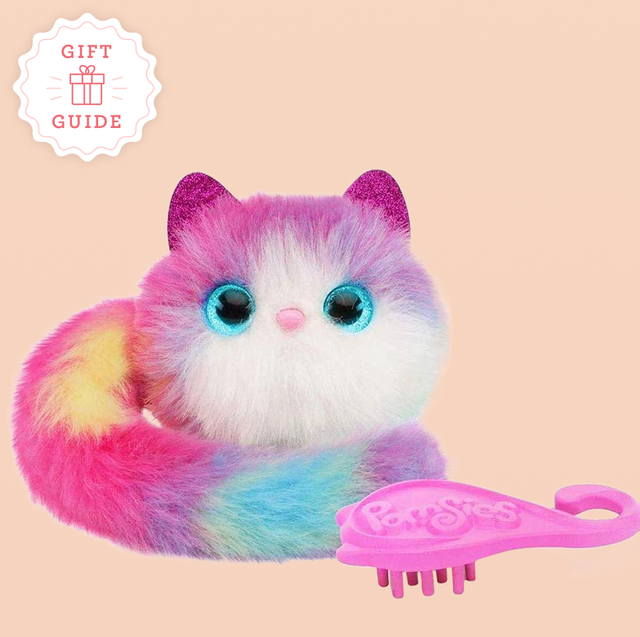 amazon
There's the Easter meal to prepare, the Easter candy to buy, but nothing is as important as making the perfect Easter baskets for the kids in your life. That means the pressure is on to find great ideas for toys to fill up each and every basket you have to assemble. Well, we took the guessing game out of picking the perfect gift for by rounding up 25 adorable Easter toys you can give this year, including educational toys, holiday-themed games, and precious stuffed animals. We've got top-rated ideas for babies, toddlers, tweens, and teens, so consider this your one stop shop.
Advertisement – Continue Reading Below
1
Jump In' Puzzle Game SmartGames
amazon.com
$14.99
Ages 7+
This single player game is all about problem solving — kids set up the pieces based on a challenge card and have to navigate the bunny piece over holes, other bunnies and foxes, teaching important skills like logic and planning. It includes 60 challenges, from easy to expert. 2
Easter Toy Idea for Toddlers
Bunny Bedtime Game Peaceable Kingdom
amazon.com
$16.00
Ages 2+
Board games aren't just for big kids — this game practices skills like turn taking and decision making, and it's flexible enough so that a parent can still guide them along without too many rules.
3
Lost Kitties 3-Pack Bundle
Ages 5+
Kids dig adorable and sassy cat characters and accessories out of a compound dough in this Good Housekeeping Toy Award winner. Each character is a surprise, and the dough can be saved in a plastic bag for future play. 4
Gift Ideas for 3-Year-Olds
Slice & Sort Wooden Eggs Set Melissa & Doug
amazon.com
$9.99
Ages 3+
Now your little one can help prep for Easter brunch! These eggs practice motor skills and sorting as they slice and match each colored yolk with the included wooden knife. It also comes with a wooden tray for easy clean up. 5
Cute Easter Toy for Babies
Hide & Squeak Eggs
Ages 6 months+
These eggs practice motor skills and sorting — little ones can "crack" open each egg to reveal a colorful chick, and place each one back in the designated base of the carton.
RELATED: 20 Best Toys for 1-Year-Olds 6
Stuffed Animals for Kids
Burrow Bunny Melissa & Doug
amazon.com
$13.69
Ages 3+
Just as cute with much less work than the real thing! This bunny makes the perfect sidekick from playtime to bedtime.
7
Hide and Seek Rock Painting Kit Creativity for Kids
amazon.com
Ages 6+
If they're "too old" for the Easter egg hunt this year, have them paint these rocks instead and hide them for younger family and friends. Paint the included 10 rocks or source your own.
8
Cat Crimes ThinkFun
amazon.com
$12.95
Ages 8+
Kids work on their own or in teams to solve a game of "whodunnit." Working from one of 40 challenge cards, players read clues to figure out where every cat was when the crime was committed and find the culprit. It's fun for adults, too! 9
Surprise Toy for Easter
CollEGGtibles
Ages 5+
These little eggs hatch the same way as full-size Hatchimals: Just show them some love to get them to crack and reveal the tiny figurine inside. Since they're collectibles, each will be a surprise.
10
Itty Bitty Boo Unicorn Stuffed Plush
Ages 1+
When you thought the world's cutest dog couldn't get any cuter, let us know what you think when you see him in a unicorn hoodie. Itty Bitty Boo also comes in frog, mermaid, and dragon styles.
11
Jumping Jack Game
Ages 4+
Players take turns spinning to see how many carrots they can pull from the bunny hill. One random carrot will make Jack jump, and players compete to catch him to win.
12
CollEGGtibles Easter Basket Hatchimals
amazon.com
$13.05
Ages 5+
No need to prepare baskets, these Hatchimal Easter baskets are a toy in themselves. They contain four in-egg and two out-of-egg characters, perfect to keep the kids entertained for hours.
13
Truck Toy Filled Easter Eggs
Ages 3+
For boys and girls who are obsessed with trucks, this set comes with a dozen eggs, each filled with one construction vechile. You can easily divide the eggs between multiple baskets.
14
Luna The Unicorn Bath Toy
Ages 2+
When dipped in warm water, kids can watch Luna's mane and tail magically change color. She also comes with a spray bottle, bathrobe, and brush. 15
Collectible Easter Toy
Hopscotch Rabbit Family Calico Critters
amazon.com
Ages 3+
These dolls are super detailed, making them perfect for a little one who likes to dream up adventures. At 3 inches and under, they're also portable, so you can tag them along for family visits all of Easter. Calico Critters offer a ton of accessories, so you can add a family car or an entire cottage to your collection.
16
Sherbert Pomsie
Ages 4+
Wrap one of these around and arm or backpack and take it everywhere. This ultra interactive Toy Award winner reacts as you play with light up eyes and over 50 sounds — plus it has a freeze dance mode that can be played alone or with friends! 17
Great Easter Basket Idea
Lights Pets with 9 Surprises L.O.L. Surprise!
amazon.com
$12.88
Ages 5+
If your 5-year-old follows the L.O.L obsession, consider adding one to an Easter basket. This one has 9 surprises, from pets with real hair to fun accessories. 18
Coding Toy for Kids
Sphero Mini
Ages 8+
Play feels endless with this tiny ball from Sphero (it's just over 1.5 inches tall) — connect it to a phone to drive it around the house, or try some of the wackier features like controlling it with a smile or frown! It also works with the Sphero Edu app — meaning kids can practice coding and navigating around the included bowling pins and traffic cones. 19
Easter Toy for Pre-Schoolers
Farm Animal Play Set Schleich
amazon.com
$19.95
Ages 3+
These detailed and realistic figures are perfect for little animal lovers who like to imagine up their own adventure.
20
Scribble Scrubbie Crayola
amazon.com
$17.96
Ages 3+
Color, rinse, repeat with these fuzzy figurines. Kids use the included washable markers to color their creatures however they'd like, and can scrub it off in a few minutes with just water and the included scrub brush.
21
Baby Shark Official Song Cube
Ages 2+
With a gentle squeeze, Mommy Shark will sing four verses of the official Baby Shark song. Her unique shape makes for easy stacking.
22
HatchiBabies Hatchimals
amazon.com
$57.94
Ages 5+
One of the latest from Hatchimals, these offer a new surprise- babies! Your little one will want to play with this long after it "hatches," with games like peek-a-boo, an included bottle and rattle, and new responses the Hatchimal learns over time. 23
Easter Playset for Girls
Sweet Treat Playset Polly Pocket
amazon.com
$14.97
Ages 4+
Polly Pockets have made a comeback! These super tiny sets promise an adventure in every pack. And the Good Housekeeping Toy Award winner is promising for parents too, as each pack closes shut to keep tiny pieces contained. 24
Coloring Book for Easter
Paw Patrol Coloring Book
Ages 3+
Paw Patrol fans can spend post-egg hunt time coloring in pages filled with their favorite characters. The set also includes five Color Wonder markers.
25
Leonardo Action Figure Rise of The Teenage Mutant Ninja Turtles
amazon.com
$8.59
Ages 4+
Grab your child's favorite character or opt for the whole team! These action figures each come with their own accessories and have 13 points of articulation — meaning it's easier to recreate moves from the show.
Advertisement – Continue Reading Below