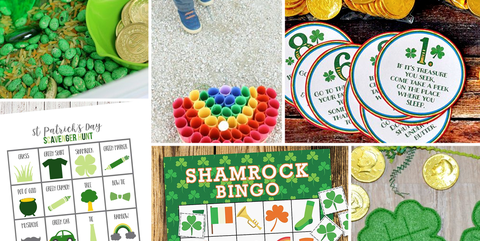 St. Patrick's Day can be tricky to celebrate with families — most of the activities closely associated with the holiday are for those over 21. However, much like our favorite non-alcoholic green drinks, there's definitely a way that all ages can get in on the fun. These St. Patrick's Day games are sure to keep the kids occupied, and once they're tired out from playing, you can sit back, relax, and press play on an Irish film that the whole family can enjoy.
Some kids may prefer to spend time making crafts like Pot of Gold Mason Jars, but if you're dealing with a rowdier bunch, or you're just trying to kill time before the parade, there are plenty of fun games that you can set up from supplies you probably already have in your house. Here are all of the different puzzles, color pages and St. Patrick's Day Games that kids will love — plus, we've thrown in one for the adults, too.
Advertisement – Continue Reading Below
1
Shamrock Cookie Decorating Contest
See who can create the most fun and festive four leaf clover in a cookie decorating contest. No matter who wins, the results will definitely be delicious.
2
Make a Shamrock Puppet Show
3
Leprechaun Maze
See if you can help the leprechaun find his way to the end of the rainbow! This maze game will be a fun adventure for kids who love puzzles and brain games.
4
Pot O' Gold Coin Toss
See who throw the most gold coins into a small, black pot of gold. If you have a leftover witch's cauldron from Halloween, you can reuse it now as your pot at the end of the rainbow.
5
Gold Rush
This is a fun one for little kids. Tell them that a leprechaun came by this morning and hid some gold, and they have to find it. In the last room that you think that they'll look, add some "leprechaun footprints" (or removable stickers) that led right to a pot of chocolate gold coins.
6
Matching Games
Test your memory with a matching game like this one! Take turns trying to find a pair of matching St. Patty's Day images by flipping over the face-down cards.
8
"I Spy" Scavenger Hunt
If you're going to a class party or parade, see how many of these festive elements you can spy.
9
Four-Leaf Clover Tic Tac Toe
This cute spin on Tic Tac Toe would be fun to throw in a goodie bag at a kids' party to give them something to do before they eat their gold coins.
10
St. Patrick's Day Minute to Win It
This is a timed challenge: Give everyone a spoon and see who can use them to pick out the most marshmallow pieces from Lucky Charms cereal and put them in a bowl. For older kids or adults, make it harder and assign a different amount of points to the different marshmallow shapes.
11
Shamrock Scratch-Off
With these adhesive scratch-off stickers, you can DIY your own lotto cards. Each time a kid wins another game, you can have them scratch off one of these to see what prize they've won.
13
Shamrock Bingo
This adorable bingo game is perfect for any St. Paddy's Day party. It comes with the card, player chips, and caller chips, but don't forget to buy prizes for the winners!
14
Hershey's Kiss Matching Game
16
St. Patrick's Day Scavenger Hunt
17
Pin the Clover on the Leprechaun
18
Green Fluff Basketball
19
St. Patrick's Day Coloring & Puzzle Book
This themed coloring book also features word searches and Irish folk songs, so there's a little something for every tiny human personality.
20
For Adults Only: Drinking Dice
Advertisement – Continue Reading Below