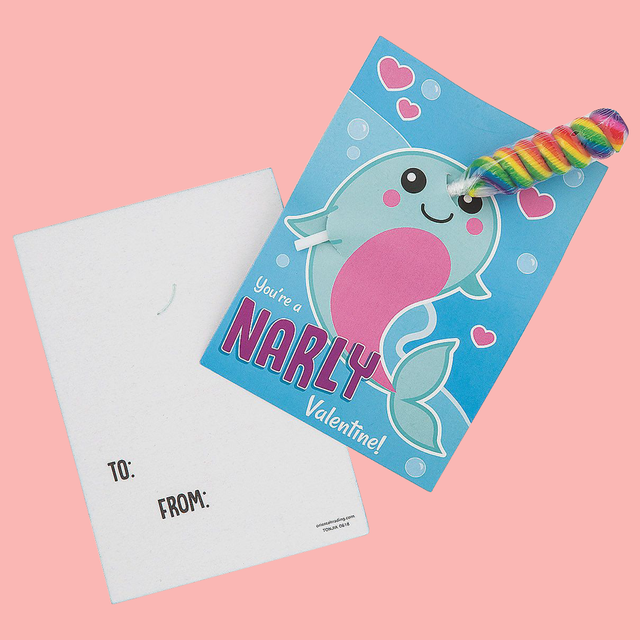 OrientalTrading/Amazon
If you grew up in a certain era (ahem), giving Valentine's Day cards to the class was easy. You went to whatever store was in walking distance, found some kind of heart-shaped missive that wasn't too mushy or embarrassing, signed your name (making sure you had one for everyone, since no one wants to cause hurt feelings), and passed them out as quickly as possible, hoping your crush didn't read anything extra into the way you dotted your I's with hearts.
Now, kids' Valentine's Day cards are next level. They're emblazoned with every licensed character imaginable. They come with stickers, tattoos, candy, and other treats. Some evolve into crafts when they're done, like cootie catchers or paper airplanes. Some are activities in and of themselves, with puzzles to solve or messages to decode. It certainly makes the class Valentine's Day card exchange seem a lot more fun, but there are also a lot more choices out there. From preschool to middle school, these 16 buy-in-bulk, boxed card sets are sure to be a hit with the class.
And of course you could always avoid the mass-produced route and do your own DIY Valentine's cards with a heartfelt message inside each one, but where's the fun in that?
Advertisement – Continue Reading Below
Comes With Mailbox
Star Wars Valentine's Day Cards Hallmark
amazon.com
$9.99
This kit comes with everything you need to pull off a Valentine's Day party, including 32 cards, 35 stickers, one teacher card, and a mailbox to collect replies. If Star Wars isn't your kid's thing, this set also comes with Disney Princess, Harry Potter, DC Justice League, and Minecraft themes.
Great for Goodie Bags
'Paw Patrol' Valentine's Day Cards Paper Magic
amazon.com
$5.98
L.O.L .Surprise! Valentine's Day Cards Paper Magic
amazon.com
$9.94
These come with glitter tattoos, and we'd expect nothing less from L.O.L .Surprise! The eight designs feature sassy sayings like, "Put a bow on it!"
Best Value
Marvel Valentine's Day Cards Paper Magic
amazon.com
$7.95
If your child has a lot of classmates, this bundle will have them all covered, since it comes with 64 total cards featuring heroes like Black Panther, Spider-Man, Thor, and Captain America.
Comes With Candy
Valentine's Day Candy Cards PJ Masks
amazon.com
$6.99
Stickers Included
'My Little Pony' Valentine's Day Cards American Greetings
amazon.com
$6.77
Whether your children are quiet like Fluttershy or daring like Rainbow Dash, if they know that friendship is magic, they'll want to celebrate with one of these My Little Pony cards. The 32 cards come in eight designs.
Comes With Pencils
Frozen 2 Valentine's Day Cards
The cure for any frozen heart, of course, is a Frozen Valentine. Choose this set, which comes with 16 cards and pencil to give out with each one, or this one, which comes with 34 cards and glitter stickers.
Activity Included
Zoo Animal Valentine's Day Cards Red Robin Greetings
amazon.com
$11.95
Scented!
Foodie Valentine's Day Cards
Want a flashback to your own school days? These cards are scratch-and-sniff! The 35 cards come in seven different designs.
Ninja Finger Puppets Playhouse
amazon.com
$7.99
Comes With Candy
Narwhal Lollipops With Valentine's Day Card Oriental Trading
orientaltrading.com
$6.98
Everybody loves narwhals — and they're even more adorable when they come with a cherry-flavored lollipop as a horn. This set comes with 24 cards and candies.
Comes Pre-Folded
Cootie Catcher Valentine's Day Cards Kangaroo
amazon.com
$14.95
Kids will delight in learning how to use a Cootie Catcher so they can "catch" their own Valentine's Day messages. The 28 cards come with designs that include desserts, unicorns, monsters, or puppies and kittens.
Knot Bracelets With Valentine's Day Cards Oriental Trading
orientaltrading.com
$6.68
For a V-Day message that lasts beyond the 14th, these cards come with friendship bracelet that can be worn for the rest of the year. You get 24 card/bracelet combos.
Three Different Messages
Robot Decoder Valentine's Day Cards Peaceable Kingdom
amazon.com
Sending a love note in a Valentine? Too easy. With these robot-themed cards, kids have to decode their own secret messages.
Comes With Stickers
Cute Animals Valentine's Day Cards for Kids Sustainable Greetings
amazon.com
Llamas and sloths and foxes — oh my! These adorable cards feature all of our favorite animals, and come with coordinating sticker sheets to seal the envelopes.
Scratch-Off Jokes Valentine's Day Cards Peaceable Kingdom
amazon.com
$14.99
What do you call candy that sings? Candy wrappers! In this set of 28 cards, there are four groan-worthy, kid-appropriate jokes to uncover.
Includes Stickers
Paper Airplane Valentine's Day Cards Geefuun
amazon.com
$12.99
Once the kids read the messages in these cards, they can turn them into paper airplanes! (You might land on the teacher's naughty list for that one, sorry!) The 48 cards also come with heart and cockpit stickers.
Advertisement – Continue Reading Below