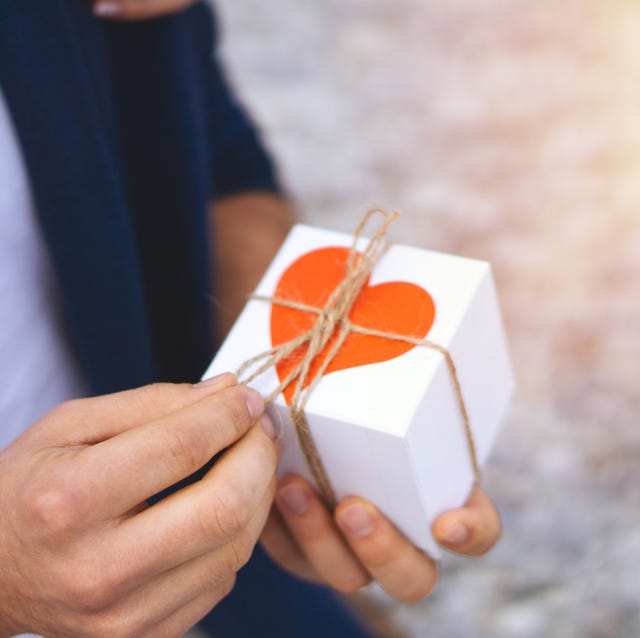 Burak KarademirGetty Images
If you and your main squeeze will celebrate Valentine's Day in a long-distance relationship this year, you're not alone. As many as 75 percent of American students report having a long-distance relationship at some point during college and the 2014 census reported that 3.5 million Americans age 15 and over said they were married but their spouse was absent. In other words, 3 percent of all married Americans live apart from their spouse. Keep in mind that census didn't count same-sex marriages and that doesn't explain whether spouses were separated by military service, job requirements, or some other reason. That also doesn't count unmarried couples who live far apart, so you can bet you're one of a much larger number of people in the same boat this V-Day.
But don't relegate yourself to a V-Day pint of Ben & Jerry's and a solo rom-com marathon while staring forlornly at your love's picture just yet. There are plenty of ways to celebrate Valentine's Day together even if you can't spend Feb. 14 physically side-by-side. Some of them take a little creativity, others will call for some advance planning, and a few will call for some crafting, but you and bae are worth it.
Watch a Romantic Movie Together
If you can't have a romantic movie night on the same couch, cue up the same flick from two separate ones. You can sync your schedule so you're watching the same film at the same time, and even enjoy it via FaceTime for an extra dose of connection. Or, head to the theater in your respective cities and discuss the movie afterward. You're not supposed to talk in the theater anyway, so it's a great long-distance date night.
Write Them a Letter
For modern couples, email, texting, video chat, and phone calls probably make up the bulk of your communication. If you're the type of person who gets little else but bills and magazines in your snail mail, exchange Valentine's Day letters with your partner. Write out how you feel in all of its mushy, cheesy splendor. For even more romantic flare, spritz the paper with a little of your signature scent before sending it on its way.
Have a Video Dinner Date
When you can't get a table together, order the same meal from your own branches of a national chain or a similar meal from two restaurants and log onto a video call to eat a holiday dinner with your Valentine even from thousands of miles away. One of you may have to have "dinner" at a nonstandard time to allow for timezones, but it's worth it for the "awwww" factor. Add candles and your fanciest outfit, to make it feel extra-special.
Send Them a Special Package
Make Them a Playlist
Get in your partner's head in a good way by making them a Valentine's Day playlist. It can include songs that are poignant to the two of you, tunes that make you think of them, or you can create a musical journey through your relationship, with songs you've enjoyed at various important times. Don't forget to write out some cute liner notes to go with it!
Craft Them a Scrapbook
Scrapbooking isn't just for preserving memories for you and your family – it can also be a great long-distance Valentine's Day gift. Make a memory book of printed-out photos from past dates, ticket stubs and receipts if you have them, or little tokens that remind you of your best times together. It will remind both of you of the great times you've shared, despite the distance. A homemade gift beats a store-bought box of chocolate, any day.
Write Them a Shared Diary
To remind your significant other how often they're in your thoughts, keep a diary for a year, a month, or a week (or however long feels right!) and send it to them for V-Day. Write down what's happened during your days, when you've thought of them, and what's reminded you of your relationship even though you're far apart. It will drive home how many times during a day they're at the top of your mind, and it's a low-budget, DIY gift.
Wake Up Together – From a Distance
Switch up your phone routine by setting your alarm and calling your sweetheart when they wake up, so your voice is the first one they hear. Then if you can, call again before they go to bed, so you can start and end the day together. It doesn't cost a thing, but will put a smile on both of your faces.
Plan an Outing for Your Next Rendezvous
When you only see each other once in a blue moon, it can be hard to resist the urge to hole up at home and soak up each other's presence. Instead, plan an outing for the next time you'll be in the same place and send them a ticket, an itinerary, or a card with your plans in it for Valentine's Day. It will get you out and making memories to help you through the next period of separation.
Send a Personalized Care Package
Show your significant other how much they're missing — besides you, of course — by sending them a care package of their favorite things from your city. Maybe that's a local food, memorabilia from a local sports team, something emblazoned with your city's name or mascot, or just a selection of things you've enjoyed together. It will make you seem closer, no matter how large the distance.
Order Their Favorite Food
If the way to your partner's heart is through their stomach, arrange to have their favorite food or meal sent to their home on Valentine's Day. You could even try a snack box, themed package, or meal kit, to keep the love going past that one special day. Nothing says "I love you" like "I know your Chinese order," right?
Travel to Surprise Them
Sometimes the best present is your presence. If you can afford it and it's logistically feasible, think about planning a surprise visit for the big day. We can't think of anything more romantic than showing up on their doorstep, flowers in hand, like every rom-com we've ever seen. Just make sure your loved one is the type to enjoy the surprise.
Plan a Romantic Getaway Together
Long-distance couples can get stuck in a rut of visiting each other, but never really traveling anywhere else. Mix things up by spending Valentine's Day planning a romantic getaway for the future. Maybe you meet in the middle or visit somewhere new that you've both always wanted to go. Even if you're feeling a bit lonely on V-Day itself, planning an escape will give you something to look forward to.
Celebrate a Belated V-Day
Nobody said Feb. 14 corners the market on celebrating your love. If you can't get together on that day, plan a belated Valentine's Day date for the next time you see each other. The best part? Restaurants will be less crowded, ticket prices won't be as marked up, and you'll keep the romance alive that much longer.
Shoot a Video of Your Life
For couples who live very different lives, or those who haven't spent much time in each other's respective cities, a video diary can make a meaningful gift. Use your phone to shoot a video of a day in your life and show your love what your routine looks like. Or take your phone on a tour of your hometown and hit all the highlights — think of it like a personalized promo video. Make sure to sign off with a loving message at the end, to really seal the deal.