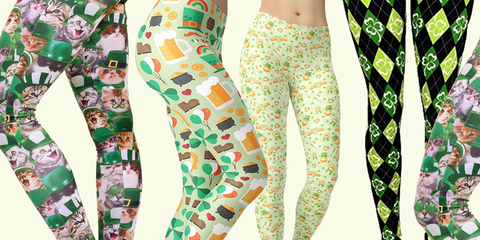 Courtesy
You don't need the luck of the Irish to have the most fun, spirited St. Patrick's Day. What better way to show your excitement than with a pair of patterned leggings? Whether your St. Patrick's Day will consist of lounging around, sipping green beers, or dancing an Irish jig, these St. Patrick's Day leggings literally have you covered — with symbols of the holiday!
Advertisement – Continue Reading Below
2
Metallic Leggings
No one will dare pinch you in these unmissable green metallic leggings. They look like something straight out of Emerald City!
3
Pot of Gold Leggings
TWISTED ENVY
amazon.com
$20.00
Spread rainbows and gold on St. Patricks Day with these lucky leggings. 
4
Beer, Boots, and Balloon Leggings
With adorably illustrated symbols of St. Patrick's day, these leggings are as cute as can be. 
5
Green Kiss Leggings
Spread your love for the Irish in these lip print leggings. 
6
Argyle Leggings
Not only do these comfy leggings feature a fun print in multiple shades of St. Patty's-perfect green, they also work a shamrock into the pattern.
7
Irish Hat Leggings
Give a nod to all the classic symbols of St. Patty's Day with this cute pattern. 
8
Lucky Four Leaf Clover Leggings
TheLittleArrowDesign
etsy.com
$42.00
You'll definitely feel the luck of the Irish in these comfy capri pants. 
9
Green Beer Leggings
This year, wear what you'll be drinking. Clinking green beers are the perfect prediction for how your celebration will go. 
10
Ireland Flag Leggings
You can literally wear your Irish pride in these Ireland flag inspired colorblock leggings.
11
St. Catrick's Day Leggings
What do cats have to do with St. Patrick's Day? Literally nothing. But why should that stop you from wearing leggings covered in festive kitties?
Advertisement – Continue Reading Below